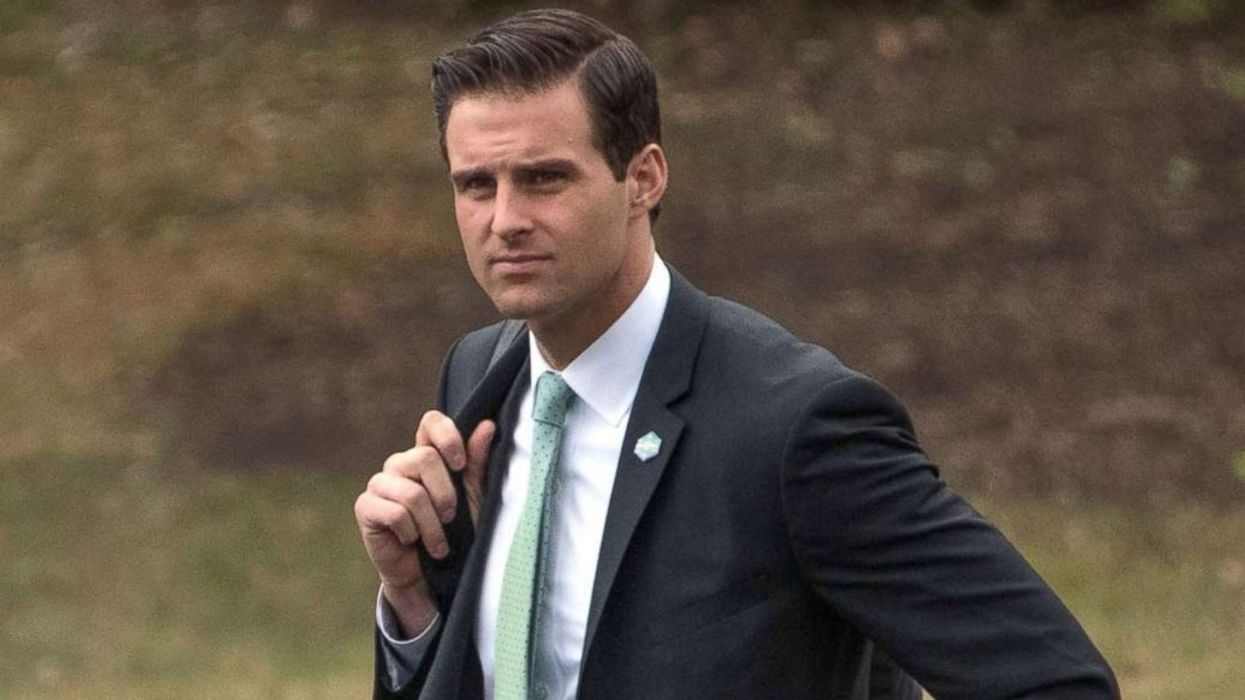 A former White House aide told the House Select Committee probing the January 6, 2021, insurrection that Rep. Matt Gaetz (R-FL), one of former President Trump's most vocal allies, sought something in return for his subservience: a pre-emptive presidential pardon.
The testimony, first reported by the Washington Post on Saturday, corroborates earlier reports that the Republican congressman had sought a pardon for himself and provides new insight into the nature of that requested favor.
According to the Post, citing sources privy to his testimony, Johnny McEntee, the former director of the White House Presidential Personnel Office, told committee investigators that Gaetz had talked to him about a pardon in a brief meeting one evening.
McEntee testified that Gaetz had said that "they are launching an investigation into him or that there's an investigation into him" without specifically referring to the Department of Justice. The Post also noted that investigators had asked McEntee if he believed the context of Gaetz's pardon request pertained to the DOJ investigation into him over sex trafficking allegations, to which the aide replied, "I think that was the context, yes."
The former Trump aide also testified that Gaetz had protested his innocence and whined that "they are trying to make his life hell, and, you know, if the president could give him a pardon, that would be great."
McEntee added that Gaetz had told him he would ask Mark Meadows, Trump's last chief of staff, for a pardon -- a development the select committee had revealed at a June hearing. At the time, though, it was uncertain exactly why Gaetz had asked for the pardon.
McEntee said he no longer remembers whether the brief conversation with Gaetz happened before or after the Capitol riot, the Post noted in its report, quoting sources aware of the testimony.
McEntee's sworn testimony mirrors that of former White House lawyer Eric Herschmann, who told the committee in a deposition that he believed Gaetz had sought a presidential pardon from Trump.
"The general tone was we may get prosecuted because we were defensive of the president's positions on these things. The pardon that he was discussing, requesting was as broad as you could describe. From beginning — I remember he said, from the beginning of time up until today for any and all things. He had mentioned Nixon, and I said Nixon's pardon was never nearly that broad," Herschmann testified, according to taped testimony that the select committee unveiled during its hearing.
Cassidy Hutchinson, a former Meadows aide, testified to the select committee in June that "Mr. Gaetz was personally pushing for a pardon, and he was doing so since early December, I'm not sure why. Mr. Gaetz had reached out to me to ask if he could have a meeting with Mr. Meadows about receiving a presidential pardon."
The Justice Department kick-started its probe into whether Gaetz violated federal sex trafficking laws — specifically, whether he paid for sex and had sex with a 17-year-old and transported her across state lines — with former attorney general Bill Barr's approval during the final months of the Trump Administration.
The probe, which Gaetz has repeatedly disputed -- and once tried to mock as "Gaetzgate" -- stemmed from a federal investigation into Joel Greenberg, one of the Floridian's close confidants. In May 2022 Greenberg, formerly a Florida tax collector, admitted to a federal judge that he had solicited and paid a minor for sex and pleaded guilty to six sex trafficking charges. He is reportedly cooperating with the investigation of Gaetz.
Gaetz has repeatedly denied reports of his own misconduct. Last March, he wrote The Daily Beast, saying, "The last time I had a sexual relationship with a seventeen-year-old, I was seventeen."
The following month, he penned an opinion piece in the Washington Examiner deriding the "swamp" for "repeating false allegations" about him and said that he had "never, ever paid for sex."
"I, as an adult man, have not slept with a 17-year-old.," Gaetz added.
A representative for Gaetz ignored the Post's questions about McEntee's testimony but told the publication that Gaetz never directly asked the former president for a pardon.
"Congressman Matt Gaetz discussed pardons for many other people publicly and privately at the end of President Donald Trump's first term," the spokesperson said, per the Post. "As for himself, President Trump addressed this malicious rumor more than a year ago stating, 'Congressman Matt Gaetz has never asked me for a pardon.' Rep Gaetz continues to stand by President Trump's statement."
Last May, Gaetz's close confidant, Joel Greenberg, formerly a Florida tax collector, admitted to a federal judge that he had solicited and paid a minor for sex and pleaded guilty to six sex trafficking charges.