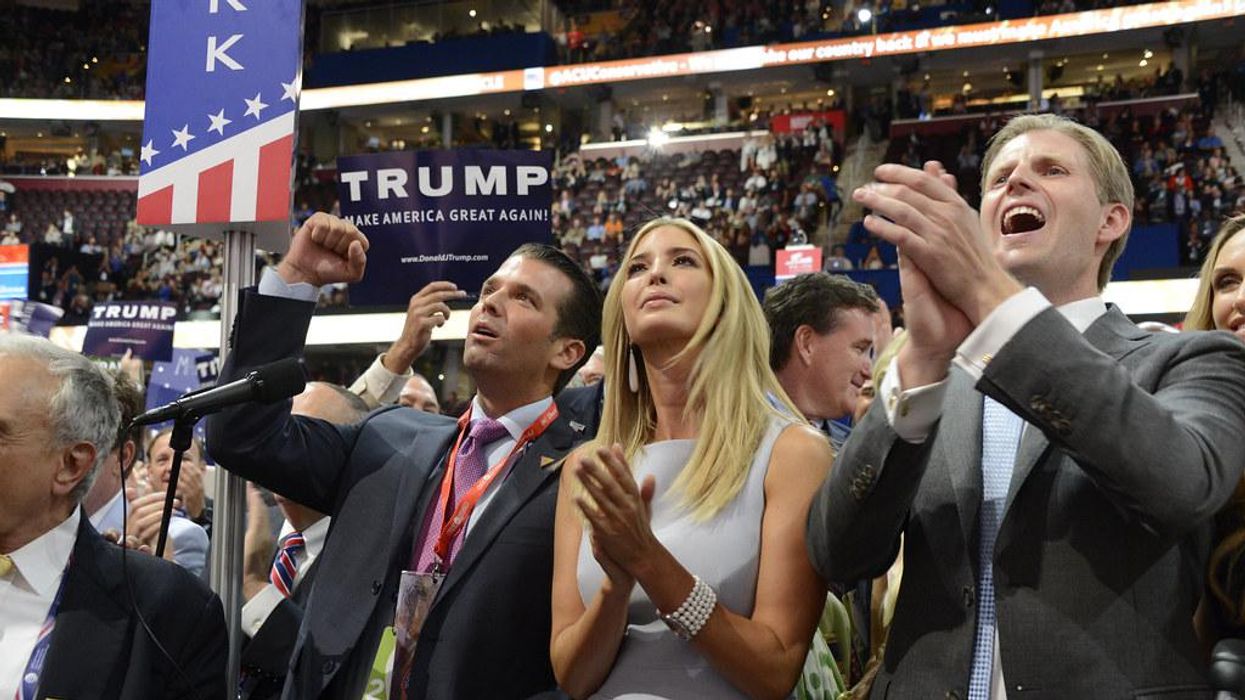 When it comes to avoiding personal financial responsibility and screwing over contractors, there's no bigger grifter than Donald Trump. So it's not very shocking to learn that his kids are grifting deadbeats just like Daddy.
According to a report from the Daily Beast, the Trump Organization -- which is mostly run by Eric And Don Jr-- might have created yet another legal headache for themselves on account of not paying their bills. The Beast reports that Washington D.C. Attorney General Karl Racine is incorporating a dispute between the family's business and a D.C. hotel over an unpaid $49,358 bill into his investigation of the misuse of inauguration funds dating back to 2017.
The legal controversy surrounds the Trump Organization's steadfast refusal to pay for the block of rooms they booked at the Loews Madison Hotel after 13 people didn't show up, resulting in the bill being sent to a collection agency. As a result, the financial dispute put Trump and his family right back in the "crosshairs in an ongoing investigation into how the Trump kids used the Presidential Inauguration Committee to throw lavish parties of their own."
Stephanie Winston Wolkoff, one of the participants who helped coordinate the inaugural festivities, is working with investigators.
According to Wolkoff, "It was their friends. It should never have been sent to the PIC [Presidential Inauguration Committee]. That's misuse of funding. The Trump Organization being involved in any way and getting the PIC to pay any sort of balance anywhere on their behalf? It just doesn't seem legitimate."
Even though the bill was eventually "paid by the Presidential Inaugural Committee at the direction of Rick Gates," the investigation produced a slew of communications that show that Don Jr's aides were in the loop during the fight over the money, which produced enough red flags to instigate the investigation.
"The District of Columbia's AG hopes this evidence proves that the Trump Organization should remain part of the lawsuit, which seeks to seize money it deems was misused and divert it instead to another nonprofit. Otherwise, the civil investigation would continue only against the PIC (which is no longer active) and the Trump International Hotel Washington (which is being sold anyway)," the Beast reports, adding, "When approached by The Daily Beast, the AG's office pointed to the arguments it made in court. The Trump Organization's lawyer didn't respond to a request for comment. The collection agency didn't return calls on Friday.
On New Year's Eve, the case was reassigned to D.C. Superior Court Judge Yvonne Williams, a former NAACP lawyer appointed to the bench by President Barack Obama.