Texas Governor's Border Policy Jams Traffic, Causing Shortages And Inflation
@next2godwin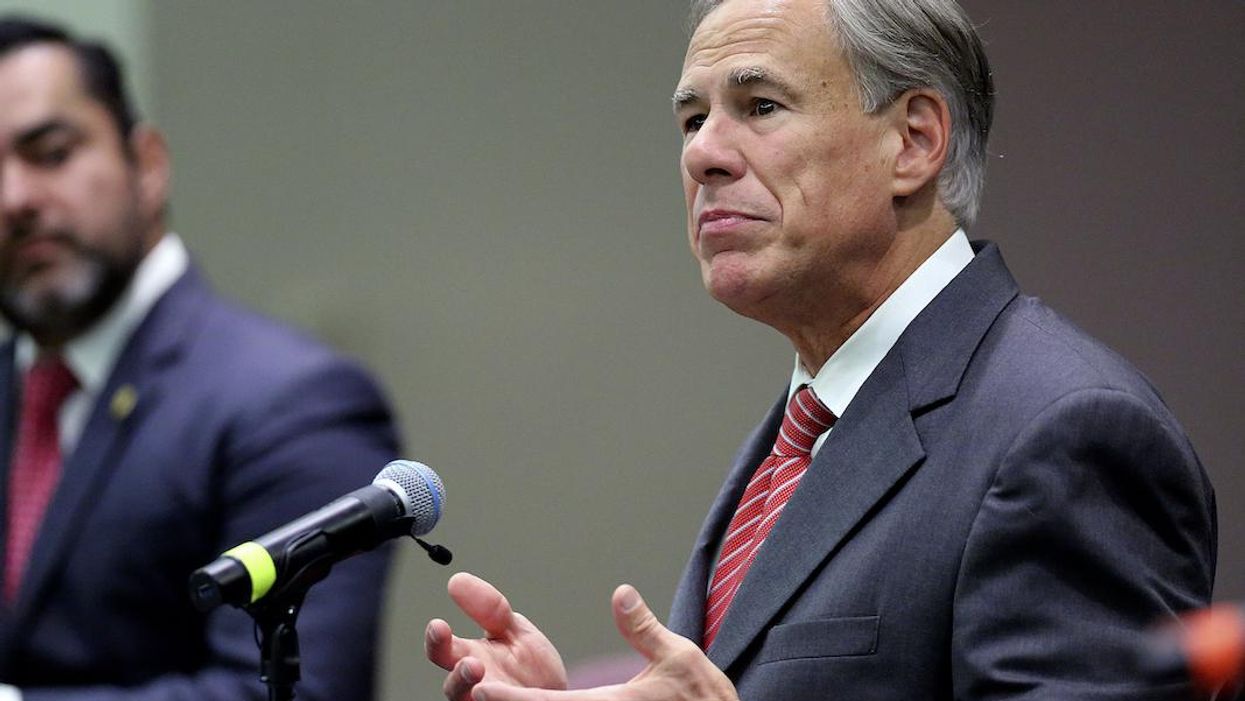 Freight activity along the Texas-Mexico border has slowed to a standstill after Texas Governor Greg Abbott ordered secondary inspections of commercial vehicles coming into the state, causing miles-long traffic, massive trucker protests, food shortages, and skyrocketing prices.
Abbott announced the "unprecedented" policy last week, clashing with the Biden administration over its intention to end Title 42, a Trump-era policy that grants border officials the authority to expel migrants at the border without affording them the chance to seek asylum.
What started as delays in crossing the border morphed into a gridlock Tuesday as truckers snarled in traffic reeled from the increased wait times of up to 30 hours caused by Abbott's week-old policy of additional vehicle inspections.
Frustrated, Mexican truckers blocked key bridges — Pharr-Reynosa international bridge, Zaragoza (Ysleta) bridge, and the Santa Teresa port of entry, according to multiple reports — prompting 18-wheelers to opt for other Texas crossing, where the influx of trucks is creating multi-mile traffic jams, exponentially increasing wait times.
Facing hours-long delays, some drivers have diverted to Arizona and New Mexico, according to the Times.
Produce Spoilage, Looming Food Shortages
The National Freight Transportation Chamber said about 3,000 trucks cross the Pharr bridge daily, hauling about $70 million worth of goods across the biggest land port for produce entering the United States from Mexico.
Presently, an eight-mile long line of about 3000 trucks sits on the Pharr bridge, nose to tail, awaiting entry in temperatures north of 100 degrees Fahrenheit, imperiling the produce in unrefrigerated trucks snarled in traffic, warned Rod Sbragia, vice chair of the Fresh Produce Association of Americas.
Even refrigerated trucks have six days of fuel to power their refrigeration units, after which produce spoilage is guaranteed, Sbragia added.
The association's president, Lance Jungmeyer, blasted Abbott's new policy for leaving 80 percent of perishable food trucks stranded outside the border since Friday.
One of El Paso's largest distributors of produce, Quality Food and Veg, said the extra vehicular inspections in the McAllen and Hidalgo areas have seen in-bound produce-hauling truckers snarled in traffic for up to two days.
"We have truckloads every day crossing" from Mexico into Texas with avocados, tomatoes, and other produce that are sold to grocery stores, restaurants, schools, and other institutions," Nick Delgado, president of Quality Food and Veg told the El Paso Times.
"If this goes on, it will dry up supplies and we won't be able to get it in," Delgado said. "This will hurt the food chain. Consumers will start seeing shortages," and that will keep driving up the price of produce in stores across the United States, he added.
"It's at a crisis level now," said Dante Galeazzi, president of the Texas International Produce Association, as food and vegetable importers pleaded for a resolution to the political standoff that is worsening an already pandemic-strained supply chain.
'It'll hurt us all'
The freight standstill has caused millions of dollars in losses for employers and employees idled by the gridlock, Jungmeyer told the Washington Post. He named transportation shortages and rising food prices as the far-reaching ramifications of the governor's policy.
The Biden Administration has assailed Abbott's new policy, calling it an "unnecessary" and "redundant" measure that's driving prices even higher.
"Governor Abbott's unnecessary and redundant inspections of trucks transiting ports of entry between Texas and Mexico are causing significant disruptions to the food and automobile supply chains, delaying manufacturing, impacting jobs, and raising prices for families in Texas and across the country," said Jen Psaki, the White House press secretary.
Beto O'Rourke, a former Democrat congressman running for Governor of Texas this year, reaffirmed his support for affected business owners at a Tuesday press conference at an empty storage facility in Pharr, where he lambasted Abbott's insouciance for "Texans and all Americans."
"Greg Abbott is killing businesses and the Texas economy with this stunt," O'Rourke said.
Calls for an end to Abbott's controversial policy aren't just coming from Democrats. Texas Agriculture Commissioner Sid Miller, a Republican, penned an open letter to Abbott calling for a stop to secondary vehicle inspections, which he called "political theater" that is killing the economy and creating product shortages that are causing "untold losses" for business owners.
"Your inspection protocol is not stopping illegal immigration," Miller said in his letter. "It is stopping food from getting to grocery store shelves and in many cases causing food to rot in trucks — many of which are owned by Texas and other American companies. … The people of Texas deserve better!"
Abbott Isn't Backing Down
Abbott has ignored calls from Democrats, Republicans, and even the Mexican government to scrap his policy, saying that, despite the miles-long jams, spoiled produce, and the rising losses businesses have faced, his policy would stay in place until his office gets more assurance of security.
The two-term Republican governor announced an end to additional inspections at Laredo-Colombia bridge because Nuevo Leon Governor Samuel García agreed to conduct extra vehicle checks on the Mexico side.
Abbott's policy has brought to light GOP infighting that signals rising tensions between the pro-business and law-and-order factions of the Texas Republican Party.
On Tuesday, Mexico's Deputy Trade Minister Luz Maria de la Mora sent a letter to the Republican leader of the second-largest U.S. state requesting help to find ways to keep trade flowing, according to Bloomberg.
Jerry Maldonado, president of the Laredo Motor Carriers Association, decried Abbott's refusal to address the border crisis. "We've been trying to get the governor to listen to us," Maldonado said in a telephone interview. "Unfortunately, as of this morning they are still doing the inspections and it's still delaying all the border crossings in Laredo of stuff coming from Mexico to the U.S," Maldonado told Bloomberg.
Abbott has refused multiple requests for comment as multi-crossing gridlocks remain in place and food prices continue to rise.