Abbott's Border 'Inspection' Stunt Cost Texas Economy Over $4 Billion
@alexvhenderson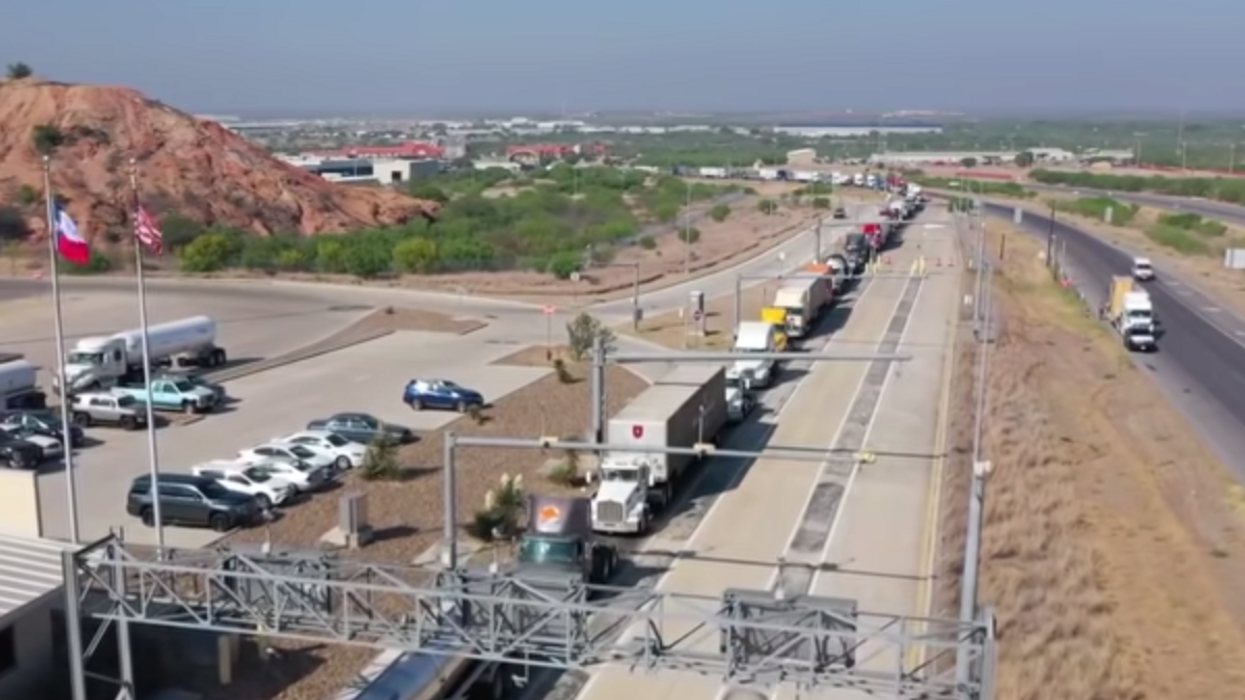 Screenshot from CBS News Fort Worth
Democratic former Rep. Beto O'Rourke, who is running against Republican incumbent Gov. Greg Abbott in Texas' 2022 gubernatorial race, has been lambasting his political opponent for imposing enhanced inspections on commercial trucks entering Texas from Mexico. Abbott's recent political stunt, O'Rourke stresses on the campaign trial, was terrible for Texas' economy — and economic consulting firm the Perryman Group is now saying that Texas suffered losses of $4.2 billion in gross product.
Abbott's enhanced inspections made it much more difficult for commercial truck drivers entering Texas from Mexico to deliver fresh produce and other goods. Long delays resulted in fresh produce going bad. And the inspections temporarily caused the closing of the Pharr-Reynosa International Bridge, which links Pharr, Texas with Reynosa, Mexico in the state of Tamaulipas.
Abbott's political theatrics, according to Perryman, not only affected the Texas economy, but the U.S. economy in general. Texas isn't necessarily the final destination for Mexican goods that enter the U.S. via the Lone Star State, and those trucks often make their way to the Midwest and other parts of the U.S. to deliver a variety of fruits and vegetables.
The economic losses, Perryman reports, will be difficult or "impossible" to make up.
In a report published on April 20, Perryman explains, "The recent slowdowns due to additional inspections disrupted these patterns, resulting in not only spoilage of perishable items, but also, production delays. Given the strained capacity at the border in normal times, it will be difficult and, in many instances, impossible to 'catch up.'"
Abbott's apologists are claiming that Democrats, including those in the Biden Administration, favor "open borders" — which is nonsense. As Perryman is pointing out, border security doesn't have to come at the expense of the U.S. economy.
Moreover, Abbott's inspections came at a time when the United States' supply chain has had to cope with the difficulties caused by the COVID-19 pandemic —a global health crisis that, according to Johns Hopkins University in Baltimore, has caused more than 6.2 million deaths worldwide and over 991,000 deaths in the United States.
In its report, Perryman said, "Inefficiencies in the flow of imports and exports across the border leads to notable economic losses. While border security is certainly an issue that must be addressed, introducing artificial inefficiencies into an important, capacity constrained element of an already overly stressed national supply chain is a costly option."
Reprinted with permission from AlterNet