The Campaign's Moral Hole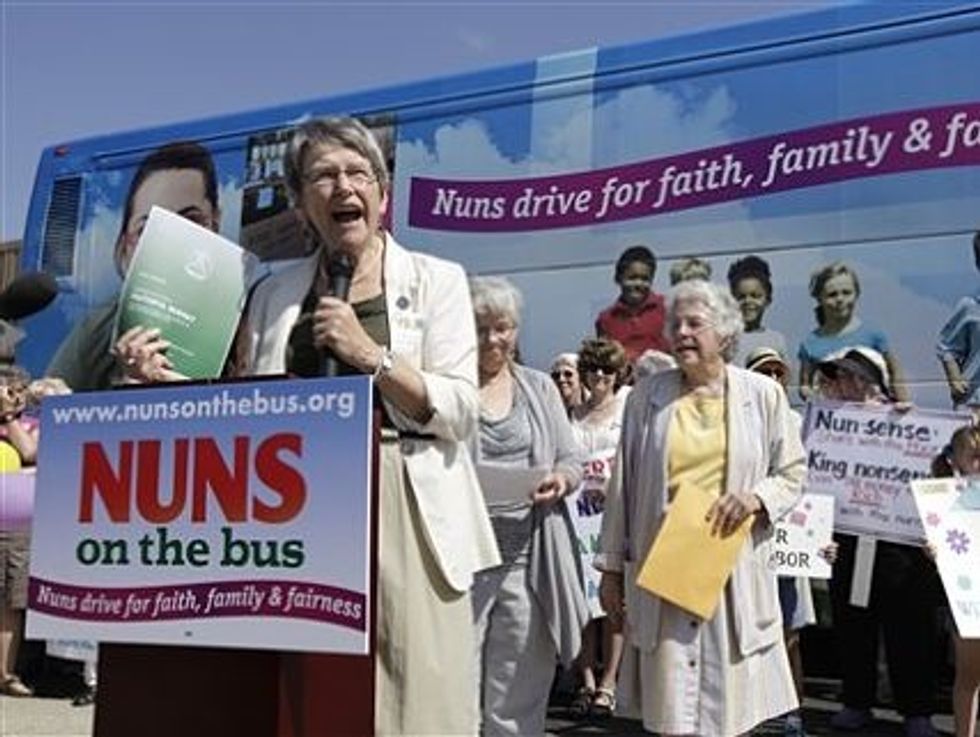 WASHINGTON — Does our presidential campaign lack a moral core?
The question arises in the wake of last week's presidential debate. However you analyze it in electoral terms, the exchange between President Obama and Mitt Romney was most striking as a festival of technocratic mush — dueling studies mashed in with competing statistics. In many ways, the encounter offered voters the worst of all worlds: a great deal of indecipherable wonkery and remarkably little clarity about where each would lead the country.
But there are forces working to make the campaign about something more than a suffocating battle to influence tiny slivers of the electorate. One of my favorite pressure groups, Nuns on the Bus, will be launching a five-day tour on Wednesday through the red, blue and purple parts of Ohio.
Who better than a group of women who have consecrated their lives to the Almighty to remind us that our decisions in November have ethical consequences? Those who serve the impoverished, the sick and the dying know rather a lot about what matters — in life, and in elections.
If some of the nation's Roman Catholic bishops often give the impression that they constitute the Republican Party at prayer, the activist nuns often seem like Democrats at the barricades. And it's quite true that a struggle is on for the political soul of American Catholicism. Those among the faithful who see the abortion issue as trumping all others are in a quarrel with their brethren who place more emphasis on the church's long-standing commitment to social justice.
Nuns on the Bus, led by Sister Simone Campbell, are very much players in this dialogue, and Sister Simone addressed the Democratic National Convention last month. Yet she was careful in her speech to emphasize that what she has been saying about government's obligation to the poor — and about the problems with Rep. Paul Ryan's budgets — reflected what the bishops have been saying, too.
She also noted in an interview last week that she had laid down some conditions before she spoke in Charlotte. "I would talk if I could say that I was pro-life, that I could lift up the people who live in poverty, and that the Democrats have a big tent," she said.
The nuns' message on poverty got some reinforcement in a statement late last month from Cardinal Archbishop Timothy Dolan of New York and Bishop Nicholas DiMarzio of Brooklyn. "There are very dark clouds," they wrote. "Too much rhetoric in the country portrays poor people in a very negative way."
They argued that the economy is not only failing to "provide sufficient jobs for poor people to earn a decent living to support themselves," but is also offering fewer "resources for government to do its part for Americans in need." The situation, they concluded, is "devastating to struggling families throughout the country."
It's no accident that the nuns are waging their Ohio campaign against the Ryan budget during the week of the vice presidential debate. One would like to hope that Thursday's tussle between Ryan and Vice President Joe Biden will be less a parade of numbers and obfuscating talk of "baselines," and concentrate instead on why voters should actually care about what's in the federal budget.
Sister Simone points to a study from Bread for the World, a genuinely nonpartisan group that advocates on hunger issues, to suggest one useful line of questioning. To make up for the food stamp cuts in Ryan's budget, the group found, "every church in the country would have to come up with approximately $50,000 dedicated to feeding people — every year for the next 10 years." Can government walk away like this? Can we realistically expect our houses of worship to pick up such a tab?
In all the dissections of Obama's performance in the first debate, not enough attention has been paid to the real problem with his self-presentation: his failure to convey passion for the purposes of government, the requirements of justice, and the point of his presidency. "The president," says Sister Simone, "has gotten disconnected from the people he cares about."
Nuns on the Bus will no doubt be criticized from the right for intervening in a political campaign, something that doesn't bother conservatives when religious figures engage on their side. But the nuns' most important message is to Obama and Biden: Don't be afraid of reminding voters that budgets and elections have moral consequences. Doing so just might keep debate-watchers from changing the channel.
E.J. Dionne's email address is ejdionne@washpost.com.
(c) 2012, Washington Post Writers Group
Photo credit: AP/Charlie Neibergall