This Week In Polls: The Fall And Decline Of The Jeb Bush Empire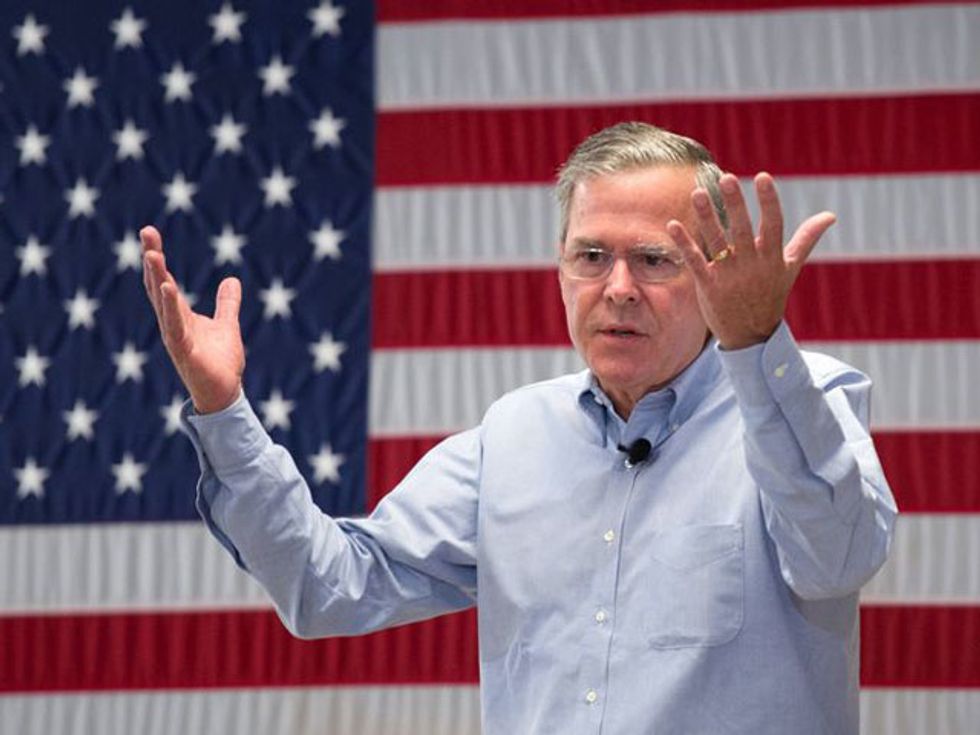 It's been a fun week of polling, with numerous interesting trends: Donald Trump is now in a tight battle with Ben Carson; Chris Christie and Mike Huckabee got unceremoniously booted off the top-tier stage at the next debate — but perhaps the most fun polling development of them all has been the drastic implosion of Jeb Bush.
In the NBC/Wall Street Journal poll released Tuesday, Carson was ahead with 29 percent, then Trump at 23 percent, Marco Rubio 11 percent, and Ted Cruz 10 percent. Jeb Bush had only 8 percent — and it was soon about to get even worse in other polls.
In the Quinnipiac poll released Wednesday, Trump was clinging to the lead with 24 percent, edging out Carson at 23 percent, followed by Rubio at 14 percent and Cruz with 13 percent — and then poor old Jeb Bush at 4 percent.
And in the latest Fox News poll, Trump had 26 percent to Carson's 23 percent, followed by Cruz and Rubio at 11 percent each. Jeb, meanwhile, was again at only 4 percent — tied with the likes of John Kasich and Carly Fiorina.
Now let's turn our attention to the key early states of Iowa and New Hampshire.
In Iowa, Democratic-aligned firm Public Policy Polling showed Trump and Carson in a dead heat at 22 percent to 21 percent, respectively, followed by Cruz at 14 percent and Rubio with 10 percent — then 6 percent each for Mike Huckabee and Bobby Jindal — and finally 5 percent for Jeb, as well as for Fiorina.
The CNN poll of Iowa released on Friday similarly has Trump and Carson at 25 percent and 23 percent, then Rubio 13 percent, Cruz 11 percent, and Jeb 5 percent.
As for New Hampshire, the Monmouth University poll released earlier this week had Trump at 26 percent, Carson 16 percent, Rubio 13 percent, John Kasich 11 percent, Cruz 9 percent, and then Jeb with 7 percent
And the poll by WBUR (the NPR station in Boston) gave Trump the lead in New Hampshire at 18 percent, then Carson 16 percent, Rubio 11 percent, Kasich 10 percent, Chris Christie 8 percent, and Jeb at 7 percent.
It's stunning to think about: Who would've ever thought that there just wasn't a popular groundswell to elect the brother of the worst president in the last 100 years?
Photo: U.S. Republican presidential candidate Jeb Bush speaks to students at the The Founders Academy Public Charter School in Manchester, New Hampshire, November 4, 2015. REUTERS/Gretchen Ertl