Trump Allies Scheme To 'Counterprogram' January 6 Panel Hearings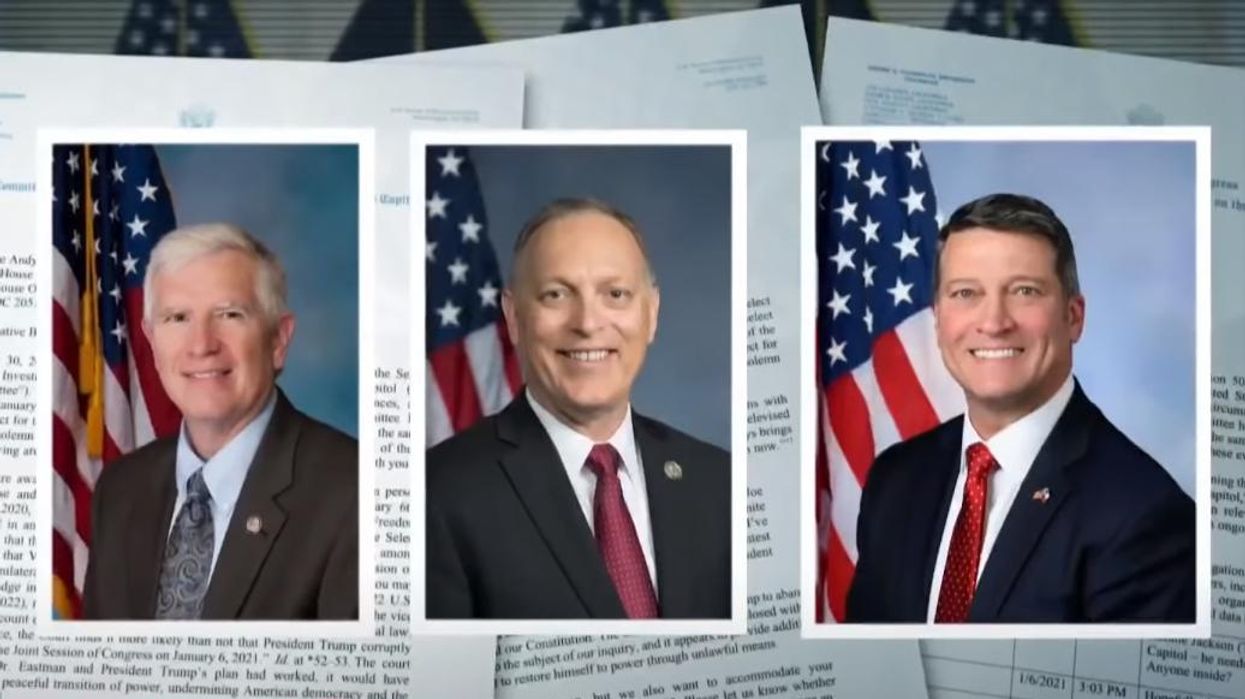 YouTube Screenshot
The bipartisan House select committee investigating the January 6 insurrection has scheduled prime-time hearings for next week, during which the committee is expected to lay out many of its findings regarding former President Donald Trump's efforts to subvert the results of the 2020 election. Headed into that process, news outlets must prepare themselves to treat the response by Trump's right-wing media allies as another component of that coup plot, which culminated in the storming of the Capitol by a mob of his supporters — not as mere political messaging.
Axios reported Thursday night, "Scoop: Trumpworld plots January 6 counterprogramming blitz," outlining coordinated plans by Trump and his allies, including conservative groups and members of the House Republican leadership, for a real-time public relations effort to respond to the committee's proceedings. This will include efforts to deploy misleading pro-Trump commentary on media platforms such as Fox News, Steve Bannon's show, and Facebook, along with op-ed pieces written by members of Congress, and conservative influencers on social media.
But while Axios documented the coordinated messaging operation against an investigation into a major attack on America's democratic process, the outlet also made a major mistake by focusing its coverage in terms of a political horse race — rather than in terms of an entire political party covering up a coup, as noted by Crooked Media editor-in-chief Brian Beutler.
Entire GOP apparatus aligned in effort to cover up January 6 is a great scoop, if you're willing to put it that way. https://t.co/M4aRRXALkg
— Brian Beutler (@brianbeutler) June 3, 2022
That's Not "Why It Matters"
This problem became especially obvious in the "Why it matters" section of Axios' piece:
Why it matters: Republicans face a daunting challenge in the coming messaging war. The committee has been building toward this moment for months, hoping to use the blockbuster summer hearings to paint a vivid picture of how close Trump and his supporters came to subverting democracy.

Further bullet points added that Republicans would argue the committee is "a partisan fishing expedition," and that this framing "will be central to their hopes of defanging whatever negative revelations come to light during the hearings." Axios left unremarked, however, the idea that a political party's leadership in a functioning constitutional republic should not want to "defang" revelations about an actual coup attempt.
Axios also reported that one of the point people on this media operation will be Rep. Jim Jordan (R-OH), who will "seek to hammer the message that the committee 'lacks merit and legitimacy' and is hyperpartisan." The article failed to note, however, that Jordan was also an active participant in the plot to overturn the election, having met with Trump in late December 2020 to discuss efforts to reject the counting of the Electoral College votes. He was also revealed months ago to have advocated for then-Vice President Mike Pence to unilaterally refuse to count electoral votes in text messages with then-White House chief of staff Mark Meadows during the days before the Capitol insurrection. (In texts from the morning of January 6 released yesterday by CNN, Meadows replied to Jordan, "I have pushed for this. Not sure it is going to happen.")
Fox News Pushing GOP Talking Points To Undermine Hearings
The right-wing media campaign against next week's hearings has already started on Fox News, the network that helped to foment Trump's efforts to subvert the election results and has since attacked the committee's previous hearings, painting an alternate reality about the attack on the Capitol.
Fox News anchor Harris Faulkner hosted Jordan on Tuesday's edition of The Faulkner Focus, providing him with a platform to attack the committee as allegedly being "political" — as if Jordan's previous attempt to subvert a national election, and the wider House Republican efforts to obstruct any investigation into the events, were somehow apolitical.
Later in the interview, Jordan complained that the committee's attempt to subpoena him was really an effort to "play the politics." Faulkner seemingly agreed, saying that "if they're serious, they'll respond" to Jordan's concerns, "and then you're actually having a conversation. Right now, it's just running around."
Then, in a truly outrageous moment on Wednesday, Faulkner opined to House Minority Leader McCarthy (R-CA) about the need for a 9/11 Commission-style inquiry, "where everybody had a voice."
"Everybody would want to participate in that, I would think," Faulkner said. "Is it too late?"
"Remember, Republicans and myself came out right after January asking for that type of situation," McCarthy said, falsely claiming that House Speaker Nancy Pelosi (D-CA) had "said no."
In fact, McCarthy opposed a bipartisan commission to investigate the Capitol attack, following public opposition by Trump, and then Senate Republicans blocked the Democrats' proposal to establish such a committee.
Mainstream media outlets have an important job ahead of them. The coming right-wing media blitz against next week's January 6 committee hearings is not merely part of some political horse race, but an active effort by conspirators to justify themselves and discredit anyone trying to expose them.
In the face of such an onslaught, media outlets should treat this "counterprogramming" not as a matter of partisan messaging, but as an intrinsic component of an attack against democracy in America — both by Trump and his allies in Congress, as well as from any other media outlets that gladly play host to it.
Reprinted with permission from Media Matters.