Trump, Barr, And Fox News Working Together To Undermine Confidence In 2020 Election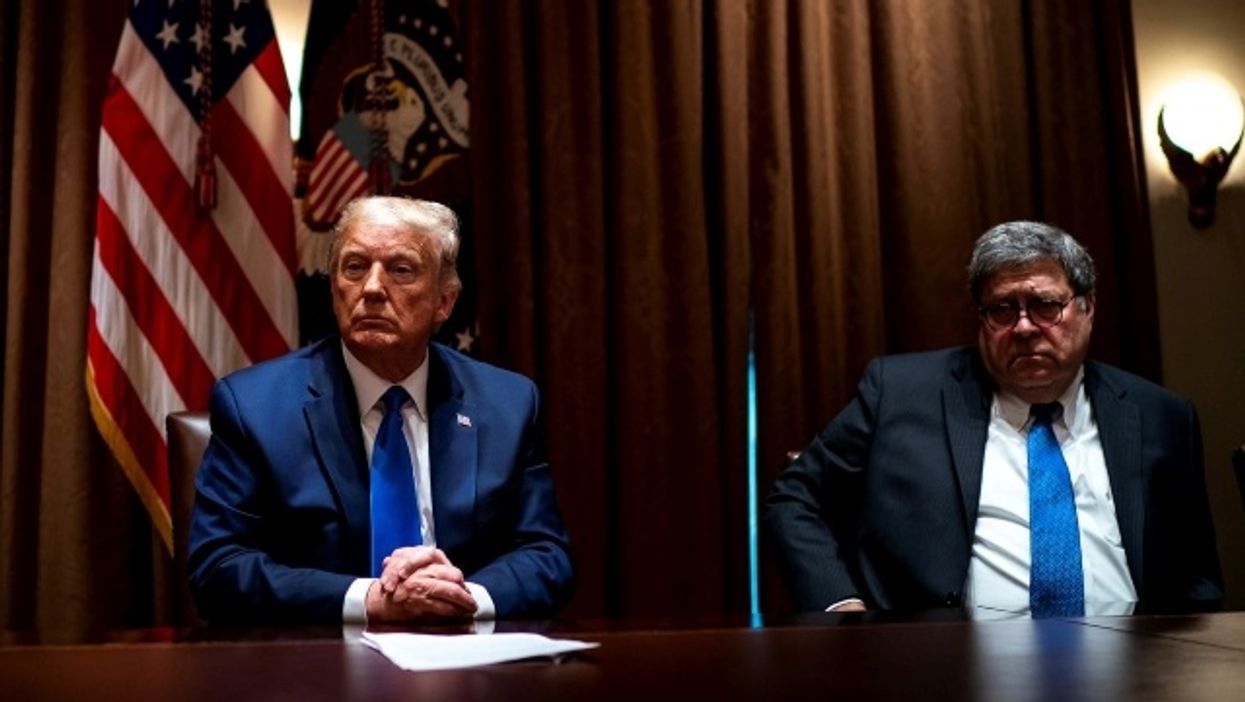 Official White House Photo by Tia Dufour
Reprinted with permission from MediaMatters
Fox News lawyers succeeded on Thursday in getting a federal court to dismiss a defamation lawsuit brought against star host Tucker Carlson by arguing, in part, that Carlson is not a credible source for information. "Fox persuasively argues," U.S. District Court Judge Mary Kay Vyskocil wrote, "that given Mr. Carlson's reputation, any reasonable viewer 'arrive[s] with an appropriate amount of skepticism' about the statements he makes." That night Carlson proved the point, becoming a dishonest megaphone for President Donald Trump's corrupt disinformation campaign aimed at delegitimizing the upcoming election.
Trump views the federal government as an extension of his personal will and reelection campaign. His attorney general, William Barr, is a right-wing ideologue who has proved willing to use his office to support those aims. In an apparent effort to reduce confidence in the election results and provide space for legal challenges, the pair have demagogued for months against the use of mail-in ballots, falsely suggesting that their use will necessarily lead to widespread fraud.
---
Thursday saw perhaps their most aggressive move yet. In an action teased by Trump and his press secretary, the U.S. Attorney's Office in the Middle District of Pennsylvania sent out an extraordinary press release announcing that it had opened an inquiry into nine absentee ballots from military voters that had been "discarded" in the swing state's Luzerne County, all of which had been cast for Trump. (The statement was later amended to say that seven had been cast for Trump and the other two were unknown.)
Election experts and Justice Department veterans quickly termed the press release "illegitimate," "wildly improper," and "an unprecedented in kind contribution to the president's campaign" that suggested the department had been politicized. They noted that the DOJ generally does not comment on ongoing investigations, that doing so on a voter fraud investigation violated policy, and that the information included in the release seemed geared toward bolstering Trump's arguments. And indeed, Trump's campaign immediately responded to the press release by baselessly claiming that "Democrats are trying to steal the election."
But that conspiracy theory fizzled almost immediately as a letter from the U.S. Attorney, David Freed, released later in the day detailed what he termed the investigators' "initial findings" and suggested a much more mundane explanation for why a handful of military ballots had been "improperly opened" and "discarded."
"Our investigation has revealed that all or nearly all envelopes received in the elections office were opened as a matter of course," he wrote. "It was explained to investigators the envelopes used for official overseas, military, absentee and mail-in ballot requests are so similar, that the staff believed that adhering to the protocol of preserving envelopes unopened would cause them to miss such ballot requests."
As Politico's Tim Alberta explained, this suggests that because the envelopes were not contained in the privacy envelopes required for ballots under a recent court ruling, Luzerne County election officials thought they were requests for absentee ballots and opened them, spoiling the ballots. [Editor's note: County officials later confirmed that local election workers were responsible for the error, which was corrected. No fraud or conspiracy was alleged.]
None of this deterred Carlson from trumpeting the story on his program, the most-watched in cable news history.
"The risks of mail-in voting are obvious," he said during a Thursday segment. "The latest example of that came today," he added, when the "DOJ announced that the FBI and the Pennsylvania State Police are investigating fraud in mail-in ballots in Luzerne County. That's a place Donald Trump won by double digits four years ago."
Carlson seemed to just be lying about authorities "investigating fraud" in order to bolster the Trump campaign's spin, as neither the U.S. attorney's office press release nor Freed's letter mention fraud.
"According to DOJ, several military ballots were, quote, 'discarded,'" he continued. "Investigators have recovered a total of nine ballots so far. Not surprisingly, DOJ says an overwhelming majority of those ballots were cast for guess who? Donald Trump."
Trump promptly tweeted out a video from the segment spelling out the false impression Carlson's segment was clearly intended to generate: "Democrats are Rigging our 2020 Election!" Twitter subsequently added a warning to the tweet, that said, "Learn how voting by mail is safe and secure."
The president -- unlike Fox's lawyers, Judge Vyskocil, and the "reasonable viewer" she referenced -- treats Carlson's show as credible. And he is using the
Trump-Fox feedback loop
to lift up the program's bogus narratives to help his campaign.
Expect this pattern to continue over the weeks to come as Trump, his Fox propagandists, and Barr's Justice Department continue to seize on mundane election operations decisions to attack the results in hopes of keeping him in power.