Urging Voters To Aid Georgia GOP Senators, Trump Keeps Their Donations Himself
@alexvhenderson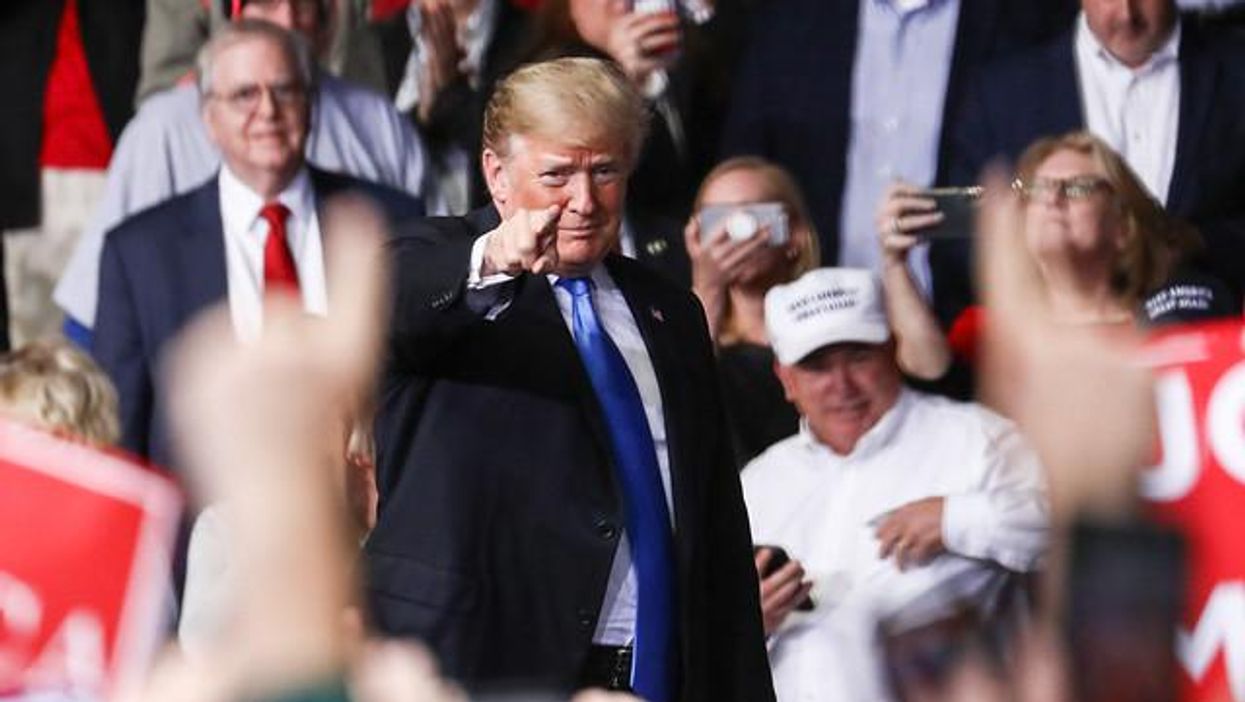 Reprinted with permission from Alternet
In Georgia, one of five states that President-elect Joe Biden flipped in the 2020 presidential election, President Donald Trump has been campaigning for two incumbent GOP senators who are facing runoffs in January: Sen. Kelly Loeffler and Sen. David Perdue. But according to Politico reporter Alex Isenstadt, there is "just one hitch" — which is that "Trump's new political machine is pocketing most of the dough, and the campaigns of the Georgia senators competing in the January 5 races aren't getting a cent."
In his requests for donations, Isenstadt notes, Trump is saying things like "We MUST defend Georgia from the Dems!" and "Help us WIN both Senate races in Georgia & STOP Socialist Dems." But the outgoing president isn't directly sharing that money with Loeffler or Perdue.
Isenstadt explains, "Trump's aggressive fundraising blitz appears to be devoted to helping the party defend Georgia's two Senate seats and, with them, the Senate majority. But the fine print shows that most of the proceeds are going toward Trump's newly launched PAC, which he plans to use to fund his future political activities. Only a fraction is going to the Republican National Committee, which is investing $20 million into the runoffs. A stampede of political figures from both parties are e-mailing their donors with links to donate directly to the Georgia candidates, but the president is not among them."
Senior Republicans, according to Isenstadt, are "rankled" by "Trump's fundraising ploy" and "worry" that "small-dollar donations are being redirected away from the runoffs." Veteran GOP strategist Doug Heye told Politico, "The reality is Donald Trump does not care about the future of the Republican Party. So, if he can raise money off of the Georgia runoffs but keep the money for his own purposes, he will do so."
Isenstadt explains, "When donors click on Trump's e-mails and texts, they are directed to a site that urges donations of anything from $5 to $2800. Lower down on the page, it notes that 75 percent of each donation goes to Trump's political action committee, Save America, up to the first $5000 given…. Regardless of the amount given, none goes directly to the Georgia Senate candidates. Georgia Republicans want more of Trump's small-dollar fundraising to benefit David Perdue and Kelly Loeffler."
Isenstadt also points out that "Trump's approach" has been "in stark contrast with" Biden, whose "campaign last week sent out an e-mail asking supporters to give $25 contributions, which would be split evenly between Georgia Senate candidates Jon Ossoff and Raphael Warnock and the Democratic National Committee."
Biden will be campaigning for Ossoff and Warnock at an event in Atlanta, and his efforts on behalf of the Democratic Senate candidates are the focus of a separate Politico article by Marc Caputo and James Arkin. In their piece, Caputo and Arkin stress that Biden has a major stake in the outcome of the two Senate races.
"The success of the president-elect's agenda hinges on the two Senate runoff races that will decide the balance of power in the chamber," Caputo and Arkin explain. "If Ossoff and Warnock fail to defeat Republican Sens. David Perdue and Kelly Loeffler on January 5, it will mean a GOP-controlled Senate that's guaranteed to stand in the way of implementing Biden's policy goals.
Democrat Doug Sosnik, who served as White House political director under President Bill Clinton, told Politico, "I don't think there's a choice here. If he does go (to Georgia) and Democrats don't win, he won't be blamed. But if he doesn't go, then you guys would write about why he's not going. It's a good problem to have because obviously, the campaigns (of Ossoff and Warnock) want him there. It would be worse if they didn't."
Although Georgia was a deep red state for many years, it has evolved into a swing state — and Biden's narrow victory over Trump in the Peach State required a strong turnout in Atlanta (which is heavily Democratic and largely African-American) and its suburbs. Democrat Michael L. Thurmond, chief executive officer of DeKalb County near Atlanta, is glad to see Biden visiting his area.
Thurmond, who formerly served in the Georgia Assembly, told Politico, "Obviously, the president-elect coming will resonate with those moderate-to-conservative voters, and him being in Georgia is absolutely critical in order for us to have any success on January 5. It's his coalition. This is his coalition, and his presence and his endorsement will reassure those independent voters who are maybe concerned or on the fence."