Still Furious Over Georgia, Trump Isn't Helping Perdue And Loeffler
@alexvhenderson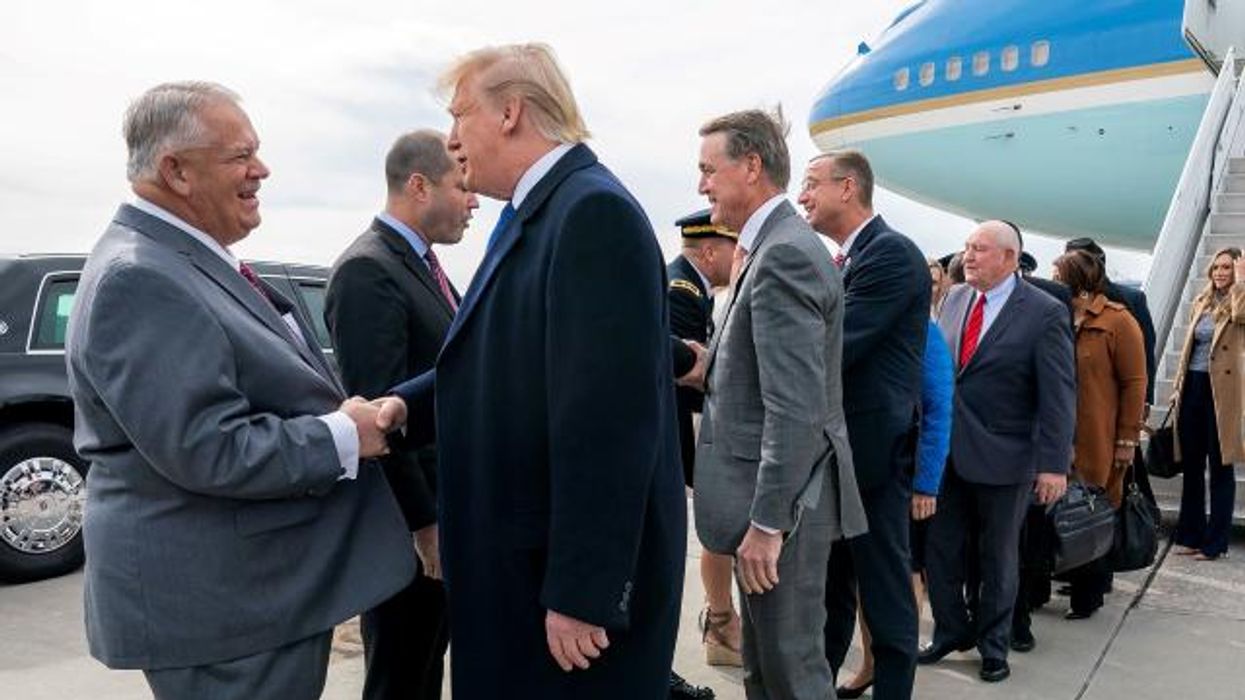 Official White House Photo by Tia Dufour
Reprinted with permission from Alternet
The White House's post-Trump era will begin only a month from Sunday when Joe Biden is sworn in as president of the United States. One of President Donald Trump's activities during his final weeks in office will be campaigning for two GOP senators in runoff elections in Georgia, but according to New York Times reporters Shane Goldmacher and Maggie Haberman, Trump isn't overly enthusiastic about that task — and is only using the runoffs to promote his own fundraising.
---
"Mr. Trump had been tentatively planning to go to Georgia on Saturday, according to a senior Republican official, to support the two Republicans in Senate runoff races there," Goldmacher and Haberman explain. "But he is still angry at the state's Republican governor and secretary of state for accepting the election result, and simply doesn't want to make the trip. There is some discussion about him going after the Christmas holiday, but it's not clear he will be in a more magnanimous mood by then."
The two Georgia Republicans hoping to stay in the U.S. Senate in 2021 are Sen. Kelly Loeffler and Sen. David Perdue. Loeffler is competing with Democrat Raphael Warnock, and Perdue is running against Democrat Jon Ossoff. The outcome of these races will determine whether the Senate is controlled by Republicans or Democrats during Biden's presidency — and whether Sen. Mitch McConnell is Senate majority leader or Senate minority leader.
Goldmacher and Haberman point out that even though e-mails and text messages from Trump have been urging Georgia residents to vote for Loeffler and Perdue, none of those solicitations are putting money directly into their campaigns.
"Even as he displays indifference toward the Georgia races, the Trump political apparatus has taken advantage of the grass-roots energy and excitement over the two runoffs to juice its own fundraising," the Times reporters note. "E-mail and text solicitations have pitched Trump supporters to give to a 'Georgia Election Fund,' even though no funds go directly to either Republican senator on the ballot, irritating some Senate GOP strategists. Instead, the fine print shows 75 percent of the donations to the Georgia fund go to Mr. Trump's new PAC, called Save America, with 25 percent to the Republican National Committee."
NEWS w @ShaneGoldmacher - Trump has raised more than $60 mill and Lara Trump and Pence's nephew were early incorpor… https://t.co/1bMYIOhhZz

— Maggie Haberman (@Maggie Haberman) 1608311603.0
Other items in the story - Trump has raised more than $60 million into his leadership PAC on spurious claims of wid… https://t.co/utc6m0ruBy

— Maggie Haberman (@Maggie Haberman) 1608312741.0
Trump has been furious that Biden won Georgia, a state that went to Trump in 2016 — and he has been angrily railing against Georgia Gov. Brian Kemp and Georgia Secretary of State Brad Raffensperger, both Republicans, for saying that Biden won the Peach State fairly and not joining the president in baseless claims of widespread voter fraud. As Trump sees it, top GOP officials in Georgia let him down. But as Goldmacher and Haberman point out, those voter fraud claims, however bogus, have been quite profitable for Trump since the election.

The Times reporters observe, "Deflated by a loss he has yet to acknowledge, Mr. Trump has cushioned the blow by coaxing huge sums of money from his loyal supporters — often under dubious pretenses — raising roughly $250 million since Election Day along with the national party. More than $60 million of that sum has gone to (Save America), according to people familiar with the matter…. The post-election blitz of fundraising has cemented Mr. Trump's position as an unrivaled force and the preeminent fundraiser of the Republican Party even in defeat."
Many of Trump's outspoken critics on the right, including the anti-Trump conservative groups the Lincoln Project and Republican Voters Against Trump, were hoping that he would fade away if he lost to Biden. But Republican pollster Whit Ayers believes that Trump's prominence in the GOP will continue after he leaves the White House.
Ayers told the Times, "There's no bully pulpit as large as the presidency, but nevertheless, President Trump is likely to play a significant role in the future of the Republican Party. It's very difficult to imagine him following the same pattern as George W. Bush, Barack Obama and other presidents have followed in keeping their mouths shut and letting the new president try to govern."