Fox News Warns Removing Trump Will Enrage His Delusional Mobs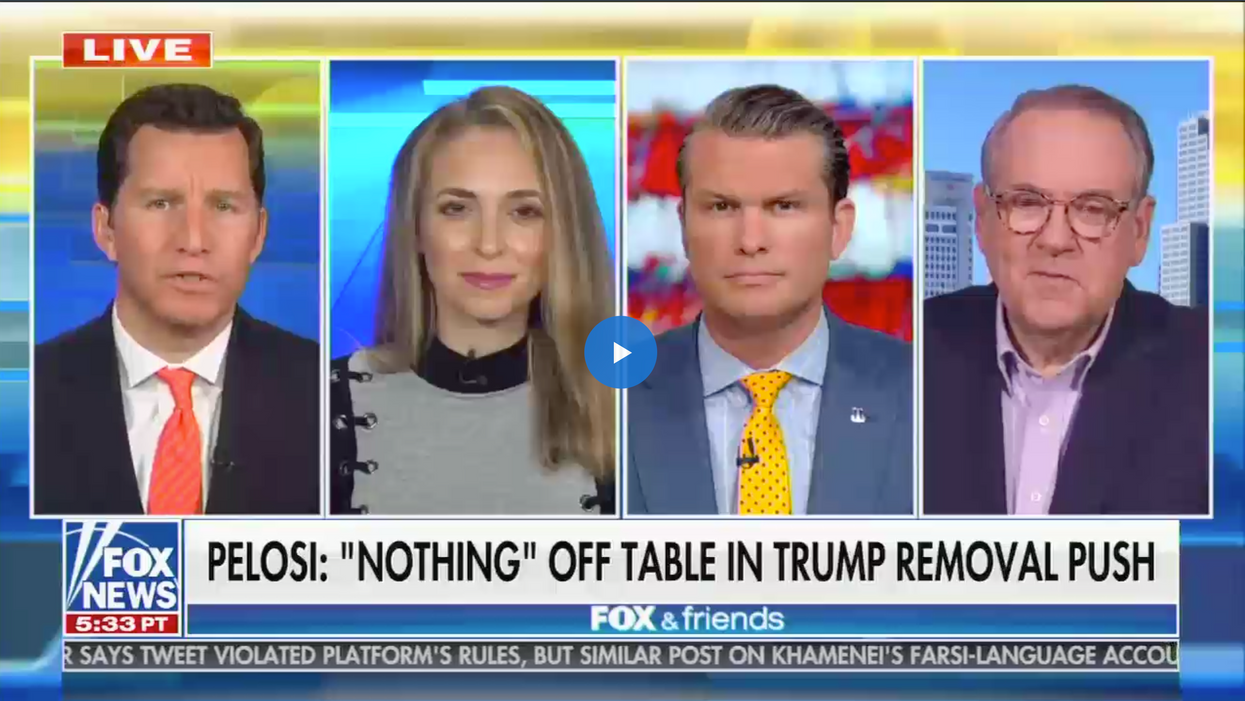 Screenshot from Media Matters
Reprinted with permission from Media Matters
Fox News is now warning against the efforts to impeach President Donald Trump during his final two weeks in office, following the failed putsch at the Capitol on Wednesday — with an argument that is essentially a plea to give in to the fear of more violent mobs.
House Speaker Nancy Pelosi (D-CA) told CBS News' 60 Minutes in an interview broadcast on Sunday: "Well I like the 25th Amendment because it gets rid of him. He's out of office. But there is strong support in the Congress for impeaching the president a second time. This president is guilty of inciting insurrection. He has to pay a price for that."
Since Trump's January 6 speech that incited a rally full of his supporters to storm the Capitol, congressional Democrats have been calling for Trump's immediate removal from office. Trump also reportedly watched the event on TV with excitement, while resisting internal calls in the White House to send the National Guard to protect the Capitol. (Maryland's Republican governor has publicly spoken out about the delays in obtaining permission to send his state National Guard units.)
But for his supporters on Fox News — the network that both before and immediately afterthe 2020 election promoted Trump's disproven conspiracy theories about mass voter fraud — the onus is on Democrats to unite the country. A premature removal of Trump from office, they say, would only make those tens of millions of people who voted for Trump feel even worse and perhaps cause them to rise up again.
Fox figures who supported stealing the election now call on Democrats to "unify the country" and not "inflame" Trump's voters
On January 7, Fox host Sean Hannity spoke with Matt Schlapp, head of the American Conservative Union, who said that President-elect Joe Biden and the Democrats must decide if "they want to unify and take down the heat or do they want to impeach and cancel and attack." "Let the 73 million Americans who voted … for Donald Trump feel like their voices have been heard," Schlapp stated, adding later that if that doesn't happen, "this literally is going to make it very hard for this country to stay as a union and it's a very troublesome thing."
Schlapp had previously taken to Twitter the day after the 2020 election and had attempted to incite riots aimed at stopping the ongoing vote counts.
MATT SCHLAPP (CHAIRMAN, AMERICAN CONSERVATIVE UNION): If you want to unify the country, let the 73 million Americans who voted — over 73 million Americans who voted for Donald Trump feel like their voices have been heard.L et's get to this inauguration, and then let's let the representatives and senators they've elected to Congress, let's them all do their job by advocating for the positions they feel.

Instead, whether it's corporate America which is increasingly becoming woke or other big voices on social media companies, et cetera, instead it's always a desire to shut down anybody who is a conservative, shut down anybody who is for the MAGA agenda, and this literally is going to make it very hard for this country to stay as a union and it's a very troublesome thing.


Prime-time host Laura Ingraham spoke with Republican activist Harmeet Dhillon, who had previously acted as a Trump 2020 campaign legal adviser.
"I wish what happened yesterday with his supporters had never happened," Dhillon said. "But for the left to characterize Trump supporters and over 70 million of us as a mob of white supremacists is outrageous." She then further claimed that impeachment would amount to a "witch hunt."
In the days after the election, while votes were still being counted in key swing states, Dhillon had told Fox Business host Lou Dobbs: "We're waiting for the United States Supreme Court — of which the president has nominated three justices — to step in and do something. And hopefully Amy Coney Barrett will come through."
HARMEET DHILLON (CEO, CENTER FOR AMERICAN LIBERTY): I wish what happened yesterday with his supporters had never happened.

But for the left to characterize Trump supporters and over 70 million of us as a mob of white supremacists is outrageous. There were a lot of peaceful protesters in Washington yesterday. A tiny, tiny fraction of them got out of hand, and they should be punished as the president said. Why should the president resign for that? I think it is time for an orderly transition.

A resignation and impeachment even as some of these folks are saying and Nancy Pelosi and others, is not an orderly transition. It is a witch hunt. It is punitive. And it is going to inflame rhetoric and nothing is going to inflame rhetoric in this country for the next couple of years more than putting a target on the back of Trump supporters like the left is doing today.

Ingraham also spoke with former independent counsel and current Fox contributor Ken Starr, who headed up the investigation leading to President Bill Clinton's impeachment in 1998 and then returned to defend Trump from impeachment in 2019. In the days after the election, Starr had also publicly endorsed Trump's attempt to convince Republican-led state legislatures to discard Biden's popular vote victories in their states and instead appoint slates of Electoral College delegates for Trump.
Starr described the latest effort to impeach Trump as "an act of deliberate divisiveness at a time when I thought that we were trying to unify the country."
Starr also made appeals for "kindness and compassion" and claimed he was "not seeing that from the leaders on the Democratic side." He also said that "there needs to be a national conciliation and reconciliation" and asserted that all this "inflammatory rhetoric" is "anti-American tradition. The traditions that are great is let us find common ground and work to agree where we can, but disagree with respect with one another."
While he invoked "American tradition," Starr did not address the point that the president of the United States — for the first time in American history — had incited an attempted violent overturn of his own electoral defeat.
And on Sunday night's edition of The Next Revolution with Steve Hilton, guest Charlie Kirk of Turning Point USA declared that another impeachment "will only further rip our country apart."
In the days before the insurrection, Kirk had publicly endorsed the push from the Trump legal team and far-right media for Vice President Mike Pence to unilaterally reject states' Electoral College votes for Biden. "Some people say that's not constitutional," Kirk said on January 4. "Then try it. Make them sue and get the Supreme Court into action."
Kirk has also deleted a tweet declaring that his Turning Point Action group was sending "80+ buses full of patriots to DC to fight for this president."
Fox figures declare that "this country is ready to explode again," and Trump's supporters are "more dug in than ever"
On the Friday morning edition of Fox & Friends, co-host Ainsley Earhardt appealed to the president-elect to consider all the voters: "We need to remember the voter here — on both sides of the aisle. And we are looking to Joe Biden now to unite all of us, to heal our country. And I hope that he can do that. We are praying that he can do that."
Co-host Brian Kilmeade also concluded that removing the president in such a short time frame simply isn't feasible and that the calls from Democrats to do so were only making the situation worse: "If you thought, 'I'm going to bring the country together,' the last thing you would probably do is what they did yesterday, because 75 million people voted for the president."
Fox News Sunday host Chris Wallace also appeared on America's Newsroom and told co-anchor Sandra Smith that he's hearing from his GOP sources, the impression that if Trump "keeps quiet" for the next 12 days, impeaching him or removing him via the 25th Amendment would escalate public tensions.
"From what I hear from Republicans on the Hill, people in the White House, they feel that any kind of removal at this point would probably create more harm, more outrage than it would damp down, than it would solve," Wallace said. "Obviously there are millions of people who supported Donald Trump. There are hundreds of thousands who were on the Mall who believe that this election was stolen from him. And for him to be removed from office, either from within his administration or by Congress, would only enrage those people further. So I think that's a last resort."
While mentioning the Trump supporters who believe the election was stolen from him, Wallace conveniently failed to note the role Fox News played in promoting Trump's conspiracy theories and undermining public confidence in the election.
And on Friday night, Fox "news side" anchor Martha MacCallum opened her show by explaining to viewers that impeachment of Trump at this point " would prevent President Trump from ever running again — it's kind of like being disbarred if you're an attorney."
But she then proceeded with an editorial comment, rhetorically asking: "But is this truly the path to stability for these tumultuous times? Do these politicians care about the country — or their next weapon? Given the fragility of this moment, is this what's best for America?"
"74 million people have voted for the president, 80 million who voted for Joe Biden," MacCallum added. "What would be the best for all of them? Would that send a message that the government is truly putting its citizens and its economy first for everyone?
And on Sunday's edition of Fox & Friends Weekend, Fox News contributor Mike Huckabee declared also furthered the idea that impeachment would not unify the country, while the tens of millions of Trump voters are "pretty ticked off as it is."
"There is no grounds for impeachment, there just isn't," Huckabee said "If you go back and look at what impeachment's supposed to mean — I mean, this is absurd, and the timing makes it even more absurd."
Just to be clear the relevant text in the Constitution says: "The President, Vice President and all civil officers of the United States, shall be removed from office on impeachment for, and conviction of, treason, bribery, or other high crimes and misdemeanors."
In all these segments mentioning over 70 million Trump voters, little regard was given to over 80 million people who voted for Biden and that they just witnessed an attempted coup incited and abetted by the lame-duck president of the United States.
And on Monday's edition of Fox & Friends, co-host Brian Kilmeade reacted to Pelosi's call for Trump's removal by saying that the country was "ready to explode again."
The admission: Impeachment is dangerous because Trump's supporters are dangerous
But on Thursday afternoon, it was Fox News contributor Andy McCarthy, writing at National Review who made the most blunt admission of all: Do not impeach Trump, because "our deeply divided country is a tinderbox right now" — and Trump's supporters are delusional fanatics.
"For purposes of national cohesion and stability, it doesn't matter that millions of ardent Trump supporters are wrong to believe the election was a coup," McCarthy wrote. "What matters is that they believe it." (Emphasis in the original.)
Obviously, it is not my purpose to trivialize what happened yesterday. It is a stain on the republic, and I have publicly stated that the president incited it. Having prosecuted a man for inciting crimes of violence, it is not a term I use lightly.
That said, the events of yesterday also demonstrated yet again that our deeply divided country is a tinderbox right now.
I have tried, over the past two months, to analyze the president's allegations of election fraud and improprieties. It is apparent that the major claims he is making about a stolen election are untrue — even if it is also clear that there were improprieties, and that there are significant election-integrity problems with mass-scale mail-in voting.
The problem, however, is that Trump is an extraordinarily effective populist demagogue. What's more, the presidency is still the bully-pulpit, for good or ill. As a result, tens of millions of Americans believe his claims. The vast majority of them are not thugs bent on storming the Capitol, but they are smoldering for a variety of reasons, not least a year of pandemic, lockdowns, economic distress, rioting, spiking crime rates, and — lest we forget — a foolishly partisan presidential impeachment.
For purposes of national cohesion and stability, it doesn't matter that millions of ardent Trump supporters are wrong to believe the election was a coup. What matters is that they believe it. There will be plenty of time later to assess blame for that, to examine the reasons for the outsize influence the president has continued to exercise over many Republicans in a post-election period when his influence should be eroding. For the moment, we have to deal with the straits we're in. That counsels against further inflaming the situation if that can be
avoided.
The conduct we've witnessed is impeachable, and I will not contend otherwise. Still, there are 13 days to go in this presidential term.

During the previous Trump impeachment, McCarthy had embraced the "no harm, no foul"defense on the grounds that Trump's efforts to use military aid to pressure the government of Ukraine into smearing Joe Biden had not succeeded. (A key point: The attempt had almost come through and had failed because the perpetrators had been caught.)
In the years before the Trump presidency, however, McCarthy had called for the impeachment of President Barack Obama for alleged executive overreach and also recommended that Hillary Clinton be impeached if she were to be elected president in 2016.