Reckoning With The GOP Racketeers (And Their Crooked Boss)
@ninaburleigh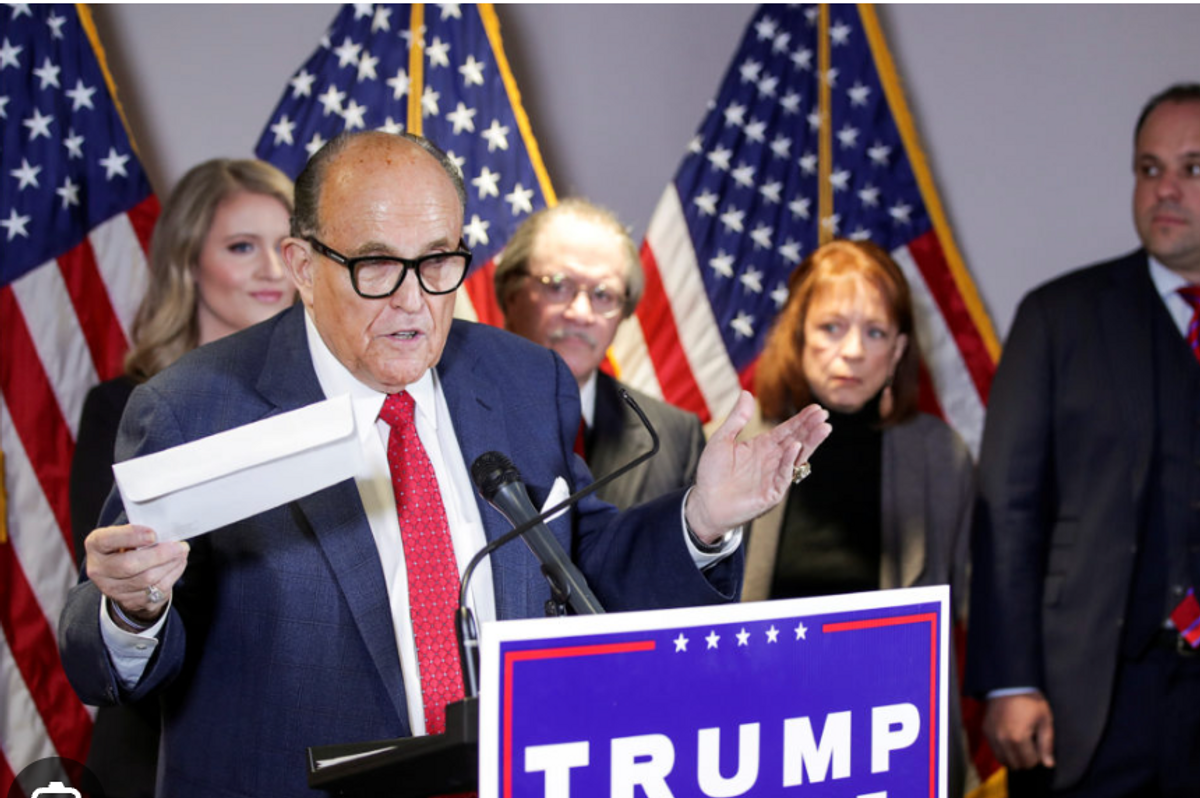 Nineteen accused: Trump, Giuliani, Eastman, Meadows, Chesebro, Clark, Ellis, Smith, Cheeley, Roman, Shafer, Still, Lee, Floyd, Kutti, Powell, Latham, Hall, Hampton.
Thirty more unnamed, un-indicted co-conspirators .
Forty-one counts, starting with the mobster one -- RICO. The Racketeering Influenced and Corrupt Organization charge.
Typically, racketeering involves thugs with nicknames like Joey Bananas, Willie Icepick, Scarface, and crimes like narcotics, human trafficking, or money laundering. This RICO case has been filed against 15 men and four women with power, money, influence, law degrees, and law licenses, many of them duly sworn to serve the American public.
Whatever happens, the indictment strips these people of their veneer of respectability. Trump's gang are alleged to have committed a variety of dirty state crimes in the furtherance of their corrupt organization's coup scheme: forgery or false documents and statements, soliciting or impersonating public officers, racketeering, perjury, computer tampering.
Nineteen people. The number is a surprise. We didn't expect it. But we could also ask: Only 19?
As a nation, we have witnessed in real time, in our time, public debasement and individual cowardice on an epic if not epochal scale. Isn't the entire Republican Party, and their powerful messaging cronies at Fox, implicated in this racket and at least morally culpable? The leaders, McConnell, McCarthy, Ronna McDaniel, their bloated millionaire amplifiers, Murdoch, Hannity, Carlson, and the hundreds of senators and representatives in Washington and thousands of minions around the states —- all in lockstep with the scheme. Look what they did to their own courageous few. Kinzinger, Cheney, banished. Raffensberger, living with death threats.
The party's collective failure of ethical leadership when confronted with Trump's venality and corruption is so profound, so archetypal, that it requires a modern day Shakespeare or Sophocles to effectively engrave it into literary history.
"Just say that the election was corrupt and leave the rest to me and the Republican congressmen," Trump said to the acting attorney general, according to the indictment.
The collusion implied in that remark, the failure of leadership, the collective cravenness in the face of this avatar of amorality, was evident from the very first GOP presidential primary debate, in fall 2015.
He had such star power. Television loved his nicknames and quips and Sinatra croon and vulgarity. It is a measure of our debased era that almost no one one really bothered with the substance of who he was, how little he cared for the country or the office he was seeking, how little respect he had for its people.
Trump bragged at that first debate about how cleverly he had abandoned Atlantic City when his casino business crashed. "I had the good sense, and I've gotten a lot of credit in the financial pages — seven years ago, I left Atlantic City before it totally cratered," he boasted. "And I made a lot of money in Atlantic City, and I'm very proud of it."
Take the money and run. Those riches did not trickle down. At that point, 39,000 people lived in the town he called "a disaster." Unemployment was 13.8 percent, the 10th highest in the nation. The mortgage foreclosure rate was America's highest.
I went down to Atlantic City a few weeks after that debate to see for myself what the "crater" looked like. An historic East Coast summer destination, now a bit shabby, sacrificed to Mammon when the New Jersey legislature legalized gambling in the hope of pulling a little money into the public till for roads and schools. Everyone worked in or for the casino business, or the restaurants, which were mostly empty.
Keith Harris, an administrative assistant at the Asbury United Methodist Church's community center, which fed Atlantic City's poor, told me "lots of people do feel he jumped ship and left a lot of us high and dry." Other people told me small vendors who had supplied things like pianos or carpets had been forced into bankruptcy themselves. The contractors that survived understood Trump never paid the final installment on his contracts.
Shafting vendors was just another "smart" move.
The Republican Party's example of failed leadership, its obeisance to a conman at best, at worst a Prince of Lies, in exchange for power, will be taught to schoolchildren, if this country survives. Which —- thanks to the hard work of people like Fani Willis, the courage of way too few Republicans like Raffensberger, and the decent citizens of the grand juries who gave their time sitting in chairs in public buildings in Atlanta when they could have been fishing or golfing or going to their own jobs, concentrating on the complicated details of an audacious scheme, an octopus of illegality, for no reward, just because it was their civic duty —- it may well do.
Please consider subscribing to American Political Freakshow, from which this is reprinted with permission.
Nina Burleigh is a a journalist, author, documentary producer, and publisher ofAmerican Political Freakshow, a Substack on politics. Her journalism has been published in The New York Times, The New Yorker, Airmail, and New York. She is the author of seven books including most recently Virus: Vaccinations, the CDC, and the Hijacking of America's Response to the Pandemic and an adjunct professor at New York University's Arthur L. Carter Journalism Institute.