While Defendant Trump Faces Oncoming Indictments, His Business Is Failing
@LucianKTruscott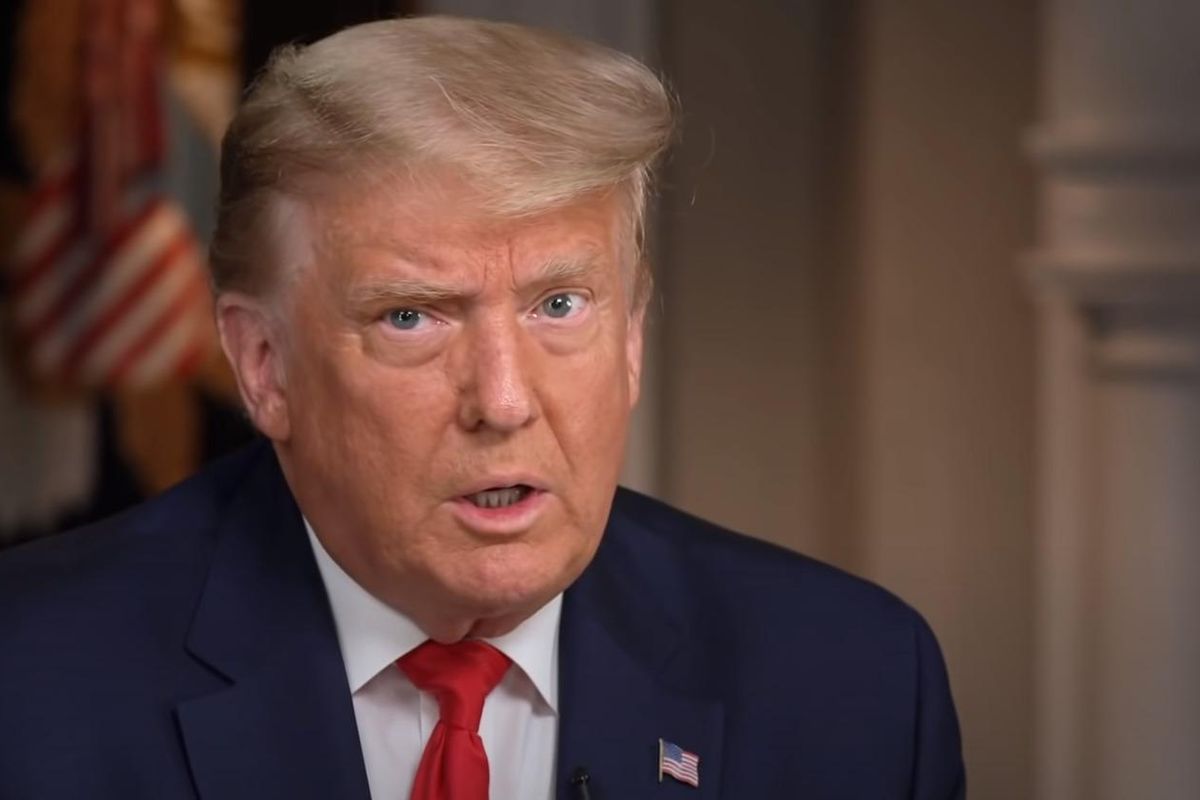 Youtube Screenshot
The big question facing the ink-stained wretches of the press is, can they find enough hours in the day to keep up with the tsunami of Defendant Trump's legal travails? Taegan Goddard, founder, editor, and publisher of the smart and essential newsletter, Political Wire, recently suspended indefinitely a bonus paid subscriber only newsletter called Politics Extra. His regular newsletter, posted periodically throughout the day, apparently became so stuffed with news about Defendant Trump that he couldn't keep up with his bonus reports, usually published around 6 p.m. daily.
I get it. Goddard's noon post of Political Wire was rapidly backed up with a new one that went up at 12:35, "Trump's Lawyers Anticipate Bigger Case Against Him."
"Donald Trump's lawyers and advisers are trying to figure out if there is evidence and witnesses they are unaware of that are bolstering special counsel Jack Smith's investigation into efforts to overturn the 2020 election," CNN reports.
Goddard's earlier post was filled with reports on Defendant Trump:
"Most Republicans Fall in Line Behind Trump," a distillation of a report in The Bulwark by Charlie Sykes.
"The Next Trump Indictment is Near," a capsule report on a post by Benjamin Wittes, a senior fellow at the Brookings Institution and co-founder of the Lawfare Blog. Wittes reported on his "Dog Shirt Daily" Substack that the presence of a senior prosecutor from the office of Special Counsel Jack Smith at the chambers of the D.C. grand jury this week leads him to believe, along with the target letter issued by Smith on Sunday, that a new indictment of Defendant Trump could come as early as Thursday.
"Trump Loses Bid for New Trial in E. Jean Carroll Case," was the next Defendant Trump update on Political Wire, followed close behind by "Bernie Kerik In Talks With Special Counsel," reporting on what sounds like a proffer being made by the former New York City police commissioner who was closely involved with his pal Rudy Giuliani's many-pronged efforts on behalf of Defendant Trump to overturn the 2020 election, who has of course already had his proffer meeting with prosecutors.
"Trump Frustrated by No Huckabee Sanders Endorsement" referred to a report out of Defendant Trump's campaign that appeared on Axios. "Trump Escalates Fight with Iowa Governor" summed up a report from the Des Moines Register, again from inside Defendant Trump's campaign. "Trump Signals He Won't Endorse in Key States" condensed a CNN report that the Defendant in Chief won't endorse Republican Matt Rosendale, who is running for the Senate against incumbent Democrat John Tester, nor will he back Republican Congressman Alex Mooney in the Republican Senate primary against former West Virginia Governor Jim Justice.
Meanwhile, the Atlanta Journal-Constitution is reporting this morning that Special Counsel Smith has "requested surveillance and other security footage recorded at Atlanta's State Farm Arena," according to a subpoena the paper obtained from a public records request. "
The Georgia Secretary of State's office was directed to hand over 'any and all security video or security footage, or any other video of any kind, depicting or taken at or near' State Farm and 'any associated data,'" the Journal-Constitution reported. The story pointed out that the request by Smith showed "widening interest in Georgia" by the Special Counsel's office, as well as "growing areas of overlap between the DOJ probe and the Fulton County investigation of interference in Georgia's 2020 elections."
Last year, the Washington, D.C. grand jury subpoenaed all communications the Georgia secretary of state had with Defendant Trump between Election Day in November 2020 and President Biden's inauguration on January 20, 2021. Last week, it was reported that prosecutors from Smith's office had traveled to Georgia to interview Secretary of State Brad Raffensperger, presumably about the recorded conversation he had when Defendant Trump asked him to find "11,780 votes, which is one more than we have."
The Bulwark also broke a story early Wednesday afternoon about the problems Defendant Trump is having in his real estate business. He owns an interest in two major office towers, one in New York, and the other in San Francisco, at a time when rentals of office space in major metropolitan areas are plummeting because of work-at-home policies that came out of the COVID days. The New York building was refinanced by Defendant Trump in 2021, taking on $950 million of new debt. Under the terms of his partnership in the building, he cannot sell his interest until 2044, and it's losing money at a breakneck clip.
In San Francisco, Defendant Trump owns 30 percent of a 52-story skyscraper on which he and his partner, the Vornado Realty Trust, took out a $1.2 billion mortgage, also in 2021. Bloomberg has been playing close enough attention to the financial, legal and political travails of Defendant Trump that they can report the San Francisco tower mortgage has been put on a "watchlist for default," which is significant because a recent office building sale in the same downtown area went for what the Wall Street Journal called a "fire sale price."
The value of that poor building had dropped to $60 million from $300 million in just four years, establishing a floor value for the neighborhood of about $200 per square foot. Defendant Trump's mortgage puts a value on his building of $900 per square foot, meaning if the building was sold today at a price area buildings are currently worth, the sale price would come nowhere near covering its $1.2 billion debt.
So. Indictments, subpoenas, target letters, fights with Republican governors of Republican states he doesn't need to be fighting with, refusals by former press secretaries and presumed friends to endorse him, financial woes, and yet another apparent proffer agreement by a close aide involved in his fake elector scheme…what else might be in store for Defendant Trump?
We wait with bated breath and, in my case at least, aching typing fingers for what tomorrow brings. Stay tuned right here for the next installment of "The Defendant," the long awaited sequel to The Apprentice.
Lucian K. Truscott IV, a graduate of West Point, has had a 50-year career as a journalist, novelist, and screenwriter. He has covered Watergate, the Stonewall riots, and wars in Lebanon, Iraq, and Afghanistan. He is also the author of five bestselling novels. You can subscribe to his daily columns at luciantruscott.substack.com and follow him on Twitter @LucianKTruscott and on Facebook at Lucian K. Truscott IV.
Please consider subscribing to Lucian Truscott Newsletter, from which this is reprinted with permission.