Trump's Legal Woes Don't Help DeSantis In Primary
@alexvhenderson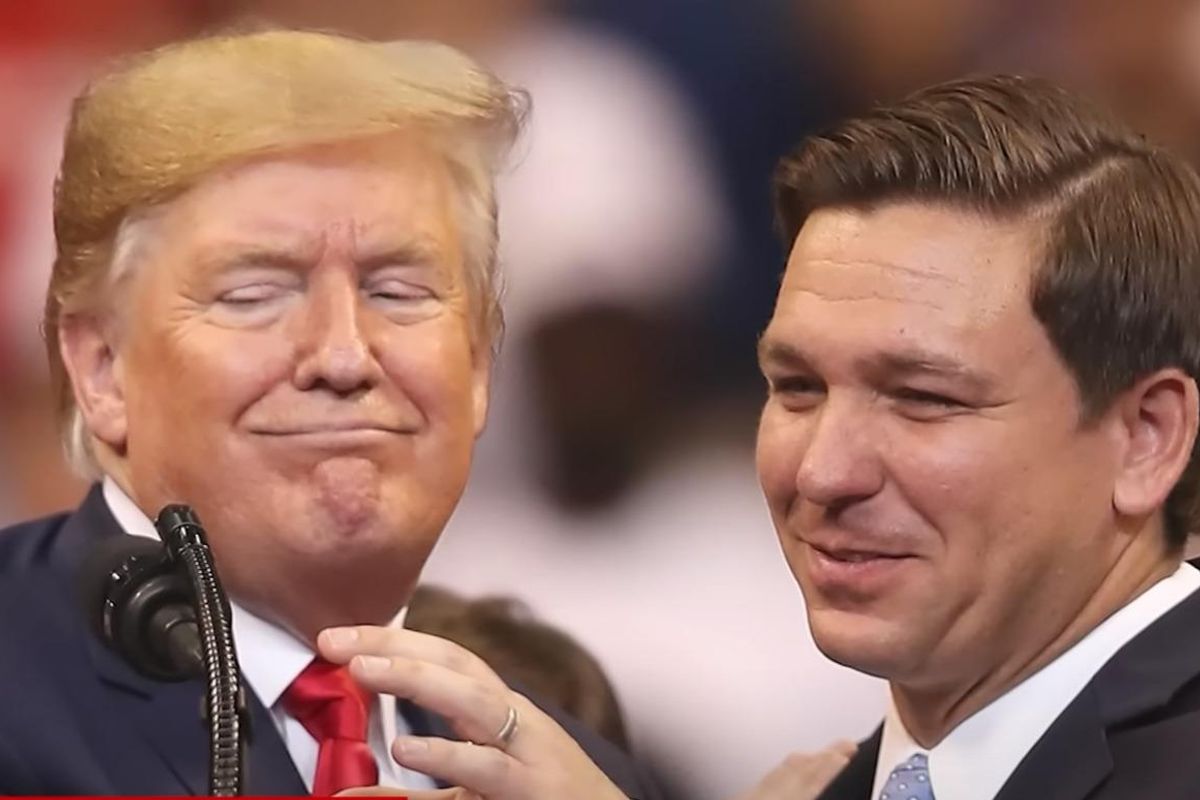 Cheerleaders for Florida Gov. Ron DeSantis' presidential campaign continue to hope that former President Donald Trump's legal problems will give DeSantis an advantage, but so far, that isn't happening.
A Fox News poll released on June 28 found DeSantis' trailing Trump by 34 percent among 2024 GOP presidential primary voters. Polls released several days before that showed Trump ahead of DeSantis by 29 percent ( NBC News ) or 38 percent ( Emerson College ).
If Trump's Republican primary frontrunner status holds up, it is entirely possible that 2024 will see a rematch between him and President Joe Biden. Some pundits believe that Trump's legal problems are helping, not hurting, him among GOP primary voters — a themed explored in articles published on July 3 by The Messenger and The New Republic .
Merle Miller, who chairs the Washington County, Iowa GOP, told The Messenger , "The majority of Republicans here are for Trump after this frickin' legal lynching. That's all it is…. People here take the indictment personally. I think if they wouldn't have done this thing and try to prosecute and persecute him and drag this guy through the mud like they've been doing for seven years, that it would be different. But people are mad."
Between special counsel Jack Smith's 37-count federal prosecution for the U.S. Department of Justice (DOJ) and Manhattan District Attorney Alvin Bragg, Jr.'s 34-count case for New York State, Trump is facing a total of 71 criminal counts . And his efforts to overturn the 2020 presidential election results are the focus of investigations by Smith and Fulton County, Georgia District Attorney Fani Willis .
The Messenger 's Marc Caputo reports that Kelley Koch, who chairs the Dallas County, Iowa GOP, is also seeing a surge in support for Trump among Republican primary voters.
Koch told The Messenger , "What I'm hearing in my county is that it's basically all in for Trump…. They poured a ginormous jug of diesel fuel on a bonfire, and people are fired up. They stirred people that normally would not be stirred right now. People are starting to identify with what Trump is going through."
The New Republic 's Tori Otten , meanwhile, stresses that Trump's legal problems "could send him straight to the Republican presidential nomination."
"Trump has capitalized on the indictments, using them to stoke outrage — and rake in donations," Otten explains . "His campaign announced in mid-June that it had raised $6.6 million in the week after his second indictment, in which the Department of Justice alleged that he had stored highly sensitive documents relating to national security in a bathroom. He had raised more than double that in the days after he was indicted in April."
Otten notes that polls continue to show Trump with "a substantial lead over DeSantis, the current runner-up."
"It is, of course, still nearly a year until the Iowa caucuses, Otten observes . "Any number of things could change by then. But it's safe to say that Trump has not been hurt by the indictments nearly as much as some expected."
Reprinted with permission from Alternet .