Poll: Trump Third-Party Campaign Could Cripple GOP In 2024
@kerryeleveld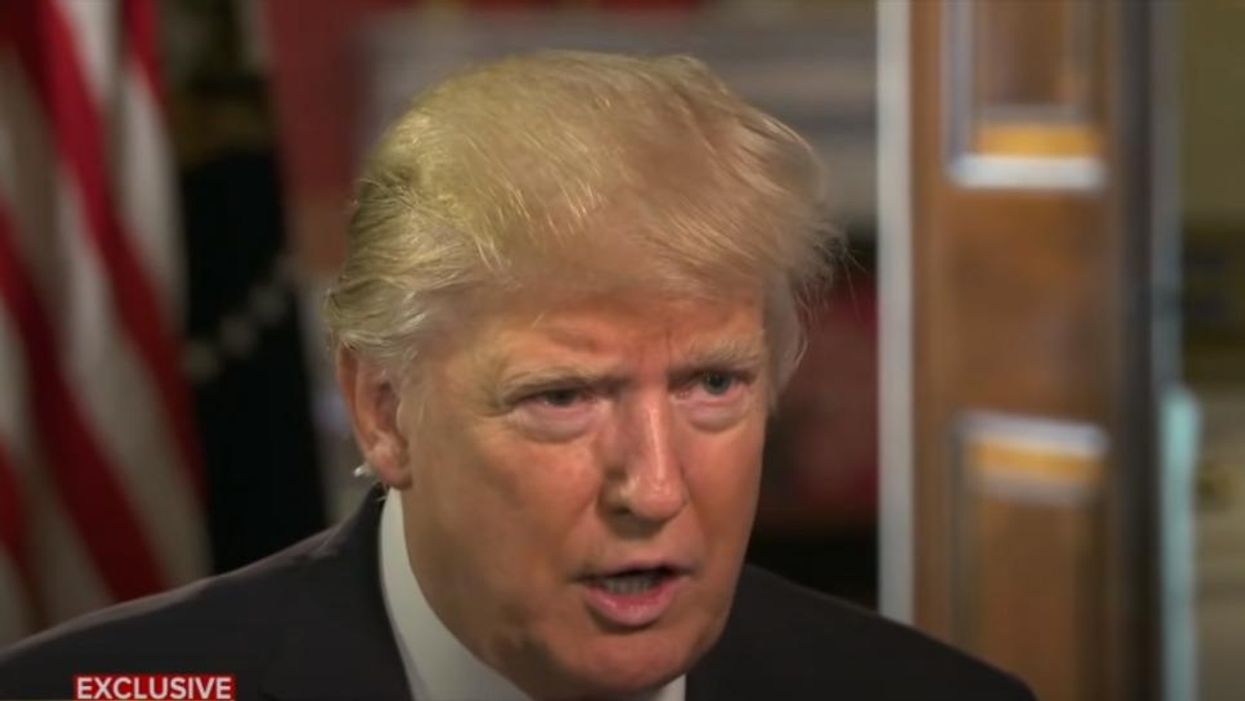 Youtube Screenshot
The conservative outlet The Bulwarkpublished a poll this week with findings that suggest Republicans' worst 2024 nightmare could indeed become a reality.
The poll, conducted by North Star Opinion Research, showed that 28 percent of GOP primary voters said they would support Donald Trump even if he decided to run as an independent in the general election.
It's a number that surely has GOP donors, operatives, and Senate Minority Leader Mitch McConnell drenched in night sweats. One way or the other, Trump will undoubtedly be making Republicans' life a living hell for yet another cycle.
To sweeten the plot, the survey also found that Trump's candidacy isn't exactly popular, nor is he poised to run away with the nomination.
The Bulwark notes that recent polling, including their own, finds Trump's '24 candidacy retains the support of approximately 28 -- 38 percent of Republican primary voters, meaning a solid majority of GOP voters are ready to give Trump the heave-ho.
Trump, however, still has a plausible path to winning the nomination, though nothing is assured.
In 2016, for instance, Trump won a 35 percent plurality of New Hampshire Republican voters and a 33 percent plurality of South Carolina voters, taking all the delegates from both states and putting him on the path to eventually clinch the nomination.
The poll tested three different GOP candidate scenarios for '24:
A head-to-head with Florida Gov. Ron DeSantis, who handily beats Trump 52 -- 30 percent (with 15 percent undecided, three percent declining to vote if DeSantis/Trump are the only choices)
A DeSantis/Trump/generic third candidate match up, where DeSantis prevails with 44 percent, Trump garners 28 percent, and the third candidate gets 10 percent, with 17 percent undecided.
A 10-candidate field, where DeSantis takes 39 percent, Trump 28 percent, Mike Pence gets nine percent, everyone else nabs low single digits, and 13 percent remain undecided.
None of those scenarios seem particularly promising for Trump, but it's worth remembering that no one really knows whether DeSantis is ready for prime time. Remember when former Wisconsin Gov. Scott Walker was going to roll over everyone else on his way to the '16 GOP nomination?
So DeSantis being the frontrunner at this point isn't exactly a lock either.
One thing, however, is clear: Trump's star is falling. That has proven true in poll after poll even as Republican voters continue their full embrace of Trumpism.
In Civiqs tracking, Trump's favorables are now at their lowest point since he clinched the nomination in 2016 — 34 percent favorable, 59 percent unfavorable — exactly where they stood on July 19, 2016, when he officially became the Republican nominee. The difference is, at that point, his favorables were steadily improving; now they are steadily in decline.
Bottom line: Trump isn't exactly collapsing, but he appears to be withering. Any reasonable read on the way things are trending in the GOP primary suggests he would be far better off if the elections started now rather than a year from now.
But Trump's lock on roughly a quarter of the GOP electorate is highly problematic for Republicans, particularly if he does not win the nomination. A third-party Trump run is an obvious spoiler for Republicans in the general election.
And if you're a Democrat watching from the sidelines, Trump is the only candidate you want to see running as an independent in 2024.
Reprinted with permission from Daily Kos.