Trumpist Think-Tank Concocts Plan To Weaponize FBI Against Liberals
@johnknefel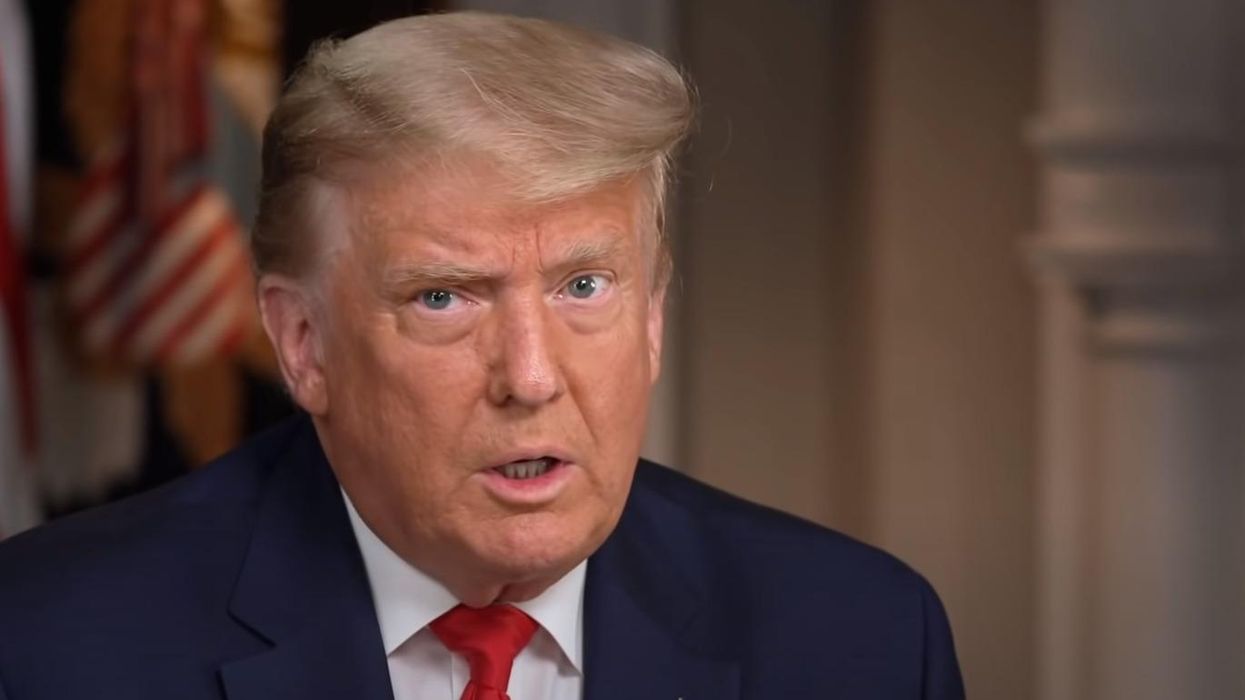 Youtube Screenshot
The Center for Renewing America, a think tank closely aligned with former President Donald Trump, has outlined a series of proposals that could inhibit Department of Justice and FBI investigations into far-right extremism and unleash the Bureau against the right's political enemies. This effort aligns closely with editorial decisions at Fox News, which has manufactured a false narrative that the FBI has secretly been "rigging elections" against Republicans, including in the 2022 midterms. The network's top star, Tucker Carlson, recently falsely accused the FBI of working "to subvert the outcome of what the rest of us assumed were free and fair elections."
CRA is led by Christian nationalist Russ Vought, who served as Trump's director of the Office of Management and Budget. Vought appears frequently on Steve Bannon's War Room podcast, and has been on Fox News at least 11 times since founding CRA following his stint in the White House. Trump administration alumni Ken Cuccinelli, Jeff Clark, and Kash Patel are also affiliated with CRA.
CRA is one of the many organizations on the right pushing for the new House Republican majority to investigate the DOJ and FBI for a supposed anti-conservative bias, following the GOP's takeover of the House. House Republicans won't have any direct control over how the DOJ and FBI operate, but the lower chamber can exert pressure on executive branch agencies through budgeting, hearings, and investigations. The GOP's approach in the House could also foreshadow how a future Republican president may seek to restructure the DOJ and other federal law enforcement agencies.
In early December, CRA released its budget proposal to act as a roadmap of sorts for conservative lawmakers. The document is called "A Commitment to End Woke and Weaponized Government," and includes a long list of right-wing grievances aimed at federal agencies that Vought claims are pursuing social and racial justice policies to the detriment of conservatives. Central to this push is Vought's effort to create a narrative that the Department of Justice and the FBI are organs of the left bent on suppressing the right – a claim that is wrong both in the current moment and historically.
Given the chaotic start to the House Republicans' new majority, the public doesn't know exactly what these investigations might look like, but a new report from conservative columnist Kimberley Strassel at the Wall Street Journal offers some clues. On December 29, 2021, Strassel wrote, "House Republicans plan to set up a panel under the House Judiciary Committee, tentatively called the 'Select Subcommittee on the Weaponization of the Federal Government.'" Separately, Politico reported that some on the furthest-right flank of the House Republican caucus demanded that GOP leader Kevin McCarthy investigate a "weaponized government" in exchange for their support for his bid for Speaker of the House.
It isn't clear whether these Republicans deliberately adopted language almost identical to that used by CRA, but Vought's status as a high-profile conservative activist suggests that his budget is as good a place as any to look for a preview of what investigative angles and recommendations this potential subcommittee might pursue.
CRA pushes to increase the FBI's ability to "thwart" efforts at criminal justice reform
Coinciding roughly with Trump's political ascendence, conservatives have argued that the FBI has been turned into a secret political force bent on persecuting conservatives, a paradigm CRA's proposal endorses wholeheartedly. These missives from conservatives sometimes lead to overly credulous mainstream media framing that claims the right aims to rein in the FBI or otherwise curtail the overall power of federal law enforcement. CRA's budget blows that narrative out of the water.
Rather than wanting to circumscribe the powers of the DOJ and FBI, CRA's budget makes clear that the conservative goal is to sabotage the least reactionary elements of these agencies, while ramping up funding to offices that can target the right's political opponents in exactly the way they claim – incorrectly – that law enforcement has been used against them.
Within the DOJ, CRA calls for "significant cuts" to "the highly politicized Civil Rights Division and Environment and Natural Resources Division," and the "full elimination of the 'equity' obsessed Community Relations Service." It also seeks "to terminate the recently-created Office of Environmental Justice," which CRA claims is "the beginning of a weaponized effort to target American citizens who refuse to adhere to a destructive green energy agenda."
As for the FBI, CRA demands "funding reductions within specific subdivisions of the Bureau that are not salvageable due to a willful and repeated pattern of partisan lawfare waged against Americans who do not share the bureaucracy's increasingly woke and progressive worldview." This includes "reprioritizing" funding in the Bureau's Intelligence, Counterintelligence, and Counterterrorism units, as all have been supposedly captured by a "radically woke worldview." All three of those divisions are at least partially responsible for the FBI's halting and inadequate attempts to disrupt far-right domestic extremist groups in the United States.
Crucially, there is one office at the FBI that would see its funding get a massive increase: the Criminal Investigative Division. "The Budget calls for $4 billion, an increase of $618 million or 18.3 percent over FY21 levels, to thwart the increasing societal destruction caused by progressive policies at the state and local levels that have defunded police, refused to prosecute criminals, and released violent felons into communities," CRA writes.
The budget doesn't specify exactly how the FBI's Criminal Investigative Division would operate in state and local jurisdictions to "thwart" their "progressive policies." The most reasonable interpretation of this proposal, though, is that Vought and CRA want the FBI to operate like a free-range, federal police force that a Republican president can dispatch to localities deemed as hostile. The FBI's responses to the uprisings following the death of George Floyd in summer 2020, while Trump was still in office, offer a preview of what that might look like: infiltration, surveillance, and targeting of Black activists.
Beyond the DOJ and FBI, the CRA budget offers other proposed changes to law enforcement, each of which would shift the relative balance of power in these agencies towards their most reactionary components. In the Department of Homeland Security section, CRA calls for additional Border Patrol and Immigration and Customs Enforcement (ICE) agents. The budget calls for the elimination of a State Department office tasked with "eliminating corruption" and the redirecting of those funds towards "border enforcement and Coast Guard missions to combat drug trafficking."
CRA also proposes eliminating "funding for the recent hiring of 87,000 new IRS agents," who the document claims are "targeting hardworking Americans and struggling families in a craven effort to sustain the broader bureaucracy's radical progressive agenda." Vought and CRA here are joining in a chorus of right-wing pundits who have opposed the new hiring of IRS agents under a thin pretext of right-wing populism, but which in reality is simply a reformulation of the longstanding conservative goal to dodge taxes personally and starve public institutions as a matter of policy.
Looming in the background is Vought's embrace of "Schedule F," a Trump-era policy designed to remove career federal staffers if they were deemed insufficiently committed to conservative causes. After leaving government, Vought has doubled down on this approach to public service, advising the next Republican president to implement "ideological purity tests" to purge workers with an "anti-racist" ideology in favor of those with a "Biblical worldview."
An FBI under the type of administration Vought envisions would likely resemble a Bureau recommitted to the worst excesses and abuses of its past. Although Vought imagines he and his colleagues are subject to that treatment now, his budget shows he's more than willing to actually take this approach against his political opponents.
Reprinted with permission from Media Matters.