President Trump's Chaotic And Bizarre First Month Is Unprecedented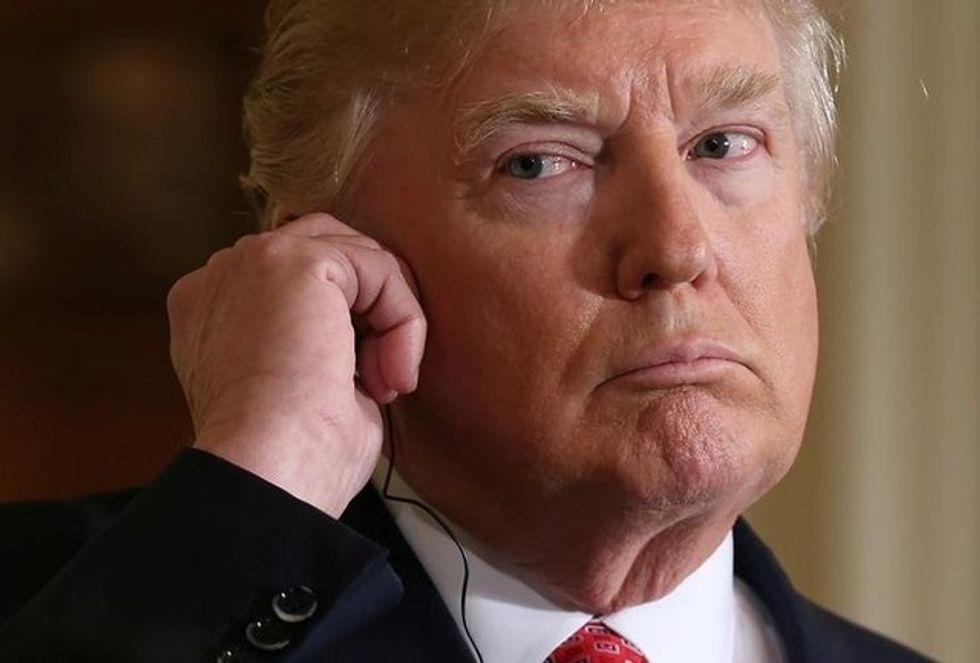 Reprinted with permission from Media Matters for America.
Presidential historians and veteran Washington correspondents say President Donald Trump's first month in office — which has been marred by numerous scandals and vicious attacks on the press — is more "chaotic" and "bizarre" than any administration's first month in history.
Trump put his anti-press venom on display again last Thursday in a wild press conference, during which he doubled down on claims that the press is out to get him and traffics in "fake news."
"This is a new level of bashing the press," Yale University history professor David Blight said shortly after the press conference ended. "It's a complete disaster. All he is doing is daring the press to keep hunting."
Blight is among several historians and veteran D.C. correspondents who spoke to Media Matters about how Trump's first month in office compares to those of his predecessors. They painted a picture of Trump's first weeks as an unprecedented mix of chaos and mounting scandals.
"In all the administrations I've observed, and all the ones I've studied, I've never seen such confusion and internal tension so early as in this one," H.W. Brands, a presidential historian who has written books on Andrew Jackson, Teddy Roosevelt, Woodrow Wilson, and Ronald Reagan, said via email. Referencing the recent resignation of national security adviser Michael Flynn, Brands added, "I can't recall a top adviser being forced out so soon. The knives are out; more casualties seem likely."
According to Brands, "This administration, with very little experience of Washington — and with often expressed contempt for Washington's ways — has had a rougher start than any in living memory."
William H. Chafe, a Duke University history professor and former president of the Organization of American Historians, called Trump's early weeks "totally unprecedented."
"There's been so much instability, so many scandals, and no legislation," Chafe said. "By this time, Obama had already passed his stimulus package in Congress. You are talking about a completely unprecedented situation."
Patrick Maney, a Boston College presidential historian, said many presidents have started out with troubles, but not at this level.
"This is sort of like warp speed. What is amazing to me is that this has happened in such a short time," he said, later pointing to Trump's anti-press approach as "rawer than any I have ever seen. Even Nixon and Clinton at their angriest with the press, it wasn't at the same level as Trump."
Longtime Washington, D.C., journalists and former White House correspondents also say Trump's first month is unprecedented.
"Everything about Trump is a whole higher level of confusion because of the way he operates," said Ron Hutcheson, a former Knight Ridder White House correspondent and past president of the White House Correspondents Association. "The media part is truly unprecedented."
He added, "There appears to be no effort at message discipline. I am sure the comms team has one, but the president keeps stepping on it. That's a huge change. He has experienced comms people who get the concept of, 'let's figure out what we want to deliver our message.' But inevitably it gets fouled up, and usually because of something the president does."
Marilyn Thompson, a former three-year Reuters Washington bureau chief during the Obama Administration and 27-year D.C. journalist called the administration "a rudderless ship."
"He feels like he has stumbled in a very short time into any number of serious national security and ethical breaches that are just uncustomary," she said. "They are hostile to the press in a way that I have never seen before and it is not a good recipe for running the country."
Andy Alexander, a former Cox Newspapers Washington bureau chief, echoed that view: "It's nothing new for White House officials to spin stories, shade the truth, conceal information or intentionally mislead. But what we are seeing today is routine prevarication on a large scale, with frequent assertions that are demonstrably false."
Marvin Kalb, a D.C.-based reporter from 1963 to 1987 and former Meet the Press host, pointed to the ongoing questions about the Trump administration's alleged ties to Russia.
He called it a "thoroughly remarkable inability of Congress to launch a top to bottom investigation of the Trump-Russia connection. It's one of the most important stories at the beginning of any administration that I have ever seen."
Clark Hoyt, a former longtime Washington reporter for Knight Ridder who covered the Nixon White House and resignation, also ran its D.C. bureau from 1987-1993 and 1999-2006. He also found no past equal to Trump's first weeks in office.
"I've never seen anything like this," Hoyt said. "From the moment that you come in, I have never seen an inaugural address that failed to reach out. Then declaring you are at a running war with the media, then the disorganization from within, the chaotic nature of activity within the White House."
Asked how the press should approach such an unusual administration that attacks them, lies constantly, and seeks to divert attention, presidential historians said journalists should dig in even deeper.
"You have to ask the toughest questions you possibly can," said Duke University's Blight. "The press should be asking for evidence, evidence, evidence, examples, examples, examples" when claims are made.
Maney of Boston College said reporters should not let every little item or tweet distract them from focusing on bigger, in-depth stories such as Russia or large-scale policy plans.
"One error the media has made is this across-the-board criticism and ignoring some more serious issues," he said. "Some of this is just bizarre, some of it I don't know how the press can handle it."
Meg Jacobs, a presidential historian at Princeton and Columbia universities, also urged journalists not to back off, even when they are attacked.
"They have to continue to call him out where they see him fabricating and straying from the truth," she said. "They have to cover his efforts to transform the relationship with the press as a story as well as the substance of what the administration is doing."
IMAGE: U.S. President Donald Trump listens to a translation during a joint news conference with Japanese Prime Minister Shinzo Abe at the White House in Washington, U.S., February 10, 2017. REUTERS/Joshua Roberts