Carlson Flipped Out When Sen. Cruz Called January 6 'Terrorist Attack' (VIDEO)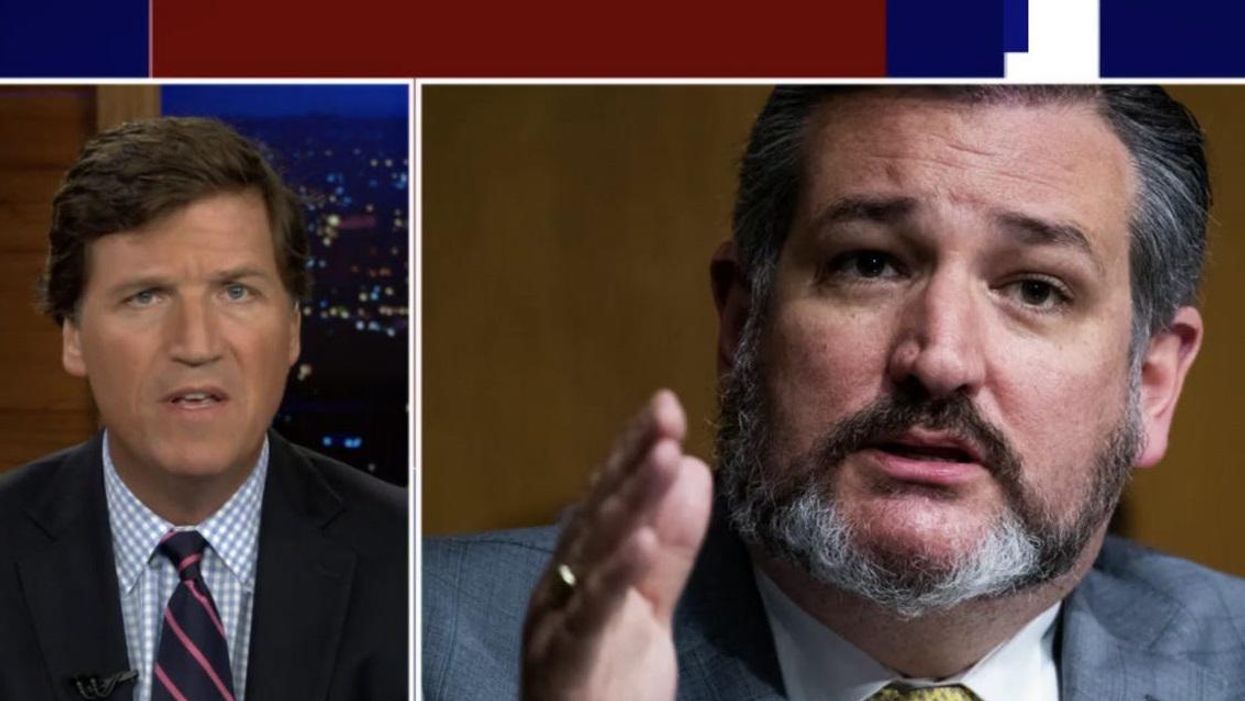 Image via @screengrab
Fox News' Tucker Carlson is not pleased with Sen. Ted Cruz's (R-TX) remarks describing the January 6 insurrection as a "terrorist attack."
Speaking during a recent Senate Rules Committee hearing, the Texas senator weighed in on the anniversary of the U.S. Capitol riots where he condemned rioters and praised law enforcement officers.
"We are approaching a solemn anniversary this week," Cruz said in a Senate Rules Committee hearing. "And it is an anniversary of a violent terrorist attack on the Capitol, where we saw the men and women of law enforcement demonstrate incredible courage, incredible bravery, risk their lives for the Capitol."
Carlson made his disdain clear during his Fox News primetime segment on Wednesday, January 5.
"He did not mention the pipe bomber," Carlson said in reference to the unidentified suspect who planted explosives near the federal building. "That individual was caught on surveillance tape. The pipe bomber was on a phone several times. That's traceable. Where is that person? Merrick Garland did not mention that."
Seething, Carlson added, "What are they busy doing? Repeating the talking points that Merrick Garland wrote for them."
While Carlson did acknowledge Cruz's popularity among conservative voters, he argued that the Republican senator's description of the January 6 description was inaccurate.
"Now let's be honest," Carlson proclaimed. "Everyone who's conservative appreciates Ted Cruz. You may not like him. But you've gotta appreciate him. He's legitimately smart. He's one of the more articulate people to serve in Congress, maybe the most articulate."
Although Carlson admitted that the breach of the U.S. Capitol was a riot, he attempted to claim that it was not an insurrection or terrorist attack.
"He described January 6 as a violent terrorist attack. Of all the things January 6 was, it was definitely not a violent terrorist attack. It wasn't an insurrection," Carlson exclaimed. "Was it a riot? Sure. It was not a violent terrorist attack. Sorry! So why are you telling us it was, Ted Cruz?"
Carlson concluded with a question about Cruz's remarks saying, "What the hell's going on here?"
"You're making us think, maybe the Republican Party is as worthless as we suspected it was," Carlson said. "That can't be true. Reassure us, please, Ted Cruz."
Article reprinted with permission from Alternet