Tucker Carlson Accuses Pete Buttigieg Of Lying About His Sexuality
@next2godwin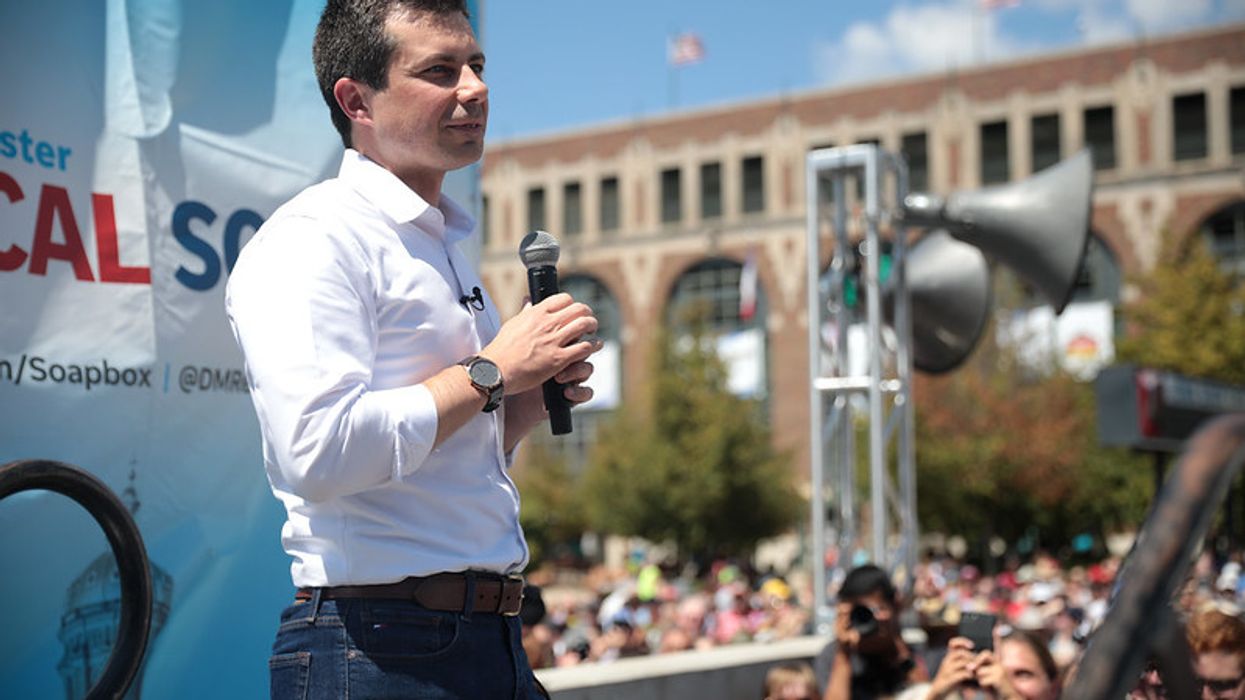 Perhaps taking a break from insinuating fraud in the last midterm election races that leaned blue, Fox News host Tucker Carlson — in what could be his most depraved segment yet — launched into a lengthy anti-LGBTQ tirade Wednesday, during which he targeted an openly gay Democratic cabinet member to enliven his audience: Transportation Secretary Pete Buttigieg.
Following the shooting at the Club Q nightclub in Colorado Springs, a tragedy that claimed five lives, Buttigieg, a former mayor of South Bend, Indiana, spoke out against prominent right-wing figures renowned for attacking the LGBTQ community, many of whom feigned shock at hate-fueled violence against the community.
"If you're a politician or media figure who sets up the LGBTQ community to be hated and feared – not because any of us ever harmed you but because you find it useful – then don't you dare act surprised when this kind of violence follows. Don't you dare act surprised, Buttigieg tweeted on Tuesday.
Carlson bizarrely took umbrage at the tweet and lampooned the trailblazing transportation secretary for not publicly disclosing his sexuality sooner, insinuating that Buttigieg's announcement had only come at the time it did for his political gain.

"Pete Buttigieg, of course, couldn't pass up a moment like this. It's not like Pete Buttigieg wants to talk about how things are going over at the Transportation Department, which he supposedly runs — short answer: not well," Carlson said.
"No, Pete Buttigieg wants to talk about identity. He always wants to talk about identity. And the funny, ironic thing is and that until just a few years ago, Buttigieg wouldn't even admit that he was gay. He hid that and then lied about it for reasons he has never been asked to explain. Why not?" he added.
Buttigieg, a one-time Democratic presidential candidate, had come out in 2015, during his tenure as South Bend mayor, after a decade-long internal struggle with the fear that his sexuality was a "career death sentence," according to the New York Times.
"But whatever. Now he is happy to use his sexual orientation as a cudgel to bash you repeatedly in the face into submission," the Fox News host continued, after which he proceeded to gleefully read out Buttigieg's tweet.
"Don't you dare act surprised. Don't you dare. All right, fair enough. We won't dare. But honestly, we're a little surprised to learn that the anti-trans shooter is himself trans. Were you surprised by that?
"Buttigieg, now that you're admitting you're gay after lying about it, since we're talking about identity. What do you have to say about that? Well, nothing. Weirdly, Pete Buttigieg hasn't said anything, nor has he apologized for attacking other people on false pretenses," said Carlson.
In an article that Buttigieg wrote for the South Bend Tribune in 2015 titled "Why coming out matters" — the same piece in which he came out as gay — the Democrat addressed the timing of his announcement.

"I was well into adulthood before I was prepared to acknowledge the simple fact that I am gay. It took years of struggle and growth for me to recognize that it's just a fact of life, like having brown hair, and part of who I am," he wrote.
Per the Independent, Buttigieg began his military service when the "Don't ask, don't tell" policy — a controversial ban on gay service members, adopted as federal policy in 1994 and fully repealed in 2011 — was still in effect.
"Putting something this personal on the pages of a newspaper does not come easy," Buttigieg wrote in the Tribune.
"Being gay has had no bearing on my job performance in business, in the military, or in my current role as mayor.
"It makes me no better or worse at handling a spreadsheet… a committee meeting, or a hiring decision. It doesn't change how residents can best judge my effectiveness in serving our city: by the progress of our neighborhoods, our economy, and our city services."
In an appearance on CNN This Morning, Chasten Buttigieg, husband of the transportation secretary, took Carlson to task for the unprovoked smear.
"This kind of rhetoric is easy. It's so easy to attack people and to go on your talk show and fire people up about something that's not actually happening," he said of Carlson's rant to CNN host Don Lemon.
"With these megaphones, they have a big platform. Rather than focusing on real issues, people's lives, making them better, they've decided to focus on hate," Chasten added.
Many in the Twitterverse did not hold back as Chasten did and dragged Carlson viciously for the attack.
[Tweet]