Why Are Republicans Promoting Violent Ultra-Right Extremism?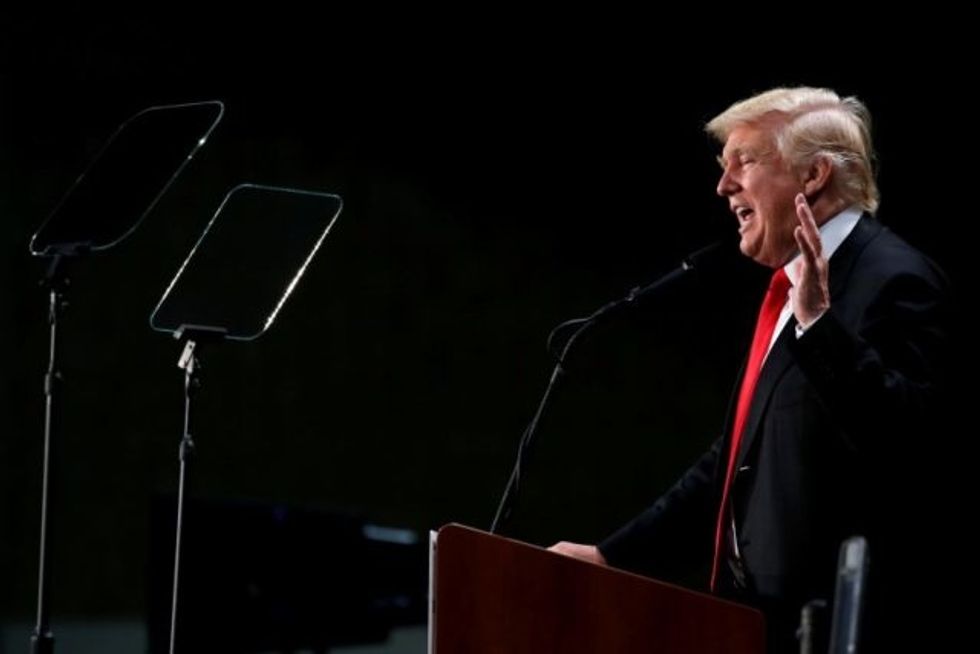 Reprinted with permission from Shareblue.
After a week of terrorist violence, Republicans are defiantly trying to avoid acknowledging that the rhetoric spewed by Trump and other members of their party appears to have played a role in fueling the horrific attacks that targeted Trump's perceived enemies and, a few days later, members of a synagogue.
In the case of suspected mail bomber Cesar Sayoc, the connection to the Republican Party is hard to miss. Sayoc, a hardcore Trump supporter, drove a van covered in stickers that advertised his political beliefs and disdain for CNN, and had vocalized his animosity toward Trump's political opponents on social media.
Robert Bowers, the Pittsburgh synagogue shooter, indicated in his social media posts that his deadly rampage was motivated at least in part by a conspiracy theory about Jews funding the so-called migrant "caravan" from Central America. Variations of this conspiracy theory were floated by Republican politicians including Rep. Matt Gaetz, Mike Pence, and Trump, as well as pundits on right-wing outlets like Fox News.
It's not difficult to make the connection between the violence that played out last week and the politics of fear and scapegoating championed by Republicans. In the weeks leading up to the attacks, Trump and his allies were busy spewing anti-immigrant rhetoric, peddling conspiracy theories about George Soros, smearing Democrats as unruly mobs, and leading chants of "CNN Sucks!" and "Lock Her Up!"
Perhaps it shouldn't come as a surprise, then, that Republicans are deflecting, pointing the finger elsewhere, and refusing to comment when asked if they take responsibility for their heated rhetoric. While some GOP lawmakers have offered vague condemnations of violence and hate, their response to the spate of violence has been overwhelmingly characterized by collective silence and denial — just as it was weeks before when violence once again erupted from the extremist elements in their midst.
On Oct. 13, after leaving an event at the Metropolitan Republican Club in New York City, members of the violent pro-Trump "Proud Boys" gang unleashed a brutal assault on multiple individuals, leading the police to pursue riot charges against nine members. Violence is nothing new for the Proud Boys, nor is the group's relationship with mainstream GOP figures, but the link between the Republican Party and the SPLC-designated hate group had managed to remain largely under the radar — until now.
The incident itself made the Republican Party's close ties to extremism hard to miss. The Metropolitan Republican Club, which has been part of the mainstream GOP establishment in New York for more than a century, had invited Proud Boys founder Gavin McInnes to speak at the club that night.
McInnes has repeatedly called for members of his gang to carry out acts of political violence, and even established a "militant division" devoted to street fighting. For over a year and a half, the gang has unleashed violent attacks from coast to coast, with no signs of stopping any time soon. One day after the mob-style attack in New York, members of the Proud Boys helped lead a massive street brawl in Portland, Oregon.
A week before that, they were busy inciting violence and starting fights at a protest in Rhode Island. The Proud Boys often target "antifa" (anti-fascist protesters) and have "joked" about wanting to shoot and kill them. At other times, they go to liberal cities like Berkeley looking to incite political violence.
In addition to advocating for violence, McInnes has personally engaged in violent attacks on repeated occasions. In 2017, he threw a punch at someone protesting outside of a pro-Trump event in Washington, bragged about assaulting a man who looked "kind of Hispanic," and was filmed smashing a cell phone that he took from a man described as being mentally disabled.
Violence isn't the only thing the Proud Boys are known for — they've also made a name for themselves by spreading a new brand of far-right extremism. While McInnes doesn't like being called a white supremacist, he espouses white supremacist ideology, writes for white supremacist websites, associates with white supremacists, and is comfortable enough with Nazi symbols to have a tattoo associated with a neo-Nazi band. He's known for his anti-Muslim views, virulent misogyny, and anti-Semitic rage, and his gang has proven to be a fertile recruiting ground for white supremacists.
None of this stopped the Metropolitan Republican Club — which, according to its website, "continues to serve as headquarters for many Republican campaigns and the New York Republican State Committee as well as host of many social and educational events" — from embracing McInnes and giving him a platform to spread the brand of extremism for which he is known.
Perhaps that's because this brand of far-right extremism is a product of the Republican Party and has now become a defining feature of it. Indeed, in the era of Trump, extremists like McInnes and the Proud Boys have found themselves being welcomed into the GOP because of their extremism, not despite it.
McInnes' appearance at the Metropolitan Republican Club reflects a broader trend of extremists embedding themselves within the Republican Party and working their way from the fringes into the mainstream. On the campaign trail, Republican politicians like Reps. Mario Diaz-Balart (R-FL) and Devin Nunes (R-CA) have posed for photos with Proud Boys, while former Trump aide Roger Stone has taken the first step toward becoming a member of the hate group and even shows up to events with an entourage of Proud Boys as his personal security detail.
Metropolitan Republican Club chairman Ian Reilly, who reportedly invited McInnes to speak at the club, is a campaign manager for Republican New York state Sen. Marty Golden. Meanwhile, New York Republican gubernatorial nominee Marc Molinaro uses the club's building as his campaign headquarters.
The Proud Boys have also gotten a boost from right-wing media outlets like Fox News. McInnes was a contributor to Fox News for eight years and appeared on Sean Hannity's show at least two dozen times. In 2017, Hannity invited a Proud Boys member with ties to the violent white supremacist rally in Charlottesville to come on his show and discuss political violence. Earlier this year, Tucker Carlson and Roger Stone posed for a photo with members of the hate group in a Fox News green room. Meanwhile, in the aftermath of the New York City gang beating, Glenn Beck and his fellow right-wing pundits at The Blaze devoted an entire segment to justifying the violent behavior of the Proud Boys.
At times, the alliance between the extremist group and mainstream Republican politicians has been even more overtly alarming. In a frightening event just over a week ago, Nelson Diaz, chairman of the Republican Party in Miami-Dade County, helped lead an angry mob of Proud Boys protesting against a visit by House Minority Leader Nancy Pelosi (D-CA) in South Florida. The incident, in which the all-male mob was filmed pounding on the door of Pelosi's event, became so unruly that the building had to be put on lock-down by Capitol Police and local law enforcement. Also in attendance during the mob-style protest were former aides of Rep. Carlos Curbelo (R-FL) and GOP gubernatorial candidate Ron DeSantis.
The recent incident in New York City also highlights a startling dynamic whereby the Proud Boys are facilitating alliances between the GOP and the most extreme, violent elements of the far-right movement. According to the SPLC, at least three members of local skinhead gangs were among those who attended McInnes' speech and participated in the violence afterwards. By eschewing the traditional symbols of the white supremacist and neo-Nazi movements, the Proud Boys have put a fresh face on extremism and provided a conduit for skinhead movements to establish direct connections to the Republican Party.
McInnes, the Proud Boys, and others like them are clearly feeling emboldened, and it's not hard to see why. As Trump and his Republican allies peddle conspiracy theories about antifa and push propaganda portraying Democrats and protesters as violent "mobs," they're fueling the very same narrative that far-right extremists use to justify carrying out acts of violence against "the left."
This is among many ways that the relationship between the Republican Party and the extremist groups in their midst is mutually beneficial. The Trump administration and its GOP allies have helped legitimize far-right extremism and enact it through policies such as the cruel practice of separating families at the border, dismantling civil rights protections, and minimizing or ignoring the threat of white supremacist violence while fear-mongering about the alleged threats posed by immigrants, refugees, and Muslims.
This has created an environment in which a Nazi (actually, multiple) can run for national elected office, a participant in the violent Charlottesville riot can become a leader in a state Republican Party, high profile Republicans can schmooze with Holocaust deniers, a sitting congressman can comfortably endorse a neo-Nazi for national office — more than once — and GOP politicians and candidates can maintain ties to white nationalist extremists with no questions asked. And of course, leading the way is Trump, who, through his words and actions, has given the signal to extremists that they have an ally in the White House.
And clearly, that signal was received, as reflected in the activity of neo-Nazi, white supremacist, and other hate groups, which have flourished under Trump's leadership. According to the SPLC, the spike in extremist groups seen in the first year of Trump's presidency was most intense among white supremacist groups closely aligned with Trump. As the SPLC wrote in its report on hate and extremism in 2017, "Trump may have faced dreadful approval ratings among all Americans, but he did not disappoint his adoring fans within the radical right."
"Groups that latched onto Trump flourished," the report added.
And as those groups flourished, so did their violence. But Republicans won't denounce the strain of extremism fueling this violence — because doing so would mean denouncing themselves.
Published with permission of The American Independent.