Why Did Donald Trump Jr. Post A Nazi Frog On Instagram?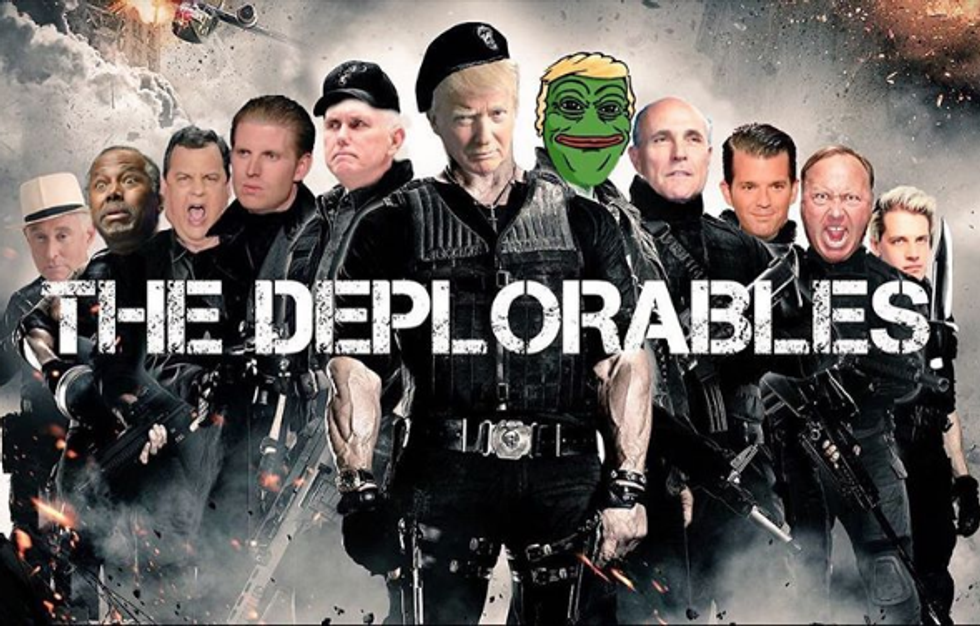 On Sunday, Donald Trump Jr. posted a meme on his Instagram account in response to Hillary Clinton's "basket of deplorables" gaffe. Trump Sr. has repeatedly said his kids are some of his closest political advisors, and as with his own posts on social media, this one deserves some attention.
If the elder Donald has turned racial dog whistles into dog… megaphones, this is Donald Jr.'s version of a white supremacist shofar, sounded to awaken America's slumbering bigots and draw them to his Instagram presence.
Why? Look over Donald Trump's left shoulder. Images of that green frog first appeared on the internet years ago, as a harmless drawing on off-color message board sites like 4chan. This year, "Pepe the Frog" symbolizes something much more sinister.
Olivia Nuzzi explained the meme's transformation in The Daily Beast in May:
It began in late 2015 on /r9k/, a controversial 4chan board where, as on any message board, it can be difficult to discern how serious commenters are being or if they're just fucking around entirely. Nevertheless, /r9k/ has been tied to Elliot Rodger—the UC Santa Barbara shooter who killed six people in 2014—who found fans there, and GamerGate. There, Pepe transformed from harmless cartoon to big green monster.

"We basically mixed Pepe in with Nazi propaganda, etc. We built that association," @JaredTSwift said.

He sent me a "rare Pepe," an ironic categorization for certain versions of the meme: Pepe, his eyes red and irises swastika-shaped, against a trippy rainbow backdrop. "Do with it what you will," he said.

Building the Trump association came next, after which @JaredTSwift said the images got crossover appeal. They began to move from 4chan to Twitter, which is when "journalists were exposed to it via Trump memes."

On Jan. 7, Cheri Jacobus, a Republican consultant and pundit who is suing Trump for defamation and has been harassed by Trump supporters, tweeted, "The green frog symbol is what white supremacists use in their propaganda. U don't want to go there."
R/pepethefrog (NSFW) is a Reddit community devoted to variations on the image where Pepe has been drawn as various Europeans, one Finnish and one Hungarian, "protecting" their home countries from Syrian refugees; a Jewish stereotype; and of course, President Trump with his finger on the nuclear trigger.
Images of Pepe make frequent reference to "normies" and "kill all normies" — normies being anyone outside the alt right, white supremacist political ecosystem, as The Daily Stormer, the world's largest white supremacist message board, explained recently in a post called "A Normie's Guide to the Alt Right." In the post, the site's founder and editor, Andrew Anglin, explains that "Pepe became the mascot (he wasn't 'chosen' by anyone, except the meme-mob, which is everyone) because he embodies the goal of couching idealism within irony."
So when Donald Trump Jr. — and Roger Stone and David Duke — re-publishes this image, to borrow a Trumpian turn of phrase: He gets it better than anybody understands.
It's not the first time Donald Jr. has gotten mixed up in the white supremacist crowd.
In March, after it was revealed that the Trump campaign gave press credentials to white supremacist radio show host James Edwards, Donald Jr. gave a brief interview to Edwards. He insisted afterwards that he hadn't known at the time to whom he was speaking.
He then retweeted a well-known white supremacist, Theodore Beale, falsely claiming that a viral photo of a woman giving a Nazi salute outside of a Trump rally was really a Bernie Sanders supporter.
In July, when the Republican National Convention came to Cleveland, James Edwards was mysteriously granted press credentials for the event.
In August, Donald Jr. re-tweeted well-known white supremacist Kevin MacDonald, whom the Southern Poverty Law Center called "the neo-Nazi movement's favorite academic."
Given the sheer number of white supremacists Donald Jr. follows on Twitter, he could hardly be blamed for being such a successful mouthpiece for their hate speech — if his father wasn't running for president.
Alas, the Republican nominee hasn't presented much of a higher bar, hiring perhaps the most influential businessman on the alt right, Stephen Bannon, to be the CEO of his campaign. Since then, white supremacists say, Trump is the greatest hope they've ever had for creating a white entho-state in which racial and religious lines are openly marked as a matter of law and culture.
Photo: Instagram user donaldjtrumpjr.