Why Republicans Fear Kobach Will Lose Kansas
@alexvhenderson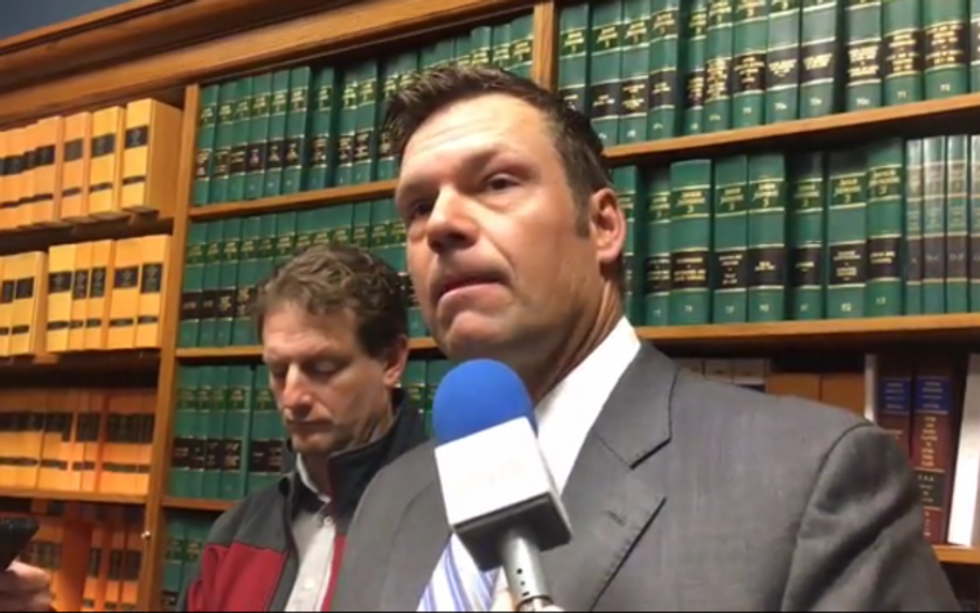 Former Kansas Secretary of State officially announced on Monday that he will be seeking the Republican nomination for the U.S. Senate seat presently held by Republican Pat Roberts, who is retiring. If Kobach receives the nomination and defeats a Democratic nominee in 2020, he would hardly be the first Republican to win that seat — Kansas hasn't elected a Democrat to the U.S. Senate since 1930. In other words, Kansas is a very red state. And yet, some GOP strategists are imploring Kobach not to run and fear that if he does receive his party's nomination, he could become the first Republican to lose a U.S. Senate race in Kansas in 90 years.
Kobach isn't just any Republican: he is extreme even by modern-day GOP standards. And he comes with a lot of baggage. Here are some of the reasons why various Republican strategists would love to see Kobach drop out of the race.
1. Kobach lost Kansas' gubernatorial race to a Democrat in 2018
Texas is often described as a red state, but compared to Kansas, Texas is light red rather than deep red. In 2018, according to U.S. News and World Report, voter registration in Kansas was a paltry 24 percent Democratic — whereas Pew Research found that among Texans, the political makeup was 39 percent "Republican/lean Republican," 40 percent "Democrat/lean Democrat" and 21 percent "no lean." Democrats have more reason to feel depressed in Kansas than they do in Texas. And yet, in 2018, the unthinkable happened in Kansas: a centrist Democrat, Laura Kelly, won the gubernatorial race, defeating Kobach by 5 percent.
Granted, 5 percent isn't a landslide, but this is Kansas we're talking about — not California, Massachusetts or even a swing state like Florida or Pennsylvania. In 2016, President Donald Trump won Kansas by 21 percent. And GOP strategists fear that if Kobach could lose one statewide race in Kansas, he could lose another.
Joanna Rodriquez, press secretary for the National Republican Senatorial Committee, complained to The Hill, "Just last year, Kris Kobach ran and lost to a Democrat. Now, he wants to do the same and simultaneously put President Trump's presidency and Senate Majority at risk."
2. Kobach lost a House race to a Democrat in 2004
The 2018 election wasn't the only time Kobach lost to a Democrat. In 2004, he ran for the U.S. House of Representatives in Kansas' 3rd Congressional District and was defeated by former Rep. Dennis Moore by 11 percent in a district that is 82 percent white. Kobach has held some major positions (chairman of the Kansas Republican Party, Kansas secretary of state), but GOP strategists believe that he has suffered too many losses to Democrats in a state where Republicans have a huge advantage.
A GOP strategist who spoke to The Hill on condition of anonymity fears that if Kobach stays in the Senate race and Democrats win enough Senate races in red states, they might regain control of the Senate in 2020. "You can see a real scenario where President Trump is reelected and the U.S. Senate falls to the Democrats if Kobach puts Kansas in play," that strategist warned.
3. Kobach is an unapologetic birther
When Barack Obama was president, Kobach enthusiastically promoted the racist and idiotic birther conspiracy theory — which claimed that Obama wasn't really a U.S. citizen and was born in Kenya. Obama's birth certificate proves, beyond a shadow of a doubt, that he was born in Honolulu, Hawaii on August 4, 1961. Yet even when MSNBC's Chris Matthews was holding Obama's birth certificate right up to the camera in order to show how ridiculous birthers were, Kobach persisted in his birtherism.
4. Kobach falsely accused the Human Rights Campaign of promoting 'pedophilia'
Kobach, a far-right Christian fundamentalist, is notoriously anti-gay. When he ran against Moore in 2004, he accused his Democratic opponent of associating with a group that promoted "homosexual pedophilia." That group was the Human Rights Campaign, a mainstream gay rights organization that has never condoned or promoted pedophilia in any way. But in his effort to smear Moore, Kobach reflexively associated a gay rights group with pedophilia.
5. Kobach has worked for the racist Federation for American Immigration Reform
Kobach has not only been an avid proponent of voter suppression; he has also been deeply anti-immigrant and worked for the Immigration Reform Law Institute, the legal division of the Federation for American Immigration Reform (FAIR) — which the Southern Poverty Law Center considers a hate group. The Federation, founded by eugenics proponent John Tanton in 1979, has a long history of calling for a moratorium on immigration and claiming that Latinos don't fully assimilate into U.S. culture.