White Nationalist Gab Now Sabotaging Vaccination Effort
@AlKapDC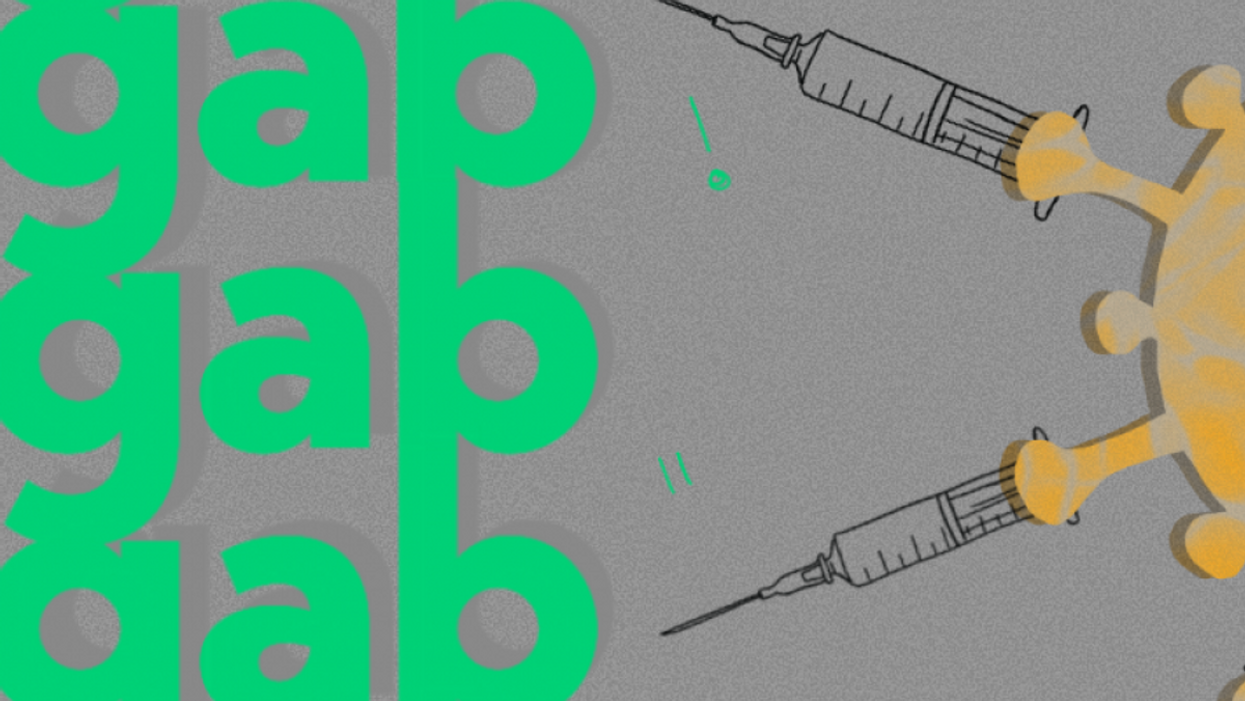 Photo by Andrea Austria / Media Matters
Reprinted with permission from Media Matters
Gab's Andrew Torba, the CEO of a site known as a haven for white nationalists, has been using his platform to actively help people avoid getting coronavirus vaccines in response to possible mandates from government agencies and private companies.
Torba founded Gab in 2016 and it aimed to be a place for extremist content under the garb of free speech that other platforms had banned. Since then, the site has become a haven for white nationalists and extremist users, including the man accused of killing multiple people at a synagogue in Pittsburgh, Pennsylvania.
Torba has also made his activity central to Gab. All Gab users follow his account by default and his blog posts are sent directly to their email accounts. Now, Torba is using the platform to encourage people to avoid getting coronavirus vaccines, which are safe and extremely effective at preventing hospitalization and death.
Torba has made his anti-vaccine views clear for months and spread misinformation about the vaccines in blog posts sent to the platform's users, falsely calling them "an experimental vaccine" and "the largest science experiment in history." Torba has also shared messages he claims are from active-duty military users or their family members worried about a vaccine mandate, and his avatar on Gab openly promotes that he is "not vaccinated." (He also emailed Gab users a viral video of a man at a town hall meeting sharing vaccine misinformation, thereby playing a significant role in its spread.)
But in recent weeks Torba has ramped up his opposition to the vaccines and is now sending users materials that can be used to avoid taking it. In late July, Torba shared documents he claimed he got from a Twitter user, writing in a post that they contained "what the creator of the documents calls an 'air tight religious exemption request' for the COVID vaccine if it is mandatory for you at work, school, or in the military." These documents featured vaccine misinformation and also cite Solari Report, a site run by Catherine Austin Fitts, the star of a viral coronavirus misinformation video. Torba encouraged Gab users to "share" the documents "everywhere." Later in a video, he bragged about the documents, saying, "We've had a lot of great feedback on these. People are very thankful that we put these out there. You're not going to find these anywhere else."
Torba's post featuring the documents, besides being shared on Gab, has also received more than 24,000 Facebook engagements, according to the tracking tool CrowdTangle. MultipleQAnon influencers also shared the post and those received hundreds of thousands of combined views. (A former candidate for chair of the Colorado Republican Party also sharedthe post.) Additionally, a user on the far-right forum formerly known as "TheDonald" wrote that Torba's post helped a family member get an exemption from the vaccine at college.
More recently, Torba launched another anti-vax initiative, announcing a Gab group that is meant to serve as a job board "for employers who are hiring and do not require their employees to inject an experimental substance into their bodies in order to retain employment." The group, which has more than 30,000 members, has featured numerous job listings for people looking to avoid taking the vaccines, including a posting from far-right and antisemitic outletTruNews, which listed positions "that will NEVER require you to get the jab." Torba has also used the group to promote another site for jobs not requiring vaccines and one with "a great religious exemption template for employees." The Gab group job board was also promoted onthe far-right forum formerly known as "TheDonald."
Around the same time, on August 24, Torba sent users yet another vaccine exemption template, this time for college students, writing, "My twin brothers received a letter from their College letting them know six days before they start classes that the college will be mandating vaccines for all students. … I worked with them to draft their exemption request and thought it could be helpful to other college students out there who are facing the same insane abuse of their religious liberty and bodily autonomy." (The post was shared on Facebook by an Arizona county Republican Party chapter.)
Torba and his platform have repeatedly shown support for extremism, such as courting QAnon supporters and antisemites (as well as pushing antisemitism), repeatedly promoting content from white nationalist Nick Fuentes to users, and cheering on the January 6 insurrection at the United States Capitol as it was occurring. Torba has been trying to create his own services for Gab users who have been barred from using other sites for payment processing and more. These services include what Torba calls "an alternative to PayPal," Gab's own streaming service, and even its own phone. In his email announcing his anti-vax job board, Torba acknowledged these efforts, writing, "This job board aligns with Gab's vision of building infrastructure for a parallel economy and we hope to expand further on this job board initiative in the coming months."