Capitol Cop Rips Trump's 'Pathetic Excuse' For Rioters
@alexvhenderson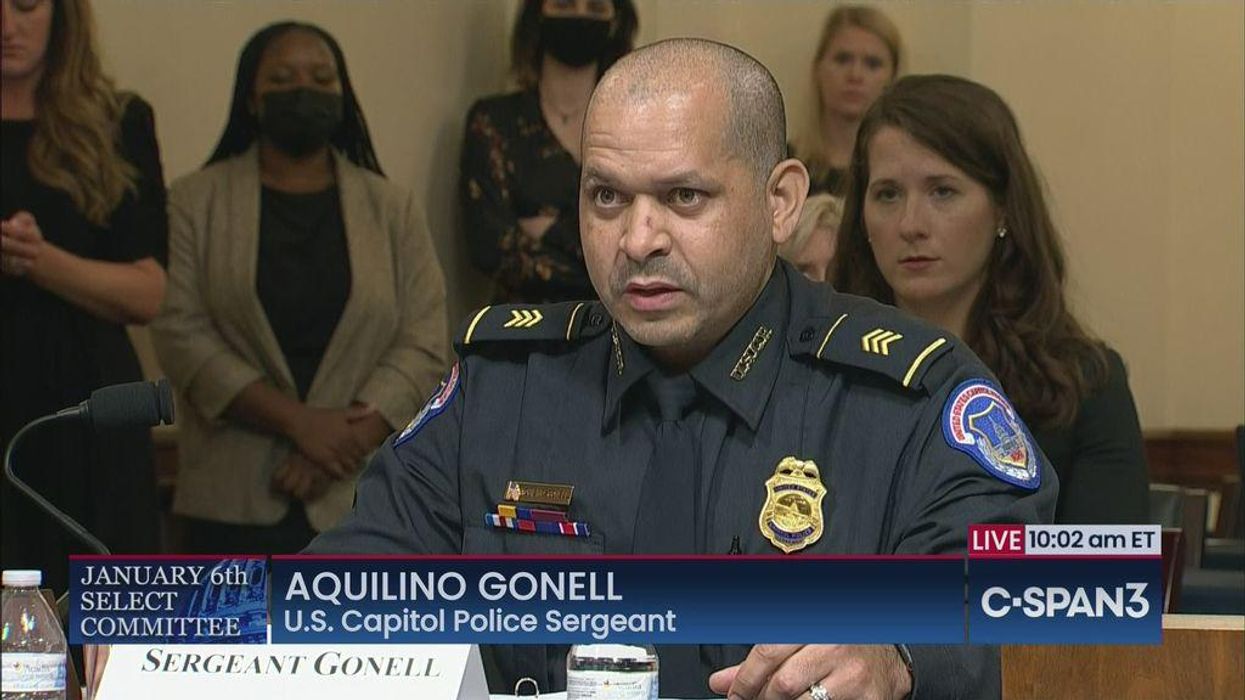 Screenshot from C-SPAN 3
Reprinted with permission from Alternet
During a recent interview with Fox Business' Maria Bartiromo, former President Donald Trump seriously downplayed the violence that occurred in Washington, D.C. on January 6 — describing the insurrectionists as "loving" and "peaceful." But when Sgt. Aquilino Gonell of the Capitol Police testified before House Speaker Nancy Pelosi's select committee on the January 6 riot on Tuesday, he vehemently disagreed with Trump's description of what occurred that day.
Gonell was among the police officers who was present in the U.S. Capitol Building when it was violently attacked by a pro-Trump mob on January 6. And during his testimony before members of Congress, he offered vivid, graphic testimony about the violence that he witnessed.
Rep. Liz Cheney of Wyoming, an arch-conservative Republican who Pelosi picked for her committee, quoted Trump's exact words during Tuesday's hearing: "It was a loving crowd. There was a lot of love in the crowd." And when Cheney was questioning Gonell, she matter-of-factly asked him, "How does that make you feel?"
Gonell responded, "It was upsetting. It is a pathetic excuse for his behavior for something that he himself helped to create — this monstrosity. I'm still recovering from those hugs and kisses that day."
The Capitol police sergeant, on Tuesday, described the injuries that he suffered on January 6.

"Rioters, terrorists were assaulting us that day," Gonell told Cheney. "If that was hugs and kisses, we should all go to his house and do the same thing to him. To me, it's insulting. It's demoralizing. Because everything that we did was to prevent everyone in the Capitol from getting hurt. And what he was doing — instead of sending the military, instead of sending the support or telling his people, his supporters to stop this nonsense, he egged them to continue fighting."
Gonell went on to say of the insurrectionists, "All of them were telling us: 'Trump sent us.' It was nobody else. It was not Antifa. It was not Black Lives Matter. It was not the FBI. It was his supporters — he sent them over to the Capitol that day. And he could have done a lot of things. One of them was to tell them to stop."