To Reform Immigration, Biden Must Show Resolve At The Border
@FromaHarrop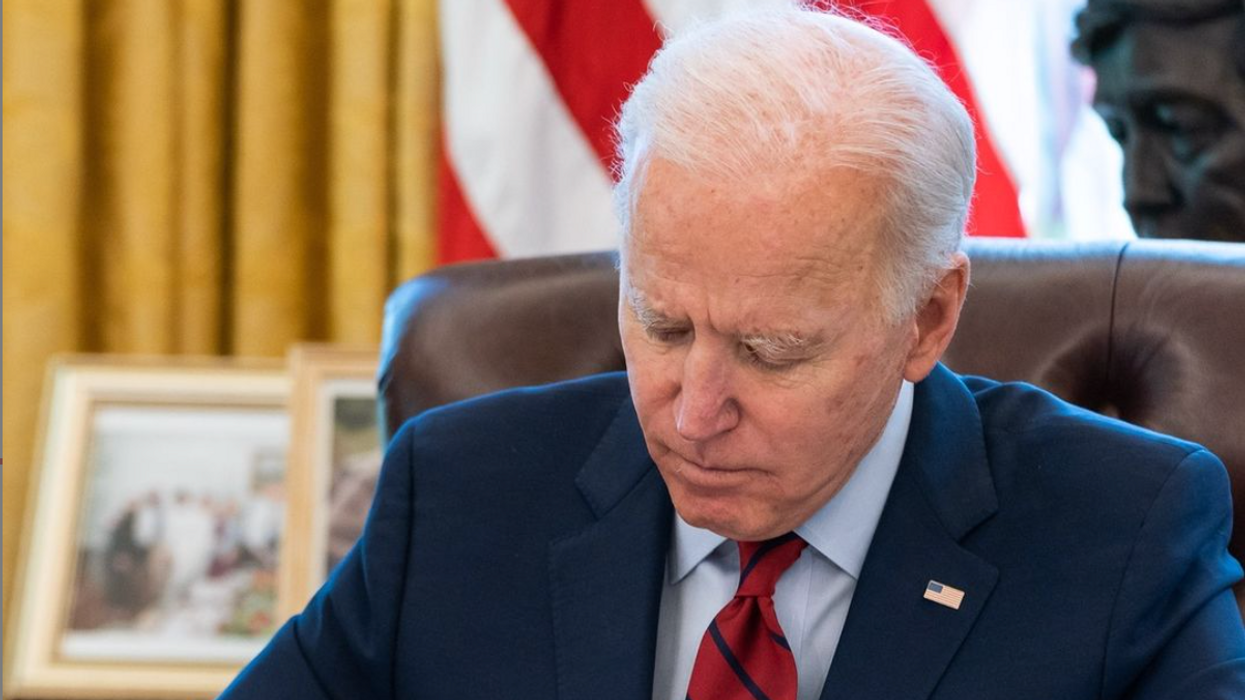 Screenshot from official @POTUS Twitter
Undocumented immigrants have been surging to the U.S. border, some wearing T-shirts with the Biden campaign logo and the words "Please let us in!" What gave them the idea that they could just show up and come on in? President Joe Biden did.
Oh, Biden didn't exactly say that. He said to not come now, as we rebuild the immigration system. But that isn't the same as saying they can't come illegally later. And since it implies that later on, whoever wants to come can, the migrants can reasonably assume that an arrival now without papers will eventually be overlooked.
Adding to that impression, Biden made a show on his first day in office of ditching five of the Trump administration's immigration policies. Sure enough, human smugglers began telling desperate Central Americans that Biden opened the door and the smugglers will get them through it for $6,000.
What did Biden think would happen? Officials at U.S. Customs and Border Protection warned the incoming administration of building pressure at the southern border. Fed by worsening poverty and gang violence in Central America and an improving U.S. economy, the rush had already begun in Donald Trump's last months.
It took until this weekend for Homeland Security Secretary Alejandro Mayorkas to firmly say the border of the United States "is closed." Roberta Jacobson, White House coordinator for the southern border, got still more specific. "The message isn't 'Don't come now,'" she said. "It's 'Don't come in this way, ever.'"
The earlier sloppy rhetoric handed Republicans a political bomb they are throwing at Democrats. Not that they've entirely earned the right. Trump's card trick was to hurl insults at undocumented immigrants while looking the other way when American businesses employed them as low-cost labor.
When Trump was asked whether he supported a national requirement to use E-Verify — a database that would confirm a new hire's right to work in this country — he said no. Asked why not, he used the bull argument that farmers don't have computers. Turning off the job magnet is the only way to cut the flow of illegal workers.
That is also missing from Biden's proposal for comprehensive immigration reform. He would confer legal status to most of the estimated 11 million undocumented immigrants. He would offer $4 billion in aid aimed at making life in some Central American countries less terrible. And he would reform the U.S. refugee and asylum systems. All good things.
But a plan that doesn't seriously stop Americans from employing people who entered illegally or overstayed their visas is not going to secure the border. Not any more than Trump's dramatics over a border wall.
Politicians of both parties should know where the public stands on these matters. A Gallup poll last summer found that for the first time, Americans want more, not less, immigration. Also, nearly 8 in 10 Americans think immigration is good for the country, with some Republicans in agreement.
In a 2019 poll, 65 percent thought the situation at the border to be a major or important problem. And 75 percent favored hiring significantly more Border Patrol agents.
What we see is that Americans support a large immigration program but want it kept legal. Canada and Australia do both. How sensible of them.
An experienced politician who wants to retain public support for a humane immigration program should know by now that an orderly border is essential — and that given the pressures, any show of laxness is a guarantee of disorder. On this issue, Biden can't be a nice guy without also being a tough guy.
He needs to show resolve and show it now.
Follow Froma Harrop on Twitter @FromaHarrop. She can be reached at fharrop@gmail.com. To find out more about Froma Harrop and read features by other Creators writers and cartoonists, visit the Creators webpage at www.creators.com