'They Just Open The Door': U.S. Communities Welcoming Afghan Refugees
@TUSK81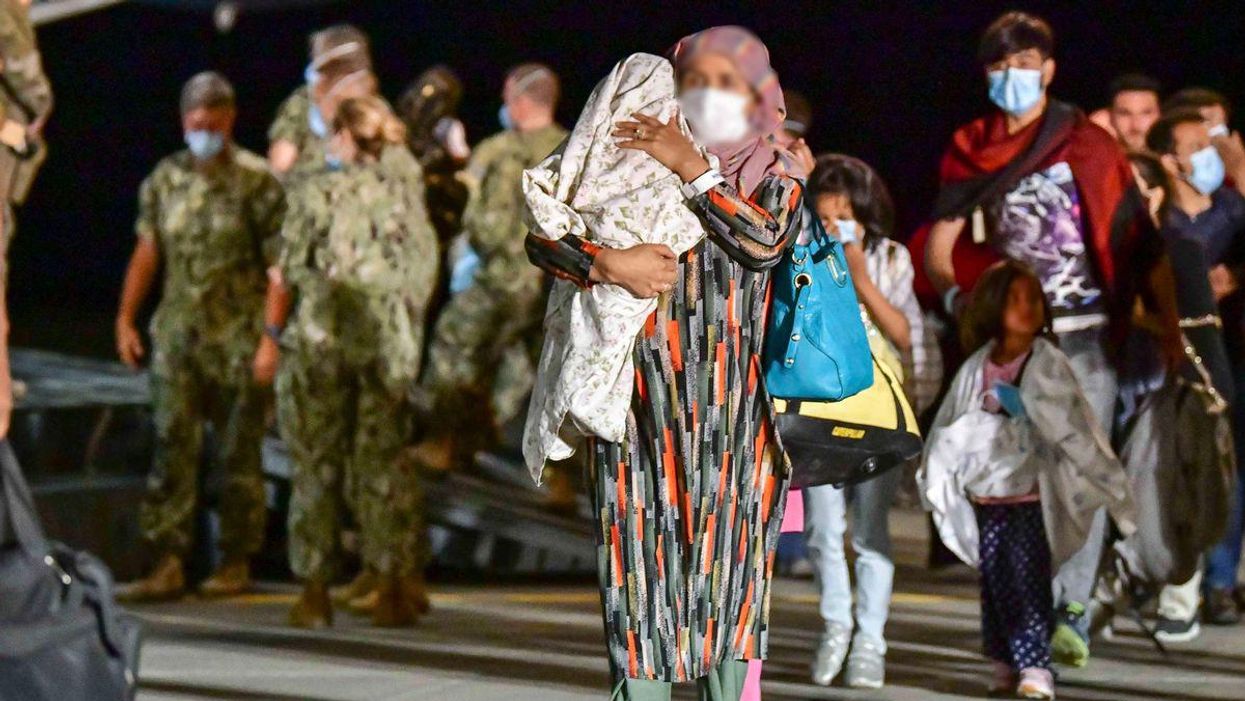 Photo by Department of Defense
Reprinted with permission from Daily Kos
Recent polling has shown overwhelming public support —81 percent — for welcoming Afghan refugees who aided the U.S. military. The Washington Post reports that support is being seen across the U.S., with resettlement organizations and other volunteer services being "inundated with calls from ordinary Americans seeking to assist the waves of Afghan citizens who have begun arriving in the United States."
"We have never seen this kind of increase in people wanting to volunteer," Refugee Services of Texas program supervisor Jacqueline Buzas told the Post. The report noted that one volunteer training session was shifted to virtual mode due to capacity. "We have people calling to say, 'I have an extra bedroom.' Or, 'I'm retired and have this extra house.' People understand the human aspects of this, having to flee this life-or-death situation," Buzas continued. "And they just open the door."
The Post reported that during one recent drive at Northern Virginia Community College, volunteers were overwhelmed with so many donations that some items were turned away. Some Americans who rushed to donate items have loved ones in Afghanistan. Hundreds of families are currently being temporarily housed at the school, with volunteers "bringing pizzas and snacks and water," the report continued. Back in Texas, the Post reports that as many as 10,000 Afghan refugees are expected to be temporarily housed at Fort Bliss before being resettled elsewhere in the state and country. KVUE reports that Refugee Services of Texas expects to help resettle about 300 people.
"These are individuals who I believe we have a moral obligation to help," CEO Russell Smith said in the report. "And we've actually made that promise to them, that they helped us in our efforts in Afghanistan, which has put them and their families' lives at risk. And so both fulfilling our promise and also kind of the moral obligation to get them out of harm's way." Despite some mainstream media framing, that appears to be the public opinion of some of the state's Republican leadership as well.
"Fort Bliss is a big place," the Post reports John Cornyn said. "The [post commander] briefed me this morning and said they have more than enough space to accommodate the Afghan refugees." Even Cornyn's colleague, Ted Cruz, said "[w]e have an obligation not to leave people to die at the hands of the Taliban for the crime of helping America." But in a nod to his xenophobic impulses, the Post reports that Cruz expressed concerns about vetting, claiming "[w]e also have an obligation to keep our citizens safe." They're vetted, Ted. Maybe you should spend more time worrying about our homegrown terrorists. The Post further notes that Gov. Greg Abbott, who previously tried to block refugees, "has been silent on the issue of Afghan refugees." He should feel free to stay that way.
A growing number of bipartisan governors, however, have done the right and moral thing by expressing public support for welcoming Afghan refugees to their states. On Monday, Democratic Maine Gov. Janet Mills' office informed the Biden administration that the state was "prepared to provide safety and opportunity to Afghan refugees who protected American service members and American interests in Afghanistan," the Press Herald reported.
In addition to donations of physical items, money, and time, there've also been rallies in support of Afghan allies and their families in numerous states across the nation. In Philadelphia, 150 rallied. In Chicago, another 100 rallied, including a former interpreter who pleaded for safety for his family back in Afghanistan. "You have seen my loyalty, now it's your turn to return the favor," he said according to ABC 7 Chicago. In Columbus and Fremont, Afghan community members rallied to highlight the urgency facing tens of thousands of vulnerable people. The latter has one of the largest Afghan communities in the nation.
"The United States promised people that you could come to the U.S. if you work with us, if you serve as our intelligence, if you serve as our translators, if you help us in this world," KPIX reports Hayward City Council Member Aisha Wahab said. "That was the deal." That was the deal—and we must keep our word.
CBS News reports that Lutheran Immigration and Refugee Service (LIRS), among the organizations that had for months been calling for the urgent evacuation of allies and families, plans to launch a donation drive to accept items ranging from cleaning supplies to cell phones to diapers. Remember, these families are starting over in America, with few possessions beyond some suitcases. "This is an all-hands-on-deck moment in our nation's history. We simply can't do this work without the compassion and generosity of the local community," LIRS President Krish O'Mara Vignarajah said in the report. "If you have room in your heart to help these families start over from scratch, now is the time to make a difference." Families Belong Together tweeted that "[w]e are ready to welcome Afghan families—along with millions of Americans across the country."