Donald Trump Is The Superspreader President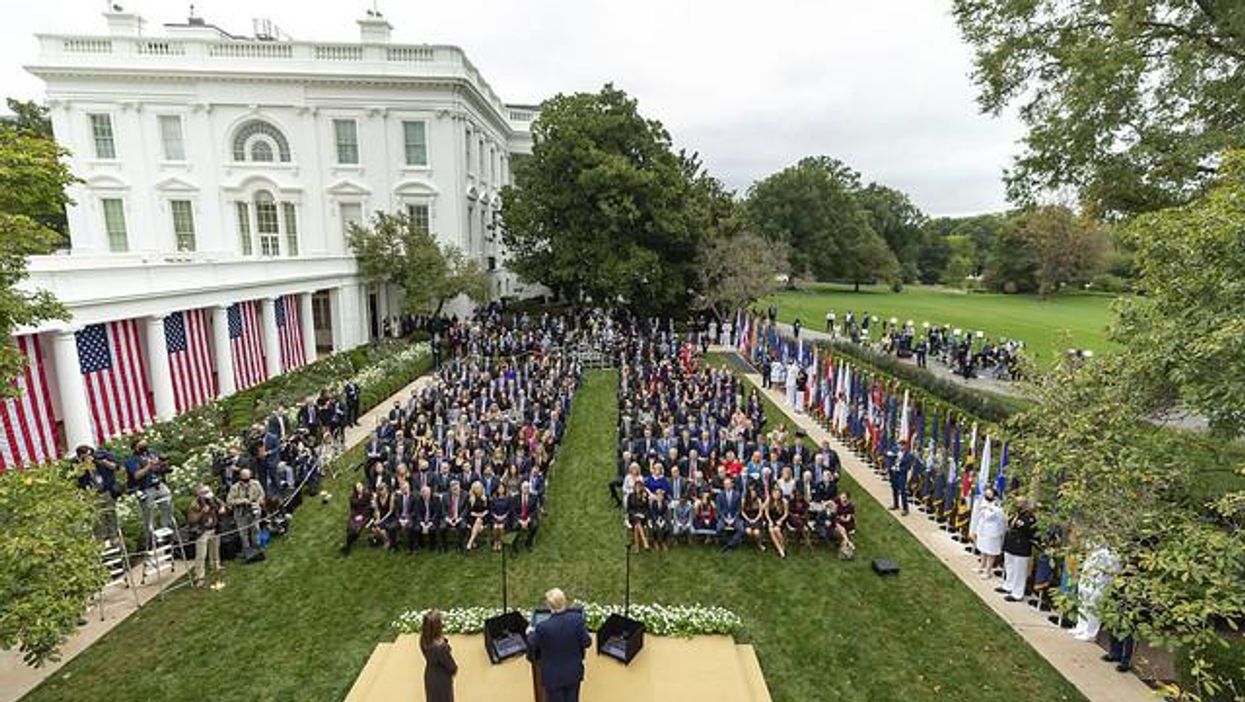 Official White House Photo by Amy Rossetti
Judicial nominations normally have an impact on real-world events only in the long run, but Amy Coney Barrett's was different. The White House event announcing her selection had rapid consequences. It gave COVID-19 an unobstructed path to a lot of important people, starting with Donald Trump and his wife, Melania.
The affair was what Anthony Fauci called a "superspreader event," with attendees crowded together outdoors and indoors, chatting, shaking hands, hugging and generally making merry. Few wore masks or kept their distance. Several later tested positive for the virus, including former New Jersey Gov. Chris Christie, GOP Sens. Thom Tillis and Mike Lee and former Trump adviser Kellyanne Conway.
---
If a terrorist group had unleashed a potentially fatal biological agent on a gathering of Republican bigwigs at the White House, Trump would have ordered drone strikes in retaliation. But it was the president who masterminded this fiendish plot.
Did the experience of getting sick, needing supplemental oxygen and being hospitalized teach him a lesson? Far from it. On the night of the election, he hosted a White House party for several hundred people. Within days, some of the celebrants were afflicted with COVID-19, among them White House chief of staff Mark Meadows and housing secretary Ben Carson.
But don't think Trump has lost any enthusiasm for his one-man effort to achieve herd immunity inside the Beltway. Christmas is a time for giving, and he thinks everyone should have the gift of coronavirus antibodies.
During the holiday season, The Washington Post reports, "the White House is expected to throw more than a dozen indoor parties, including a large congressional ball on Dec. 10."
This is not exactly in line with the practices necessary to safeguard public health. A number of cities have prohibited or limited indoor service at bars and restaurants because of the danger of transmission when people congregate for hours in closed spaces. A study published in the journal Nature found that restaurants posed the greatest risk of fueling the pandemic because of conditions that mirror those of a big indoor party.
The administration sees no need to dispense with holiday cheer and insists it will take appropriate care. "This includes smaller guest lists, masks will be required and available, social distancing encouraged while on the White House grounds, and hand sanitizer stations throughout the State Floor," said Stephanie Grisham, a spokesperson for the first lady. "Attending the parties will be a very personal choice."
But masks have to come off for eating and drinking, which people do at such events. That's if face coverings are worn at all, which past practice suggests they won't be, because Trump and those around him scorn this precaution. Social distancing at a party is the equivalent of composing poetry at a prizefight: It's not impossible. It's just never done.
Those invited to the White House events are free to choose whether to attend, but if they get the virus, they are bound to infect others who didn't elect to go. As for the employees providing service, personal preferences may not matter. The doctors and nurses who will care for those infected have no choice, either.
All this will take place in disregard of the warning issued Monday by Trump's own coronavirus task force: "We are in a very dangerous place due to the current, extremely high COVID baseline and limited hospital capacity; a further post-Thanksgiving surge will compromise COVID patient care, as well as medical care overall."
The festivities will make a stark contrast with the incoming administration, which takes the view that preventing disease and saving lives are more important than frivolous revelry. Biden's team is looking for ways to mark his swearing-in without filling up morgues.
The number of tickets for his inauguration will be slashed, and mask wearing and social distancing will be enforced. "Biden is unlikely to host fancy inaugural balls where hundreds of supporters are crammed into ballrooms," reported The New York Times. He may forgo the traditional parade down Pennsylvania Ave. His inauguration apparently will defer to the unforgiving necessities of the pandemic.
Trump's holiday parties, by contrast, reflect a refusal to let anything curtail his self-indulgence and vanity. Plenty of his allies and followers have only contempt for the idea of sacrificing for the common good. The result will be more infections, hospitalizations, and fatalities.
Let's hope these are great parties. For some of the attendees, there may never be another one.
Steve Chapman blogs at http://www.chicagotribune.com/news/opinion/chapman. Follow him on Twitter @SteveChapman13 or at https://www.facebook.com/stevechapman13. To find out more about Steve Chapman and read features by other Creators Syndicate writers and cartoonists, visit the Creators Syndicate website at www.creators.com.