Extremist Supreme Court Nullifies States Authority To Regulate Guns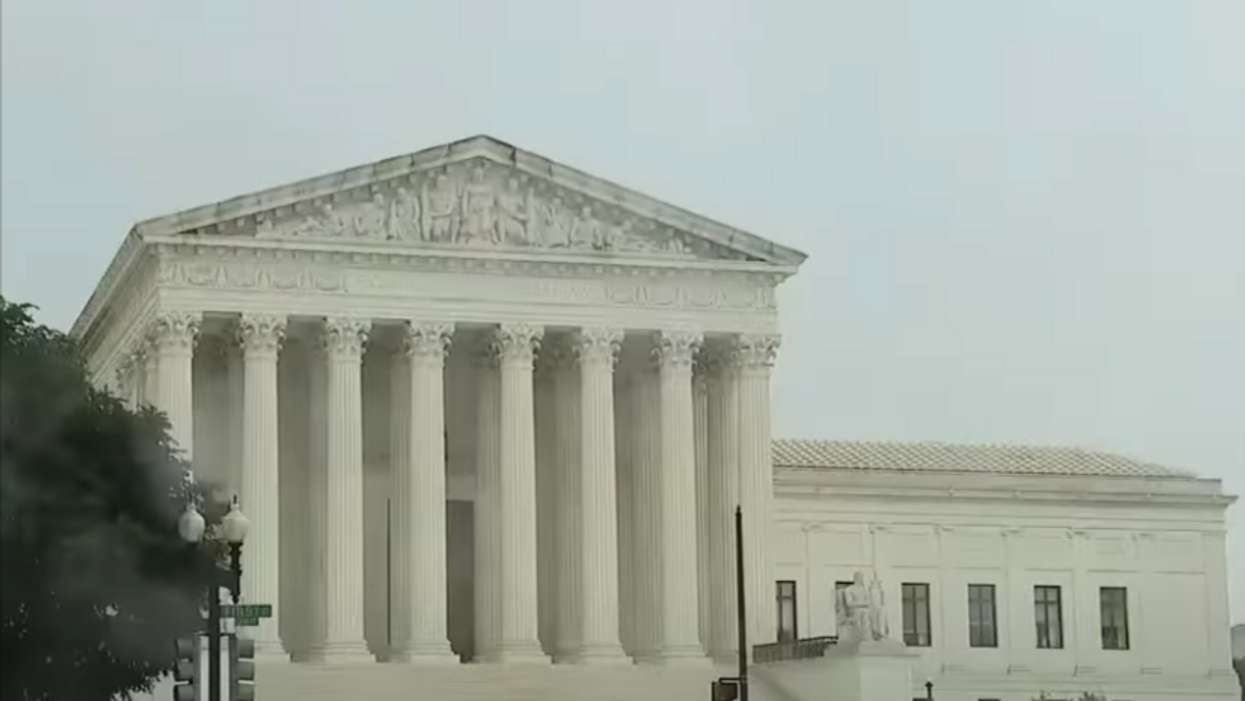 YouTube Screenshot
When Senate Minority Leader Mitch McConnell was confronted over his support for the bipartisan bill addressing elements of gun violence, he defended his Second Amendment record, telling reporters: "I spent my career supporting, defending and expanding" gun rights, and stressing that he had "spent years" confirming conservative judges. McConnell made that statement in full confidence that the Supreme Court he packed with three illegitimate justices would do precisely what it did: ensure that sensible gun regulations anywhere would be eliminated.
The court decided the New York State Rifle & Pistol Association Inc. v. Bruen case Thursday in 6-3 decision written by Justice Clarence Thomas, striking down that state's 108-year-old provision requiring anyone who wants to get a license to carry a concealed handgun outside the home to show "proper cause" before being granted a permit. The Court's extremists, Thomas writes, find that New York's strict limits on the concealed carry of firearms in public violates the Second Amendment. It essentially throws out the previous restrictions the Court upheld in its last big gun control case, the 2008 District of Columbia v. Heller.
Clarence Thomas' opinion for the court dramatically expands the scope of the Second Amendment, blasting past ostensible restrictions laid out in Heller to establish a new test that will render many, many more gun control laws unconstitutional. https://t.co/QtXnGlobBG
— Mark Joseph Stern (@mjs_DC) June 23, 2022
In his concurrence, Alito essentially rubbed salt in the wound, snidely asking "And how does the dissent account for the fact that one of the mass shootings near the top of its list took place in Buffalo? The New York law at issue in this case obviously did not stop that perpetrator."
It's difficult to overstate how devastating Thomas' opinion is for gun control laws. This goes so, so far beyond concealed carry. The Supreme Court has effectively rendered gun restrictions presumptively unconstitutional. This is a revolution in Second Amendment law.
— Mark Joseph Stern (@mjs_DC) June 23, 2022
Justice Stephen Breyer provides a lengthy dissent, including a comprehensive retelling of the mass deaths in an age when weapons of war are widely available to all citizens. "The primary difference between the Court's view and mine is that I believe the [Second] Amendment allows States to take account of the serious problems posed by gun violence that I have just described," he writes. "I fear that the Court's interpretation ignores these significant dangers and leaves States without the ability to address them."
The decision could mean as many as 20,000 more guns on the streets in New York City. The city is working to determine how to craft new rules to meet this outcome, and how to designate certain areas, including public transportation, as "sensitive places" to try to bar firearms.
"It's gonna be a complete disaster and shows how anti-urban the Supreme Court is at foundation," Metropolitan Transportation Authority board member Norman Brown predicted. "This is both a practical fear and a marketing fear. How do you market the train if you are assuming the guy with the heavy coat has a gun under his?" Brown said.
That's exactly the scenario Justice Samuel Alito raised in oral arguments on the case. But he was imagining a subway system teeming with armed criminals against whom the rest of the population was defenseless. "All these people with illegal guns: They're on the subway, walking around the streets, but ordinary, hard-working, law-abiding people, no," Alito told New York State Solicitor General Barbara Underwood. "They can't be armed." The reality will be closer to Brown's supposition: Those ordinary, law-abiding people are going to be worried about being surrounded by guns.
The decision also sets up challenges to regulations in every state that has them, including immediate those in six other states: California, New Jersey, Maryland, Hawaii, and Massachusetts. In fact, the decision is so broad that the concealed carry restrictions that protect some 83 million people are going to be wiped out.
"How the court interprets the Second Amendment is far from an abstract exercise," Eric Tirschwell of Everytown for Gun Safety, an advocacy group, toldThe Washington Post. "If the court forces New York to allow more people to carry guns in public, the result will be more people shot and more people killed, and that's what the evidence and social science tells you."
A belligerent gun rights community is there to make sure that other blue states are forced to buckle and loosen permit rules. "If they don't do that," said Matthew Larosiere, with the Firearms Policy Coalition, "we'll certainly be suing them." He foresees the states trying to preempt those suits. "Perhaps there will be a state or two on the West Coast that doesn't want to do this and we will insist that they be dragged to court," he said. "That's something we'd rather avoid as it's better to have people's rights respected."
Which sounds an awful lot like a threat, one that has the potential to rile up a lot of gun owners in these states who are feeling increasingly emboldened.
Reprinted with permission from Daily Kos.