Michigan Republican Threatens 'Civil War' Over Fake Elector Charges
@wallein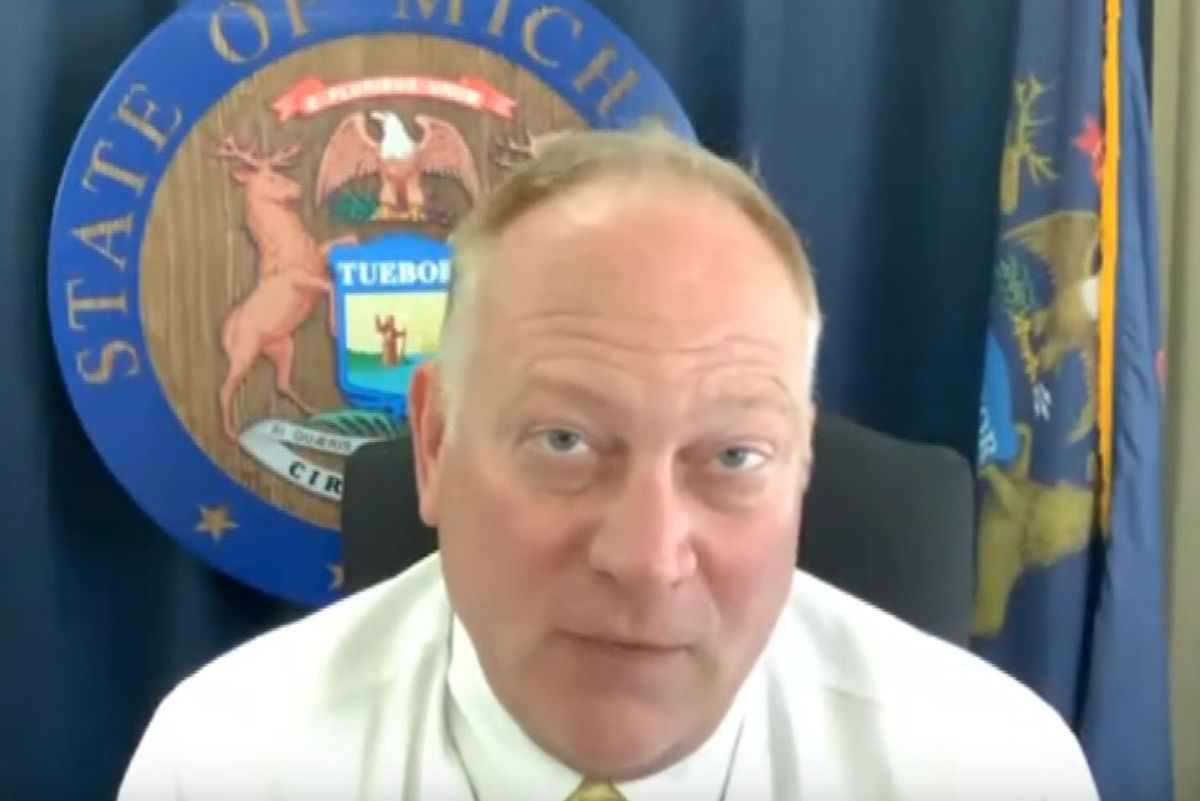 Michigan Republican state Rep. Matt Maddock hosted a pool party fundraiser in August for the 16 fake electors who were recently charged by Michigan Attorney General Dana Nessel for signing fraudulent paperwork claiming Donald Trump won the 2020 election. Maddock's wife, Meshawn Maddock, is one of the Trump supporters facing several felonies for her role in the scheme. In a speech to the pool party attendees that was recorded by someone at the event and later leaked toThe Messenger, Maddock told supporters people were getting angry about the prosecutions and violence was a likely outcome.
Maddock warned the crowd that "If the government continues to weaponize these departments against conservatives and the citizens that are then the taxpayers … Someone's going to get so pissed off, they're going to shoot someone. That's what's going to happen. Or we're going have a civil war or some sort of revolution. That's where this is, where this is going." But Maddock frames this coming civil war as a violent event and added that pool party attendees, and conservatives in general, are "going to get squashed."
The "Free The 16 Electors Poolside Party!" took place at the Maddock's residence and was hosted by Grand New Party PAC, which was founded in 2022 by Republican Rep. Steve Carra (Three Rivers), who has accused Michigan Republican Party leaders as being "too passive," and "too moderate." Get it? The Grand New Party as opposed to the Grand Old Party. The PAC is being driven by the same kind of anger and total disarray we've seen inside of the Michigan Republican Party recently, including late-night bar fights among members.
In a November 2022 press conference announcing the new PAC, Carra said he hoped it would help encourage more Michigan conservatives to "go the Ron DeSantis route." The same Ron DeSantis flaming out at record speed in the Republican primary? Sounds like an excellent plan! But you get the general tenor of their politics.
In the roughly four-minute audio recording published by The Messenger, Michigan state Rep. James DeSana can also be heard telling the audience he hopes to "get a resolution up to impeach Dana Nessel," the state's attorney general. The comment drew applause and DeSana laid out their half-witted plan to impeach Nessel. DeSana released a statement on Thursday saying he stood by his statement, while Maddock's statement hid behind his "right to free speech."
Maddock's wife Meshawn, along with Kathy Berden, William "Hank" Choate, Amy Facchinello, Clifford Frost, Stanley Grot, John Haggard, Mari-Ann Henry, Timothy King, Michele Lundgren, James Renner, Mayra Rodriguez, Rose Rook, Marian Sheridan, Ken Thompson, and Kent Vanderwood were charged in July with a slew of felonies. The indictment alleges all 16 charged in the scheme met in the basement of the Michigan Republican Party headquarters and signed "multiple certificates stating they were the 'duly elected and qualified electors for President and Vice President of the United States of America for the State of Michigan.' These false documents were then transmitted to the United States Senate and National Archives in a coordinated effort to award the state's electoral votes to the candidate of their choosing, in place of the candidates actually elected by the people of Michigan."
Each defendant is facing:
One count of Conspiracy to Commit Forgery, a 14-year felony.
Two counts of Forgery, a 14-year felony.
One count of Conspiracy to Commit Uttering and Publishing, a 14-year felony.
One count of Uttering and Publishing, a 14-year felony.
One count of Conspiracy to Commit Election Law Forgery, a 5-year felony.
Two counts of Election Law Forgery, a 5-year felony.
Serious charges with serious consequences. It's understandable why Maddock would be stressed out that Trump's attempt to overturn the election results didn't go as planned, and they are leaning into the violence that got them to this point in the first place.
Reprinted with permission from Daily Kos.