Santos Confesses He's 'A Terrible Liar' -- But Just Keeps Lying (VIDEO)
@AyshaQamar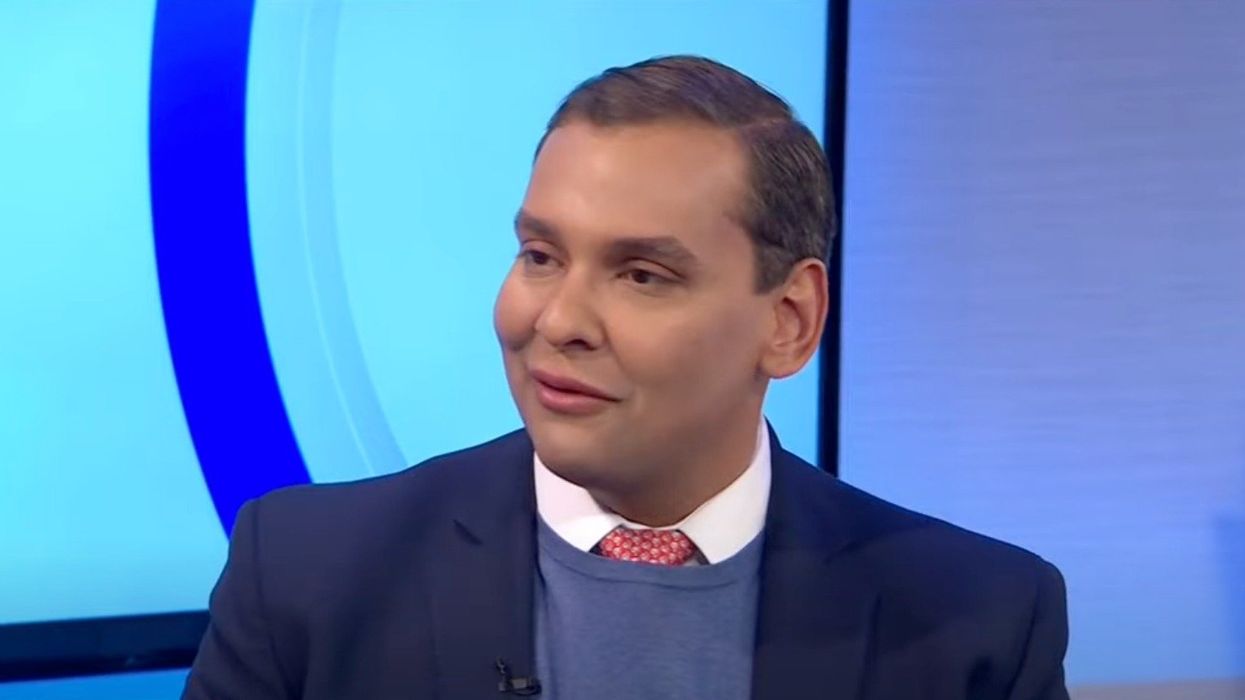 Rep. George Santos (R-NY) admitted what we all already knew in a 40-minute interview released Monday night: He has "been a terrible liar." Speaking to British television host Piers Morgan, the embattled lawmaker admitted that he embellished his resume and lied about his identity, including his educational and religious background.
"I was a Wall Street superstar, I was this, my family were this, and it was all untrue," Morgan said, calling out Santos for his previous lies. "I don't characterize these as mistakes. I think they're part of your process of, cathartic process of redemption, if you'd like. It's gotta start from 'I've been a terrible liar,' I mean, would you be prepared to say that?"
"Well, I've been a terrible liar on those subjects," Santos said.
Controversy surrounded the lawmaker—who claims to be the first openly gay Republican to win a seat in the House of Representatives as a non-incumbent—when The New York Times published a story shortly after his win that questioned aspects of his resume, including his education and work experience.
\u201cGeorge Santos claims he was forced to fabricate his background to gain the acceptance of local GOP party officials: \u201cI\u2019ve been a terrible liar .. I made mistakes of allowing the pressures of what I thought needed to be done in order to - this wasn\u2019t about tricking anybody.\u201d\u201d

— Ron Filipkowski \ud83c\uddfa\ud83c\udde6 (@Ron Filipkowski \ud83c\uddfa\ud83c\udde6) 1676921602
Speaking about the lies he told, the freshman lawmaker claimed he didn't mean to lead the public astray, but rather lied to be "accepted" by the local party.
"What I tried to convey to the American people is I made mistakes of allowing the pressures of what I thought needed to be done in order to—this, this wasn't about tricking anybody, this wasn't about, it's—" Santos said.
When Morgan noted that it was about "tricking people," Santos stuck to his claims.
"Let me finish," he said. "It wasn't about tricking the people. This was about getting accepted by the party here locally."
Santos said that lying about his education was one of his "biggest regrets in life," but he did so because it was expected of him.
"Expectation on society, the pressure, couldn't afford it ..." He continued those lies when he decided to run for office: "Although I had built a very credible business career, but I just didn't have that part of my biography."
Santos admitted that he doesn't have a master's degree in business, and hasn't ever worked "as a direct employee" at either Goldman Sachs or Citigroup. Speaking about his experience attending the Horace Mann private school, he said he had attended it for six months in 2004, but the school told CNN it had no records of Santos or any of his aliases.
His other lies included claiming his mother was a survivor of the Sept. 11, 2001, attacks, and that he was Jewish. However, when asked about those lies, he seemed dumbfounded.
Santos said he never said he was Jewish but instead had described himself as a "party-favorite joke" of "Jew-ish."
To this Morgan read off a series of "direct quotes" in which Santos described himself as "'Jewish,' 'half-Jewish,' 'proud American Jew,' 'a Latino Jew' and a 'non-observant Jew.'"
This prompted Santos to claim that he had always said this "as a party-favorite joke and it's—I've done it on stages across—"
Morgan then asked what was funny about falsely claiming to be Jewish.
\u201cRep. George Santos defends his lie about being Jewish by saying the crowd at the Republican Jewish Coalition \u201cwere hysterically laughing\u201d at his statement that he was \u201cJew-ish.\u201d\u201d

— Republican Accountability (@Republican Accountability) 1676931970
Speaking to his statement that his mother was in the South Tower of the World Trade Center in New York City on 9/11, Santos maintained, "That's true."
Morgan noted that there is a "full record" of everyone who was there that day—but Santos' mother, Fatima Devolder, wasn't listed.
Despite Santos saying he didn't want to speak further on the issue, Morgan pressed, citing her 2003 visa application which said: "she hadn't been in the US since 1999."
"So, all this points to her not being anywhere near the Twin Towers on Sept. 11. I do think it matters because it's such an emotive part of modern American history. So I'll simply ask you: Did your mother work there, or did you just get that wrong?" Morgan said.
Responding to this, Santos said: "No. My mother was — I was 13 years old [on] Sept. 11, 2001. I was in the United States when my mother was here because she had full custody of both her children. … I won't debate my mother's life as she's passed in [2016], and it's quite insensitive to try to rehash my mother's legacy," he continued. "She wasn't one to mislead me... I stay convinced that's the truth."
Since the lies have been revealed, several calls have been made for the 34-year-old to resign. During the interview, Morgan also questioned Santos on why he thought "no one would find out."
The young lawmaker said: "Well, I'll humor you this: I ran in 2020 for the same exact seat for Congress. And I got away with it then."
When asked about an apology, Santos said: "I have looked inside a camera and said sorry ... If you can ask for forgiveness, I think that is the first step."
Despite widespread calls for him to step down, Santos plans to see out his two-year term in Congress and said he would likely run for reelection in 2024.
Outside of these lies, the New York lawmakeris also the subject of multiple congressional investigations, while facing an allegation of sexual misconduct from a former aide, BBC reported.
Watch the full segment below:
Reprinted with permission from Daily Kos.