Texas Resident Herschel Walker Could Face Voter Fraud Charges In Georgia
@Rebekah_Sager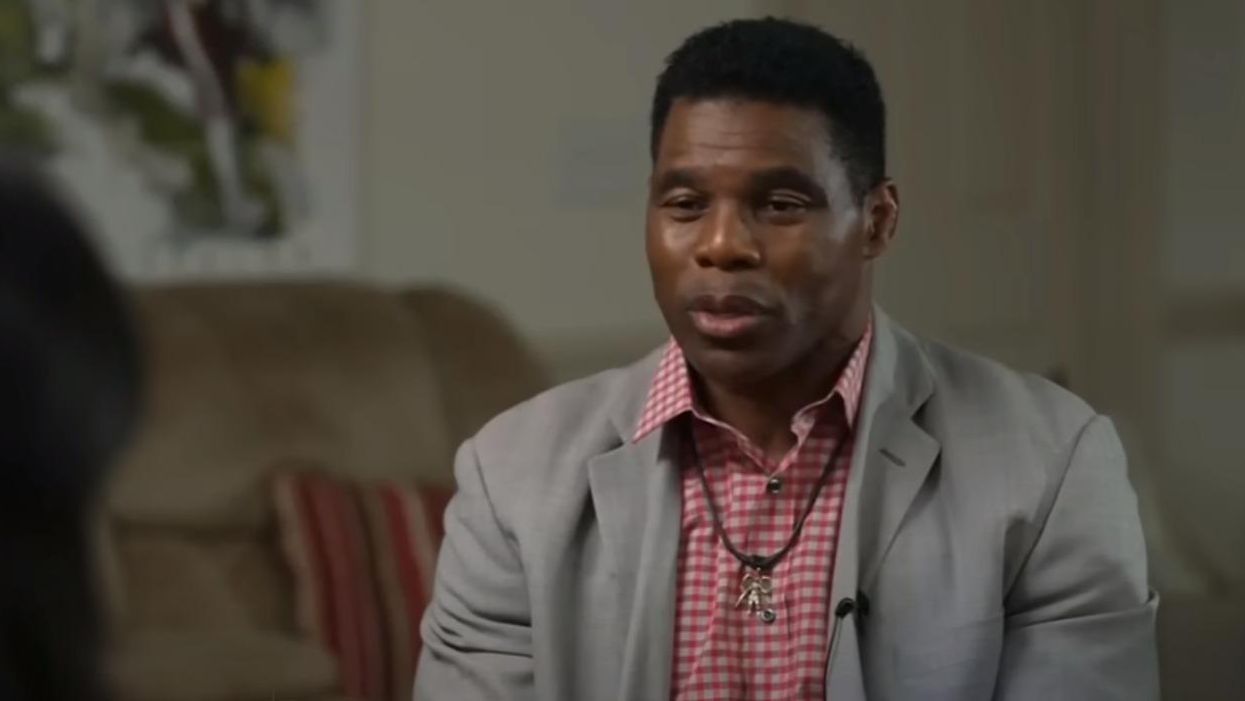 Youtube Screenshot
While Georgians flock to the polls in the state's Senate runoff between incumbent Democratic Sen. Raphael Warnock and the Republican Party's most incompetent candidate, Herschel Walker, one Georgia resident is on the attack—and Walker is in her crosshairs.
According to reporting by TheAtlanta Journal-Constitution (AJC) , Ann Gregory Roberts has filed a complaint asking that the attorney general's office and Georgia Bureau of Investigation "promptly investigate" Walker for an "apparent violation of Georgia law."
Roberts alleges that the Heisman Trophy winner broke the law "by registering and voting in Georgia while knowingly maintaining his principal residence in Texas." As Daily Kos reported last week, Walker received a homestead tax break on his $3 million home in 2021 and 2022—even after announcing his candidacy and then voting in Georgia's 2022 Republican primary and the general elections.
CNN reports that even while he was out campaigning this year, Walker was heard talking about the U.S.-Mexico border during a speech to University of Georgia College Republicans, saying, "I live in Texas … I went down to the border off and on sometimes."
Walker even added in that same speech, "Everyone asks me, why did I decide to run for a Senate seat? Because, to be honest with you, this is never something I ever, ever, ever thought in my life I'd ever do … And that's the honest truth. As I was sitting in my home in Texas, I was sitting in my home in Texas, and I was seeing what was going on in this country. I was seeing what was going on in this country with how they were trying to divide people."
CNN also reports that Walker even gave several interviews from his Texas manse.
AJC reports that, on Monday, Georgia Rep. Nikema Williams doubled down on calls for a probe into Walker to find out whether he "lied about being a Georgia resident." Williams said, "Georgians deserve answers … and Walker must be held accountable for his pattern of lies and disturbing conduct."
\u201cJulie and I were proud to cast our votes in Atlanta this morning!!! Get out and vote Georgia!! \ud83c\uddfa\ud83c\uddf8\u201d

— Herschel Walker (@Herschel Walker) 1653412228
According to CNN, Walker filed for a homestead tax exemption in Texas in 2022, a break that gave him $1,500 off his property taxes. But then the former Dallas Cowboy registered and voted in Atlanta, Georgia, in 2021 and 2022.
Walker's been living in Texas for decades, but according to The Daily Beast, has allegedly kept a home in Atlanta for 17 years.
"It's weird. We've had this home here for about 17 years. We've had this home here in Atlanta about 17 years," Walker told Rolling Out in a September interview.
The Constitution states that candidates don't have to have a primary residence in the state where they're running—at least until they actually win the seat.
The Daily Beast reports that the Trump-backed candidate's wife, Julie Blanchard, has been receiving thousands in rental income on the Atlanta home, per the candidate's 2021 financial disclosure filings. Walker used the Atlanta home as his official address when filing to run for Senate in August 2021. Additionally, Blanchard received $49,997 in COVID-19 relief loans at the Walkers' Texas home in Dallas.
According to Roberts' complaint, Walker committed a felony when he voted in the 2022 primary and general elections.
The complaint states:
"To be eligible to vote in Georgia, a voter must be "a resident of [Georgia] and of the county or municipality in which he or she seeks to vote. Georgia law proscribes a number of explicit and unambiguous criteria for determining a voter's residence, including that '[t]he specific address in the county or municipality in which a person has declared a homestead exemption, if a homestead exemption has been claimed, shall be deemed the person's residence address.' In addition, Georgia law is clear that "[a] person shall not be considered to have gained a residence in any county or municipality of this state into which such person has come for temporary purposes only without the intention of making such county or municipality such person's permanent place of abode."
According to the Texas Tribune, Walker's use of the homestead exemption tax break could be illegal according to Texas state law, which only allows homeowners to claim the break on their "principal residence."
Georgia State University law professor Anthony Michael Kreis told CNN that Walker isn't actually breaking the rules as a candidate, but it does make him look pretty shady politically.
"At the end of the day, this is more of a political problem than a legal one, in all likelihood … where Walker can be painted as a carpetbagger. It does call into question whether Walker's change of residency was made in good faith," Kreis said.
Reprinted with permission from Daily Kos.