Are There Democratic Versions Of The Loony Radicals In The House GOP Caucus?
@LucianKTruscott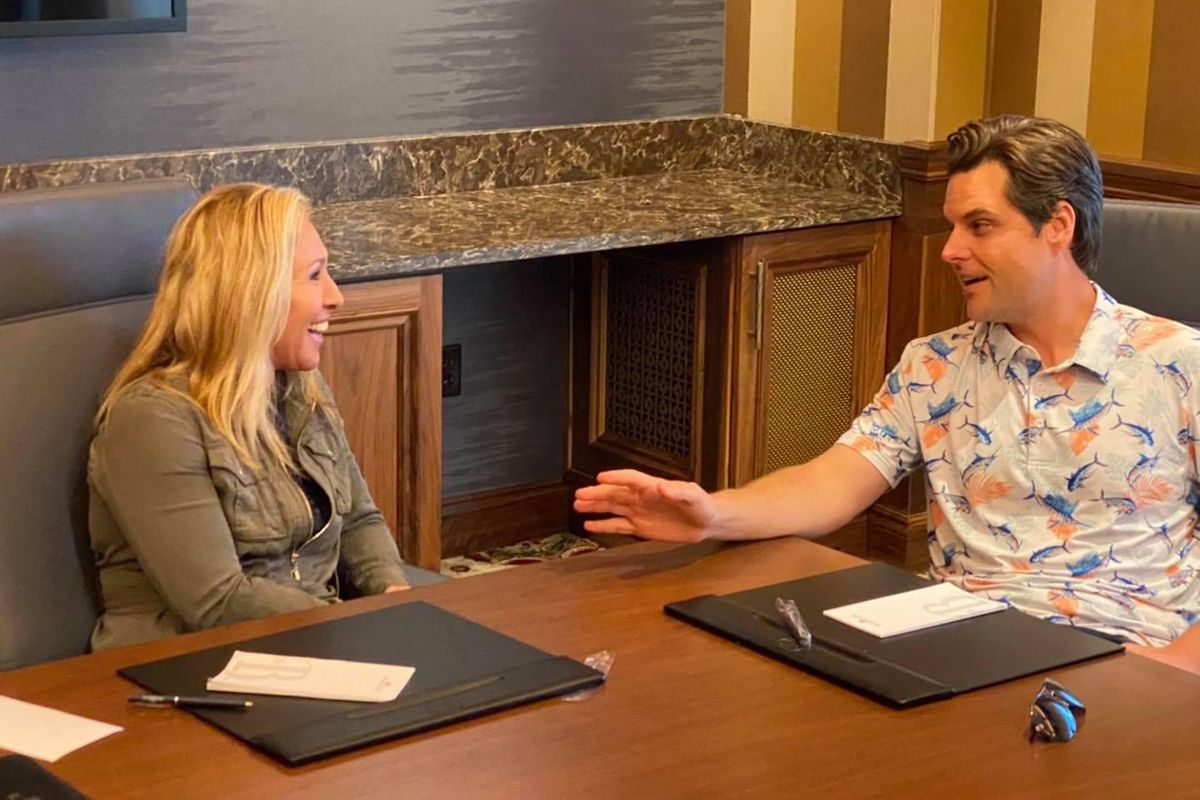 Photo from Marjorie Taylor Greene's Facebook
You may have your own short answer, but here is mine: There are none.
Who is our Marjorie Taylor Greene? Who among Democrats has sat in the House chamber during a State of the Union speech by a president of the other party and shouted "Liar!" at the top of her lungs? Which Democrat put up a campaign ad featuring the candidate shooting feral hogs with an AR-15 from the open door of a helicopter? I could go on…
Who is our Paul Gosar? Which Democrat in the House was the keynote speaker at a meeting of the white supremacist group, America First Political Action Conference, led by notorious Nazi sympathizer Nick Fuentes? Any Democrats out there running political ads depicting themselves wielding a sword against the President and a leader of the Democrats in the House? I thought so.
Who is our George Santos? He told countless lies about his personal history to get himself elected to the House, after which he was indicted by the Department of Justice on multiple charges of lying to the Congress, fraudulent receipt of unemployment benefits, money laundering, wire fraud, theft of public funds, and various violations of campaign finance laws. This after settling a felony indictment in Brazil for theft and writing bad checks in that country.
Who is our Matt Gaetz? Which House Democrat voted against the Combating Human Trafficking Act, the only member of the House to cast a "no" vote? He voted against the Frederick Douglass Trafficking Victims Prevention and Protection Reauthorization Act after he came under investigation for transporting underage females to the Bahamas for the purpose of procuring sex from them for money. The law passed 401 to 20. Gaetz voted against the Allow States and Victims to Fight Online Sex Trafficking Act combined with the Stop Enabling Sex Traffickers Act. The laws passed 388 to 25.
I believe after what transpired over the last two days in the removal of Kevin McCarthy from the speakership that we are all sufficiently familiar with Gaetz's actions during that debacle. Gaetz requested a pardon for unspecified crimes from Donald Trump in the last days of his time in office in January 2021. This was after Gaetz had cast votes late in the night on January 6, 2021 against certifying the electoral vote counts from two states.
Who is our Andy Biggs? The representative from Arizona infamously went to the mat over the results of the 2020 presidential election in Arizona and Michigan, claiming falsely that voting machines in Arizona were faulty and that Democratic poll watchers had been permitted to participate in the vote tabulations in Detroit. An unofficial audit of the Maricopa County elections results was conducted – after the Secretary of State had done three official audits of the vote – which took months, cost millions of dollars donated by nameless conservative millionaires and billionaires. That audit ended up proving, to the horror of Biggs and others, that Biden had won the county by more votes than the official state audits found.
Who is the Democratic Party's Lauren Boebert? She famously, or infamously – take your pick – sent her 2021 Christmas cards to her constituents showing her four children holding AR-15's standing in front of the family Christmas tree. This was just weeks after a 15-year-old boy in Oxford, Michigan, opened fire on his schoolmates, killing four and wounding nine – not to mention the countless other mass shootings that occurred that year, nearly all of them with AR-15's similar to those on Rep. Boebert's Christmas card. On the day before the attempted coup at the Capitol, Boebert tweeted that people should "remember these next 48 hours" because they would be the most important in the nations history. On January 6, she tweeted that the day was "Republicans' 1776 moment." During the attack on the Capitol, she posted privileged information about what was going on inside the building, including that Speaker Pelosi had been escorted out of the Capitol and that the House chamber had been locked down. She was one of 21 House Republicans to vote against a resolution giving the Congressional Gold Medal to police officers who defended the Capitol. Boebert was among the first members of the House to file a resolution to impeach President Biden without evidence.
Who is our Jim Jordan? I've given it some thought, and I just can't think of any Democratic former college wrestling coaches who, according to wrestlers who were sexually abused by the team doctor, knew of the abuse at the time it was occurring and did not report it to authorities or help wrestling team members deal with the abusive doctor or recover from the abuse they endured. We just don't.
Who is our Kevin McCarthy? The Democratic Party has never had a Speaker of the House who physically lacked a spinal column and served only eight months in office.
Who is our Donald Trump? Do we have a disgraced former president facing four indictments on 91 counts of violating various federal and state laws, currently being talked about as a potential replacement for Kevin McCarthy as the Republicans' choice for their next Speaker of the House? I will defer to you, dear readers, for the answer to that one.
Are there any Democrats in Congress or elsewhere who lied repeatedly about who won the 2020 presidential election and endorsed the coup which attempted to reverse its outcome? Every person named above did exactly that, but…uh…they're Republicans.
The longer answer to the question in the title of this column is that there do not appear to be Democratic voters who have lost a sufficient number of brain cells to elect such persons to represent them in the nation's lower house in its legislature. Why the nation's other political party has enough voters to elect such individuals to the Congress is a topic for another column, but I'll give you a hint: Hillary was right.
Lucian K. Truscott IV, a graduate of West Point, has had a 50-year career as a journalist, novelist, and screenwriter. He has covered Watergate, the Stonewall riots, and wars in Lebanon, Iraq, and Afghanistan. He is also the author of five bestselling novels. You can subscribe to his daily columns at luciantruscott.substack.com and follow him on Twitter @LucianKTruscott and on Facebook at Lucian K. Truscott IV.
Please consider subscribing to Lucian Truscott Newsletter, from which this is reprinted with permission.