Margie Greene Mails X-Rated Images Of Hunter Biden To Voters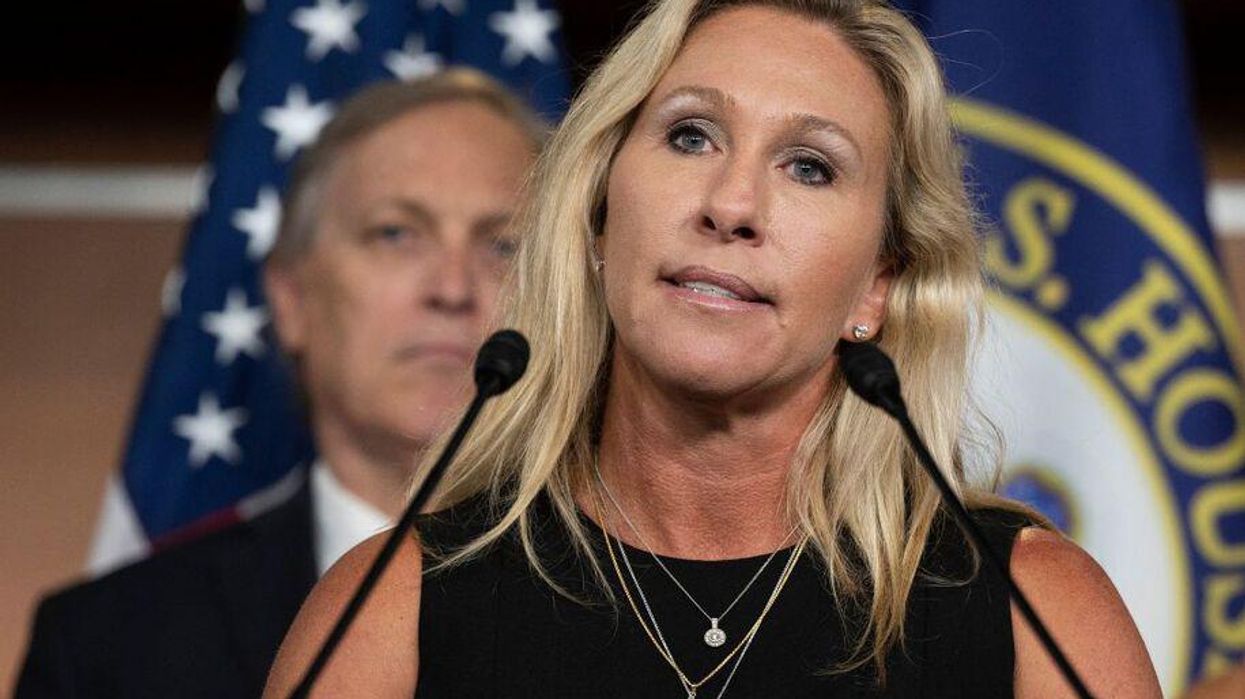 Rep. Marjorie Taylor Greene (R-GA) is under fire from Democrats after using an appearance at a congressional hearing to display stolen images of a naked Hunter Biden. Greene also included the images of Biden engaged in sex acts in an email newsletter to her constituents.
Greene warned, "Parental discretion is advised" before she held up enlarged images of President Joe Biden's son with a black box obscuring his penis, which she claimed were evidence that he was engaged in human trafficking. Greene then sent video of herself at the hearing showing off the explicit photos in an email newsletter, which could have been viewed by minors. The video she sent had a warning that said it included "disturbing" images and counseled parental discretion.
The images were explicit enough that Fox News, which aired the hearing live, blurred the images on its feed.
Greene, for her part, has accused the LGBTQ community and Democrats of "grooming" and "sexualizing" children.
The hearing where Greene displayed the explicit images was about whether the charges Biden faces for failing to pay his taxes on time were too narrow.
Republicans have claimed Biden received preferential treatment over the charges, which amount to a misdemeanor. Yet legal experts say that Hunter Biden was actually treated too harshly and that average citizens wouldn't have been charged under the same set of facts.
Democrats were aghast at Greene's behavior and called her out during the hearing and afterward.
Rep. Jamie Raskin (D-MD) interjected as Greene held up the explicit photos, asking Oversight Committee Chair James Comer, "Should we be displaying this?"
"In an effort to own Hunter Biden, they're assembling nude photos of him, having some intern have to sit in a room and blow up these photos and put it on poster boards and figure out, Oh, which ones are beyond the pale?" Rep. Jared Moskowitz (D-Fla.) said at the hearing.
Rep. Alexandria Ocasio-Cortez (D-NY) said, "Today also marked a new low when pornographic images were paraded in this hearing room."
"I don't care who you are in this country. No one deserves that," she said. "It is abuse, it is abusive."
According to a tweet posted by Max Cohen, a reporter for Punchbowl News, House Minority Leader Hakeem Jeffries (D-NY) criticized the hearings, calling them "a malignant clown show that are not designed to address issues that impact the health, safety and economic well being of the American people."
Reprinted with permission from American Independent.