New Video Shows 'Close Ally' Of Rep. Greene Inside Capitol On Jan. 6
@alexvhenderson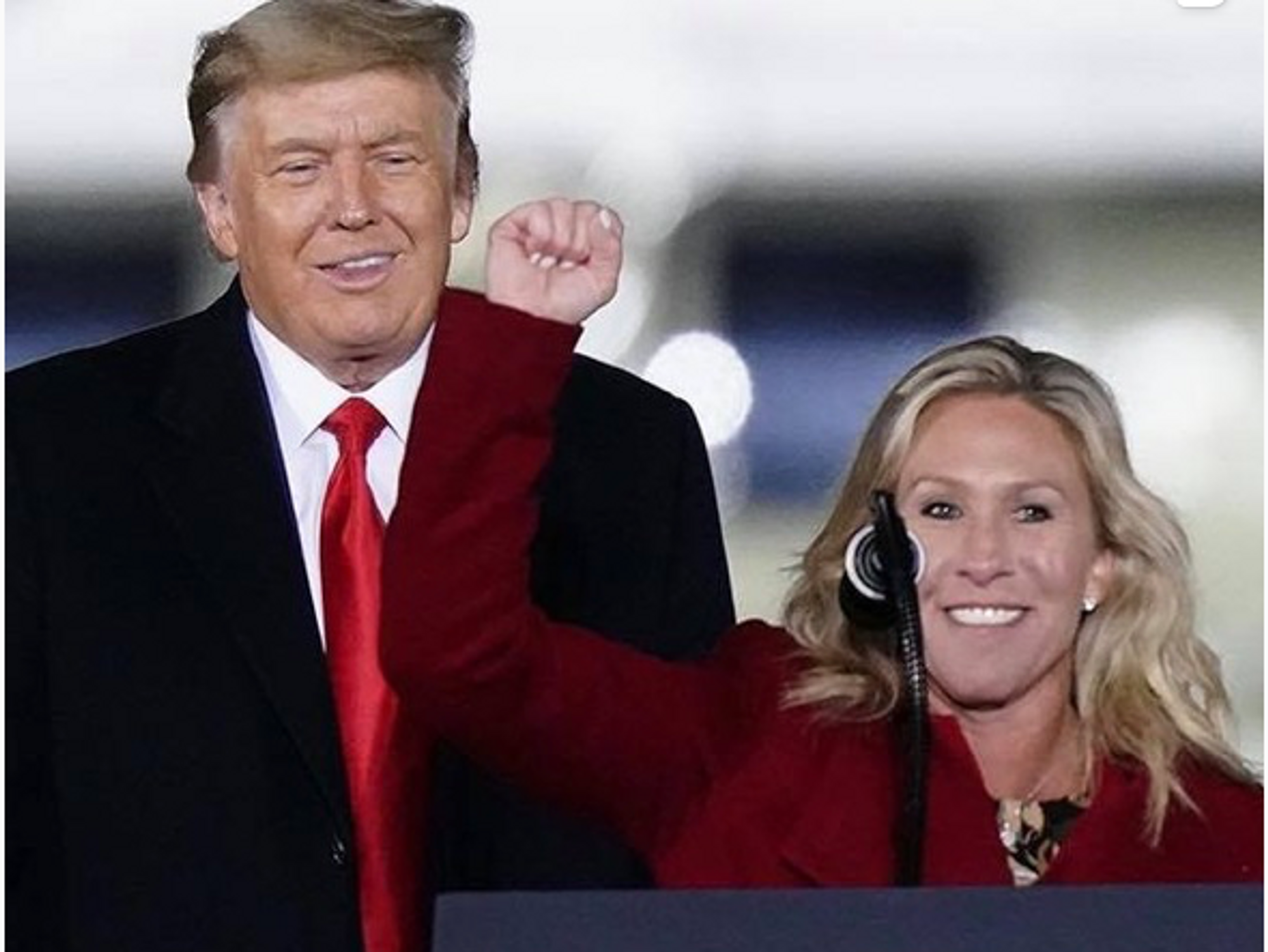 Screenshot from Rep. Marjorie Taylor Greene's Instagram (realmarjoriegreene)
Reprinted with permission from Alternet
More than two months into Joe Biden's presidency, videos continue to offer insight into the January 6 assault on the U.S. Capitol Building and the insurrectionists who tried to prevent Congress from certifying Biden's Electoral College victory over then-President Donald Trump. And one of those insurrectionists, according to CNN reporters Andrew Kaczynski and Em Steck, is a "close ally" of far-right Rep. Marjorie Taylor Greene of Georgia.
On February 24, Kaczynski and Steck reported that Greene ally Anthony Aguero, a far-right activist, admitted "on video" that he was among those who broke into the Capitol Building on January 6. And now, CNN is reporting that video actually shows Aguero inside the Capitol Building that day.
"The publicly posted videos of the riot reviewed by CNN's KFile are now the first visual confirmation that Aguero went inside the building," Kaczynski and Steck explain. "Aguero previously confirmed to CNN that he was at the Capitol on January 6 and said he was an 'independent journalist' there reporting the events. Aguero, however, appears to have never uploaded any footage he took inside the Capitol to Facebook or Instagram."
According to the CNN reporters, "Footage shows Aguero inside the Capitol, just inside and just outside the Rotunda near what are known as the Columbus Doors…. In one video, posted on Instagram, Aguero is briefly seen inside the Rotunda among rioters as they are held back by police. In another video, Aguero appears to be exiting the Rotunda, though it is unclear where he goes because he disappears into the crowd."
Known for her support of the extremist QAnon conspiracy cult, Greene has become one of the most controversial Republicans serving in the U.S. House of Representatives. And Kaczynski and Steck stress that Aguero knows her well.
"Greene and Aguero have worked closely together over the years on causes such as immigration and the U.S.-Mexico border wall and have attended pro-Trump rallies together," the CNN reporters note. "In many since-deleted videos saved by CNN's KFile, Greene repeatedly calls Aguero 'amazing' and a 'friend.' On social media, Aguero has called Greene 'one of my closest friends.'"
The CNN reporters add, "Prior to January's riot at the Capitol, Greene was photographed with Aguero in Washington at the March for Trump post-election rally, also known as the Million MAGA March, on November 14, 2020, where Greene spoke. Following Greene's speech, Aguero accompanied Greene off the stage in a video of the rally. A November tweet of the pair at the rally was liked by Greene."