"The Role Model": A One-Act Play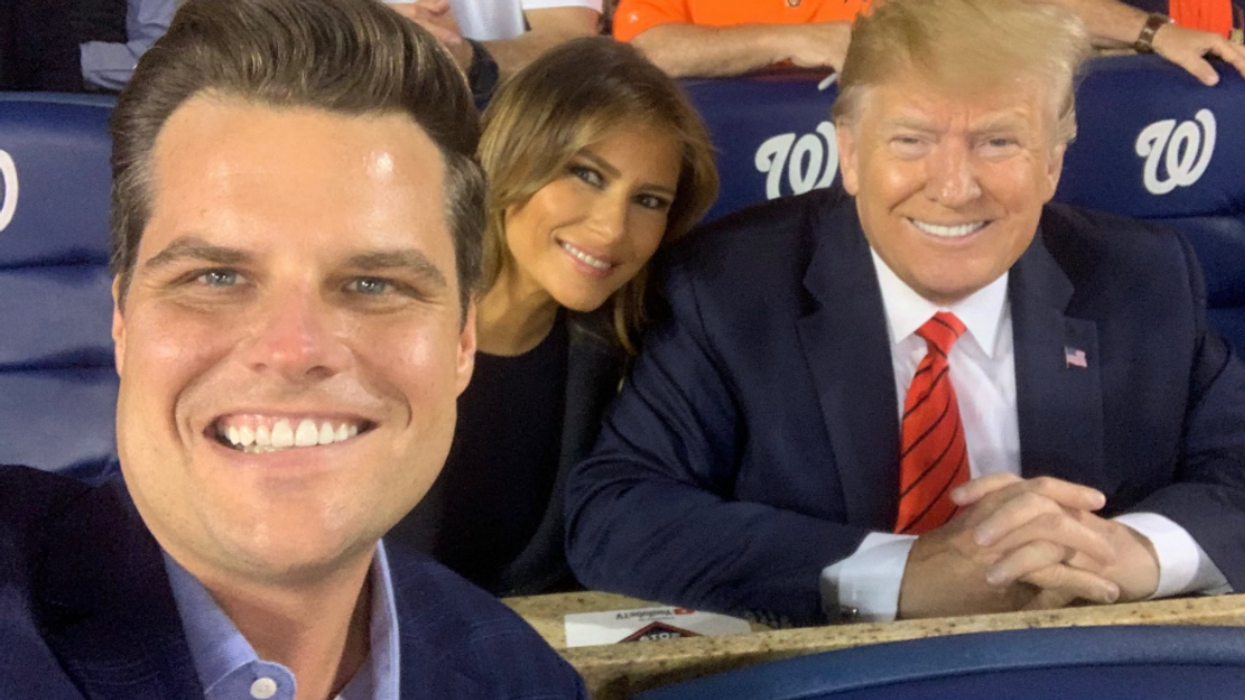 Inside Donald Trump's study at Mar-a-Lago.
JASON MILLER: Mr. President, it's Matt Gaetz calling. Should I put him through? I don't think so.
TRUMP: I've been waiting for his call. And get me a Diet Coke.
(Picks up phone)
TRUMP: Where have you been, Matt? You never write, you never call.
GAETZ: I'm glad Don and Kimberly worked this out. We're such close friends, a real threesome.
TRUMP: No one can accuse her of being seventeen.
GAETZ: Mr. President, you're our greatest president, greatest economy ever, greatest foreign policy, greatest against cancel culture. Remember when I tweeted, "Impeachment is the zenith of cancel culture?" Remember when I called the Democrats' impeachment presentation "an 8th grade book report?"
TRUMP: Was that the first or second?
GAETZ: Second.
GAETZ: The election was a travesty of the cult of cancel culture. First, they came for Dr. Seuss, then they came for Mr. Potato Head. He's going by Potato X. He can't be Mr. Potato, See, to me the whole concept of the Mr. Potato Head was you could move the parts around. Mr. Potato Head was America's first transgender doll and even he got canceled. And then they came for you. You won in a landslide. Biden rigged it on the dead vote, moved around all those dead people.
TRUMP: I only wish I had more defenders like you. You're like a good son.
GAETZ: Like an adopted son. We're both Florida Man. Same place, same family. Florida's like an amazing woman: adventurous, beautiful, mostly sunny, sometimes a little crazy, and always here to encourage and support success. In contrast, New York is like a bad ex-husband. Mean, won't let you go out to dinner. You're less safe. You're spiraling financially downward. And they may kill your grandparents.
TRUMP: Great, great people in The Villages, great retirement community, big vote for me there. Big, big fan of The Villages. Remember how they smeared me because I retweeted a little video of a rally at the The Villages. So, one guy is chanting, "White power!" One guy! Two seconds. It's like when they smeared me because I tweeted I had a "consensual presidency." Consequential!
GAETZ: They love you in Florida. Republicans in Florida would do unspeakable things for the numbers I have with the base. And you have better numbers.
TRUMP: Giant numbers. They couldn't care less about cancel culture. They're vaccinated against it.
GAETZ: I'm your vaccine. That's why I went on Fox News to defend you. And you retweeted the video of that. "President Trump should pardon Flynn, the Thanksgiving turkey, and everyone from himself, to his admin, to Joe Exotic if he has to. The Left has a bloodlust that will only be quenched if they come for those who fought with @realDonaldTrump to deliver for the American people."
TRUMP: "Bloodlust." You've got a way with words. Should have given that blanket pardon. A lot under that blanket. I don't know why I ever listened to those shysters in the White House, not looking out for the president, just plotting about going back to those big jobs in those big, big law firms, you know the kind, rake in the bucks for telling people what not to do to stop them from doing what they should do, telling them what not to say about what they didn't do so they look guilty, and telling them what not to say about what they did do so they can't show they're innocent. Always sending a bill. You're not like them, Matt, you did so much for me, a great, great warrior.
GAETZ: Band of brothers. We did our part over in the House for January 6th.
TRUMP: A lot more than tour guides at the Capitol.
GAETZ: Mr. President, I remember every little thing I did for you, every single thing that group of us in the House did.
TRUMP: I bet maybe your memory is fading about some of that. Believe me. Happens. Can't recall.
GAETZ: So, I was wondering, Mr. President, if you might make a statement for me. I understand about the pardon, but just a statement, a few lines.
TRUMP: You're such a winner, gone to the wall for me. I would want to return a favor. That's the reason I didn't grant you the pardon. Not giving it was the favor. It would have hurt you, thrown a spotlight on you, made you look guilty. No one had heard of anything then. Not me. Never heard. So, pardon, not such a hot idea.
GAETZ: But a statement now…
TRUMP: Been there, done that, take my word. Nobody is accusing you of rape. No pee tape, right? Everybody involved must be happy. I had the beauty pageants, the modeling agency. People are talking about photographs? Are you kidding? Ever see Melania in British GQ? She had a gun, a big gun, a James Bond gun. Bang! But no hula hoop. You still have that picture? The hula hoop photo? So, really, what are we talking about here? You paid for the hotels, the dinners. Sounds like you're a regular gentleman. Am I right? I knew Jeffrey Epstein, you're no Jeffrey Epstein.
GAETZ: That's why I'd like you to offer a character reference.
TRUMP: Why couldn't Tucker remember that dinner with you and the girl? Nothing wrong with a nice dinner. His wife was there, too. She must remember. I bet she does. Tucker can get a little squirrelly. He said I "recklessly encouraged" my followers who protested the stolen election at the Capitol. If Tucker wants to be me, he should choose his words more carefully. He could take a lesson from you.
GAETZ: We could all take lessons from you. We've had "perfect family man" presidents before, after all, and many of those men sold out our country, even if their wives were happy the whole time, We've been lucky to have a president who didn't care for puritanical grandstanding or moralistic preening. America First.
TRUMP: Let me give you some pointers. I could do that. Better than a statement. I've had a lot of experience. I should get paid as a crisis manager consultant. Read me what you put out.
GAETZ: "Matt Gaetz has never paid for sex. Matt Gaetz refutes all the disgusting allegations completely. Matt Gaetz has never ever been on any such websites whatsoever. Matt Gaetz cherishes the relationships in his past and looks forward to marrying the love of his life."
TRUMP: Signed "Matt Gaetz," right? Good branding. Love "the love of his life." What's her name?
GAETZ: Luckey.
TRUMP: No, what's her name?
GAETZ: Luckey, that's her name.
TRUMP: Better be. Now, because I like you like a son I'm going to let you in on the real secret. It's not any statement to the fake media, it's not any tweet, it's not any posting on Facebook, it's not any appearance with Tucker.
GAETZ: The secret? There's a secret? What's the secret?
TRUMP: (Pauses) The fundraising letter.
GAETZ: Do you take Bitcoin?
TRUMP: Maybe I should adopt you.
Sidney Blumenthal, former senior adviser to President Bill Clinton and Hillary Clinton, has published three books of a projected five-volume political life of Abraham Lincoln:A Self-Made Man,Wrestling With His AngelandAll the Powers of Earth. His play This Town, about a scandalous White House dog, was produced in 1995 by LA TheatreWorks. This is the sixth in his "Trump Cycle" series of one-act plays published in The National Memo, including The Pardon, Epstein's Ghost, Ivanka's Choice, Sunset Boulevard, and The Exclusive.