As Crisis Unfolds, Disloyal Mike Pompeo Sucks Up To Putin And Insults Biden
@alexvhenderson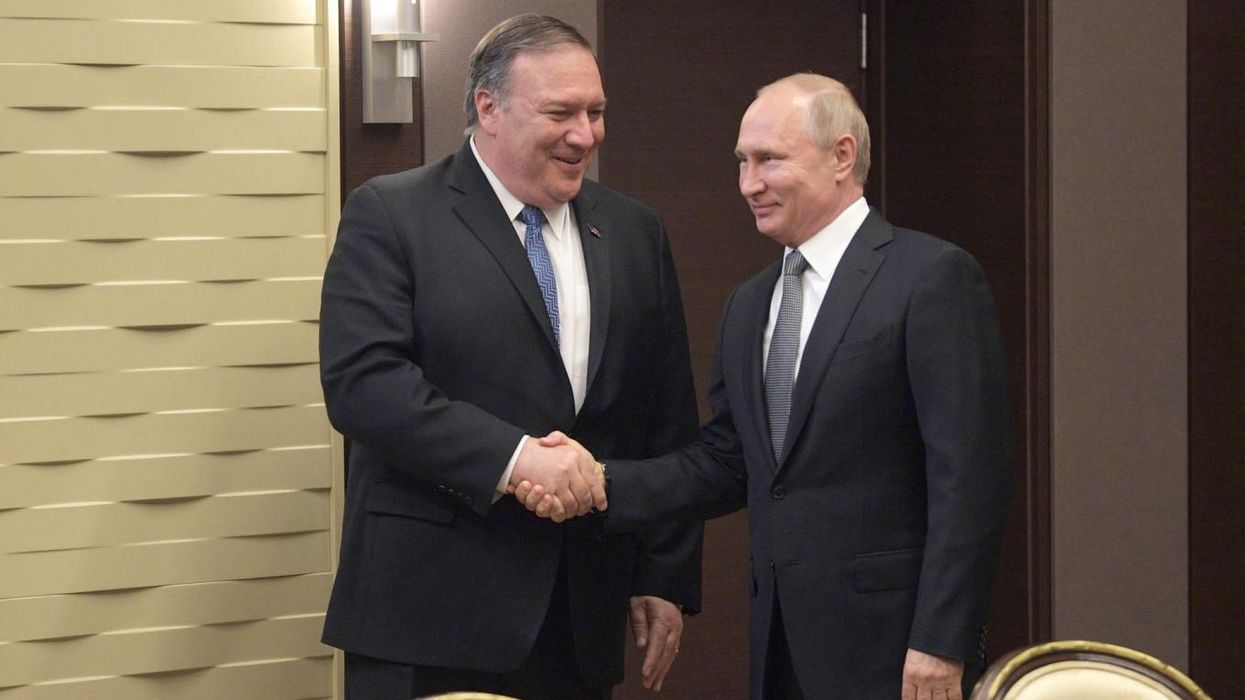 Wikimedia Commons
Many veterans of conservative politics, some of them Never Trumpers who are old enough to remember the Cold War, never thought they would live to see the day when a Russian leader would draw praise from well-known Republicans. But in fact, Russian President Vladimir Putin has been admired by everyone from former President Donald Trump to Fox News' Tucker Carlson.
Another Putin admirer, according to the Kansas City Star, is former Secretary of State Mike Pompeo. The Star notes that Pompeo has been praising Putin while slamming President Joe Biden.
Of all the former secretaries of state under Democratic and Republican presidents," the Star reports, "only one is taking to cable news and social media during a moment of peril in Europe to praise Russian President Vladimir Putin and chastise the Biden Administration. Mike Pompeo has lauded the Russian strongman over the past month as a 'talented,' 'savvy,' 'capable statesman,' offering his praise during a slew of interviews after his political action committee spent $30,000 on improving his performance in media appearances."
This praise comes at a time when it appears likely that Putin will invade Ukraine and thousands of Russian troops are stationed near the Ukraine/Russia border. Biden has been warning that the U.S. will impose tough economic sanctions against Russia if Putin goes through with the invasion, and he has been in close contact with the United States' European allies in the North Atlantic Treaty Organization (NATO) during this crisis.
In January, the Star notes, Pompeo had lavish praise for Putin when he appeared on Fox News, saying, "He is a very talented statesman. He has lots of gifts. He was a KGB agent, for goodness sakes. He knows how to use power. We should respect that."
Two former secretaries of state, centrist Democrat Hillary Clinton and conservative Republican Condoleezza Rice, have been scathing critics of Putin. And the late Gen. Colin Powell, who served under President George W. Bush, was vehemently critical of Putin as well.
The Star, in fact, stresses that Pompeo is the only former secretary of state who has been going around openly praising Putin during the current crisis.
"Few other former secretaries of state have weighed in on the crisis, and those that have avoided politics," the paper reports. "Condoleeza Rice, former secretary of state under President George W. Bush, called Putin 'megalomaniacal' in a CNN interview over the weekend. There have been eight U.S. secretaries of state since Putin took power in 1999, including four under Republican presidents — Colin Powell, Condoleezza Rice, Rex Tillerson and Pompeo — and four under Democratic presidents — Madeleine Albright, Hillary Clinton, John Kerry, and the current secretary, Antony Blinken…. Pompeo has targeted Biden as exemplifying 'enormous weakness,' leading 'an America on its back, an America that apologizes.'"
Reprinted with permission from Alternet