Is Purple North Carolina Turning Florida Red? The Mouse Wants To Know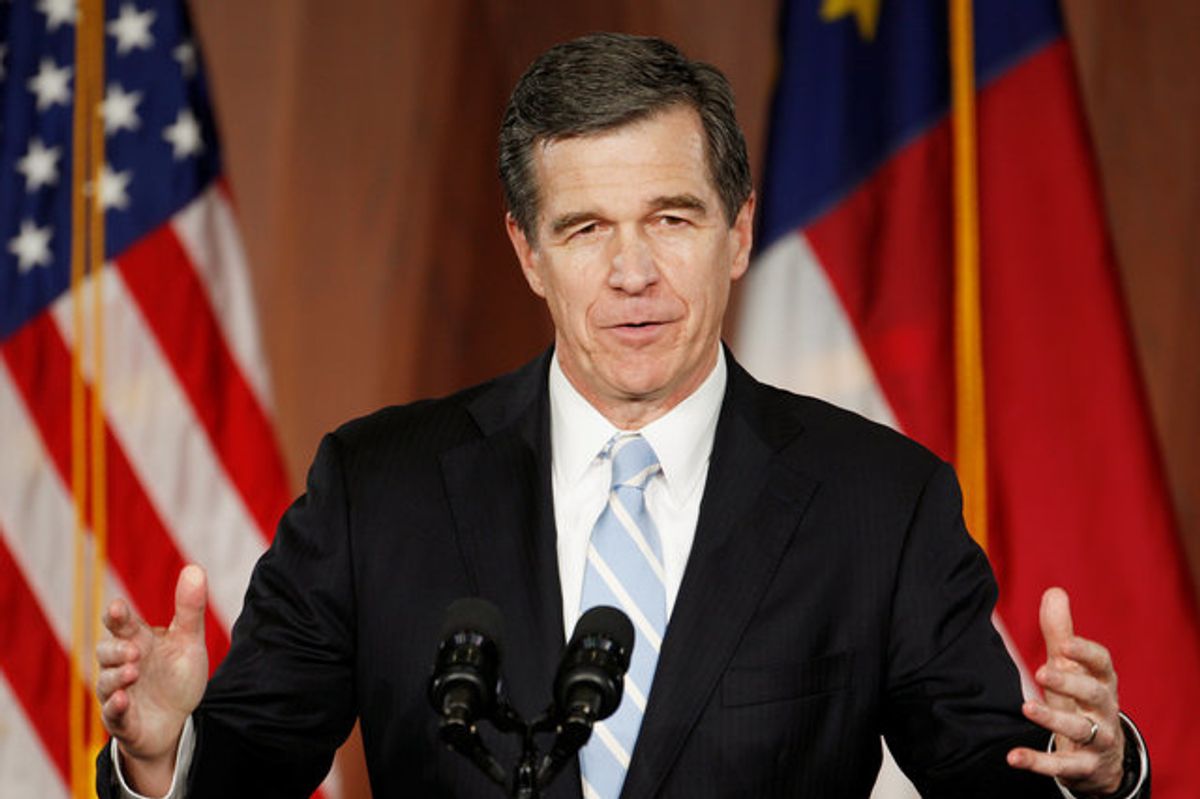 North Carolina is a state on the verge. Of what? Well, that depends on whom you ask. Some residents are thrilled that the state seems to be politically falling in line with a bunch of its neighbors to the south, most recently with an abortion bill. Others, particularly those who felt protected in relatively progressive urban bubbles, aren't happy with the shift and are vocalizing their displeasure.
To back up a bit, in the past few years, the state's tint could reasonably have been described as a reddish shade of purple. You could see it in its Democratic governor, Roy Cooper, with moderate policies and a calm demeanor that shielded his resolve, and a competing state legislature with a Republican majority big enough to flex its muscles but still subject to a veto when it pushed too far right.
There were the occasional cautionary tales, as in 2016, when then-Republican Gov. Pat McCrory signed the infamous HB2, or as it was nicknamed, the "Bathroom Bill." It was the state GOP's response to a Charlotte anti-discrimination ordinance, particularly the part that said people could use the bathroom for the gender with which they identified.
That installment in the ever-present rural vs. urban culture clash attracted the national spotlight as well as late-night comics' jokes. Both proved harsh.
When concerts — including "The Boss," Bruce Springsteen — and beloved basketball tournaments were canceled, once-bold politicians backtracked and McCrory lost his reelection race to Cooper, who is now approaching the end of his second term.
But memories are short, especially after the 2022 midterms, when the stars and voters aligned for North Carolina Republicans.
While Democrats did better than expected nationally, Republicans held their own and even made gains in North Carolina. Ted Budd, who as a House member voted against certifying Joe Biden's 2020 presidential victory, won the U.S. Senate seat of the retiring Richard Burr, one of the seven GOP senators who voted to convict Donald Trump on an impeachment charge of inciting an insurrection.
That's a philosophical, if not party, change.
In the state General Assembly, Republicans won a veto-proof majority in the state Senate and came one vote short in the House. The state's Supreme Court changed as well, with a 4-3 Democratic majority shifting to a 5-2 Republican advantage.
When Democratic state Rep. Tricia Cotham, months after her election in a blue district, donned a red dress for her April announcement of a switch to the GOP, any gubernatorial veto became vulnerable to an override.
A word about Cotham: Shocked constituents and folks who knew her when — meaning: all her political life — asked how someone who campaigned with support from those who supported LGBTQ rights, someone who spoke of her own abortion when she stood firm in support of reproductive freedom a few short years ago, who had said, as The Charlotte Observer pointed out, she would "stand up to Republican attacks on our health care" as well as "oppose attacks on our democracy, preserve fundamental voting rights, and ensure all voices are heard" could turn on a dime? Well, she explained, Democrats hurt her feelings; many feeling burned by the bait-and-switch are not quite buying it.
Attention, though, is now focused on a GOP agenda in overdrive, mirroring moves in Ron DeSantis-led Florida, with a few extras.
Why the rush, in a state with registered voters roughly split into thirds among Democrats, Republicans and the unaffiliated, and where elections up and down the ballot are always close?
Because Republicans can.
GOP fever dream
Top of the list, of course, of proposals and bills rushing through the state House and/or Senate with minimal debate, were those that targeted transgender young people, restricting gender-affirming care and prohibiting transgender girls from joining female sports teams in middle school, high school and college. Never mind that fewer than 20 transgender athletes have been approved to play high school sports in the state this year, and just two were trans girls.

Opponents worry about the effect on public schools if North Carolina's Opportunity Scholarship Program of vouchers is expanded, as the Republican majority favors. It makes public money available to everyone, regardless of income, for any school, which includes private institutions and those with religious affiliations. For those already able to afford private schools, this would be a nice bonus; and the money comes with no strings, no need to follow state standards.
Headlines of gun violence have not deterred efforts to loosen the state's gun laws. And would any red-state agenda be complete without bills meant to soft-pedal any mention of racism in the teaching of American history? Cooper has been on a travel and media blitz trying to convince Cotham and perhaps other Republicans to change their minds and their votes after, as expected, he vetoes the recently passed 12-week abortion ban, which also includes other restrictions, like an extended waiting period and new requirements for clinics.
Few, including the demonstrators outside the Capitol building in Raleigh, expect minds to change. North Carolina, with a 20-week ban, had been a refuge for those in the South. Perhaps not for long.
With the new GOP majority on the state Supreme Court, the electoral future looks rosy for Republicans. This court has already ended voting rights for some former felons, reinstated a voter-ID law a trial court had ruled was infected by racial bias and overturned a ruling on gerrymandering. With the legislature able to draw new lines, the seven-seven balance in the state's U.S. House delegation may not survive.
Is the GOP's fever dream of an 11-3 advantage possible? We're about to find out.
The test of whether North Carolina will go full DeSantis will come in 2024, with the race for governor. Cooper, no doubt exhausted by constant sparring with the legislature that has worked to diminish the powers of his office from Day 1, is term-limited. Though the field is far from set, voters will have a clear choice.
Front-runners include state Attorney General Josh Stein, a Democrat, who stood with those protesting the abortion ban and, on the Republican side, Mark Robinson, who has carved out a distinct national profile with his divisive rhetoric on gun laws, his support of some far-right conspiracy theories, and his hateful dismissal of LGBTQ citizens and their rights.
Let's just say, when Disney's making that list of states where the mouse might find a new home, for now there's an asterisk next to North Carolina.
Reprinted with permission from Roll Call.