Separate Bedrooms, Coolness To Ivanka Revealed In New Melania Bio
@alexvhenderson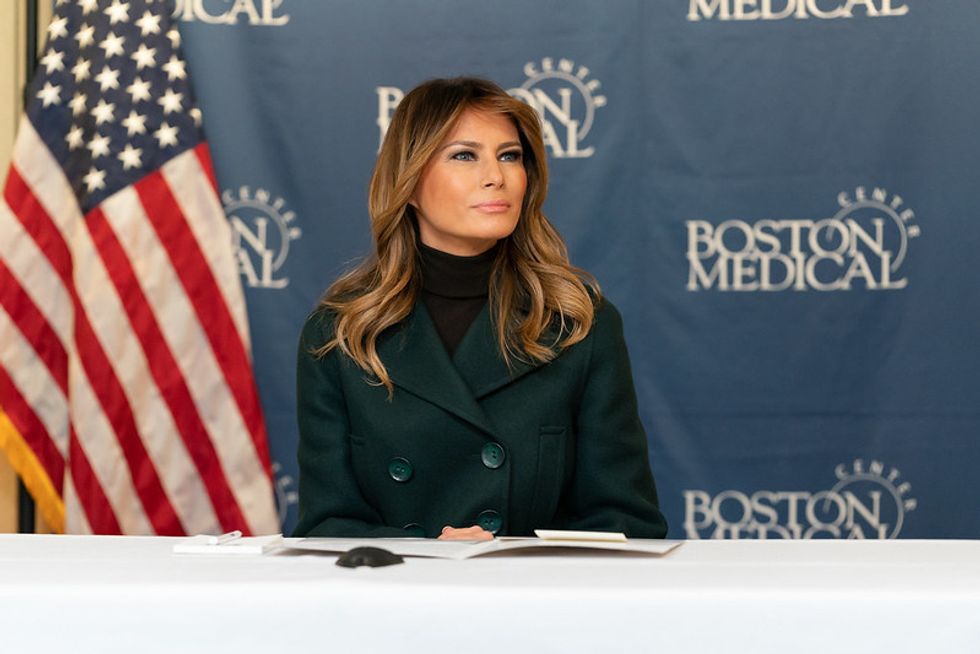 Reprinted with permission from Alternet
Compared to first ladies of the past — whether it was Betty Ford, Eleanor Roosevelt, Michelle Obama, Hillary Clinton or Nancy Davis Reagan — Melania Knavs Trump has kept a relatively low profile. As a result, there is a lot of speculation about the 49-year-old native of Slovenia. But CNN reporter Kate Bennett, in her new book, Free, Melania, offers some insights — and the New York Times' Elizabeth Egan lists some of those insights in a December 2 article.
One insight, Egan notes, is that "there are no coincidences when it comes to the first lady's clothing." In her book, Bennett writes, "I have a theory that when the Trumps are unhappy with each other, Melania wears menswear — because Trump notoriously likes to see women in tight, short, uber-sexy and feminine dresses."
The second insight, according to one of Bennett's sources, is that the relationship between White House Senior Adviser Ivanka Trump and her stepmother is "cordial, not close." And the third insight, in Egan's words, is that "Be Best isn't a thing." According to Bennett, the "likelihood that" Melania Trump's child-focused Be Best campaign "will ever have the impact of Michelle Obama's Let's Move campaign or Nancy Reagan's Just Say No is slim to none."
In November, the first lady was hospitalized in Boston to treat a kidney infection. And according to Egan, a fourth insight from Bennett's book is that the infection was not a minor issue. In Free, Melania, Bennett writes, "There was concern that if her recuperation was not careful and extended, her type of condition could possibly result in the loss of her kidney."
The fifth insight is that the first lady and Karen Pence, wife of Vice President Mike Pence, "are not close." When the two landed in Texas for a visit, Egan notes, the first lady "did not bring Mrs. Pence into her spacious cabin."
Finally, the sixth insight is that Melania Trump has her own room in the White House, where she is staying in a room that under President Barack Obama, was occupied by Michelle Obama's mother, Marian Robinson.