Sidney Powell Now Claims 'No Reasonable Person' Would Believe Her Election Lies
@DarrellLucus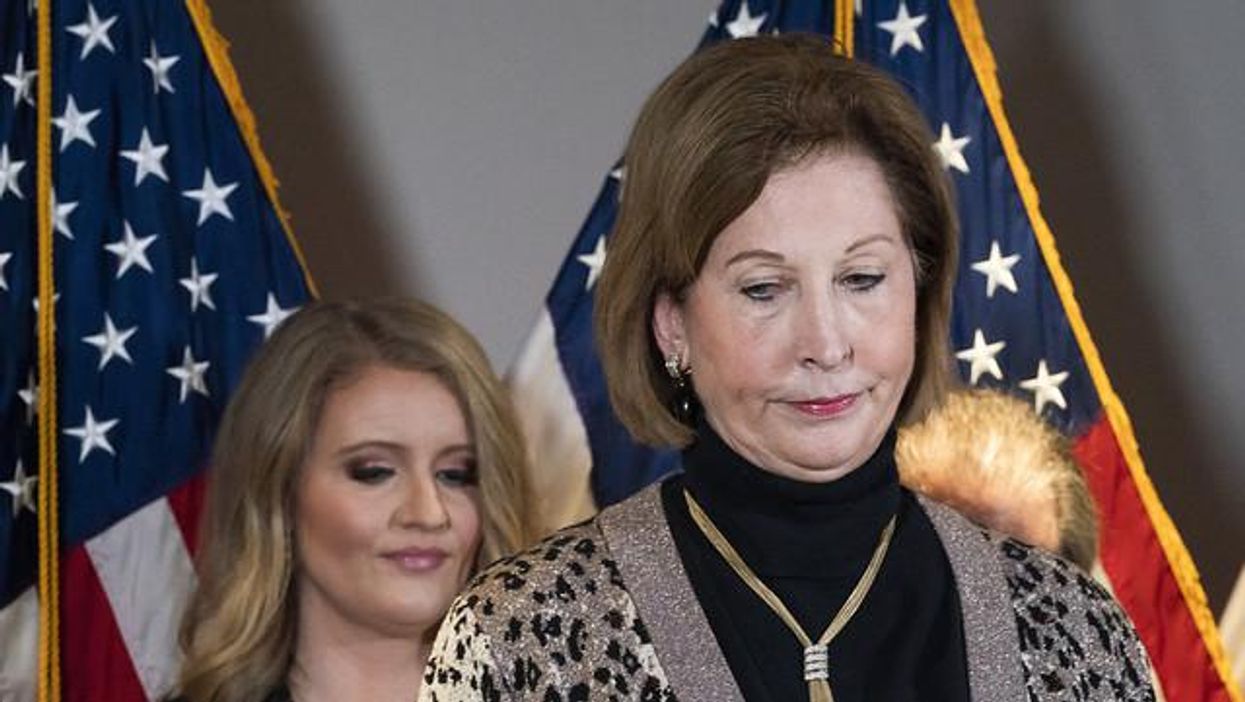 Reprinted with permission from Daily Kos
It's been amply established that Sidney Powell bears a large measure of moral responsibility—at the very least—for creating the poisonous environment that led to the January 6 insurrection. Powell was one of the main legal lowlights behind Trump's misbegotten legal effort to steal another term.
Powell's claims to fame were a series of lawsuits that alleged Dominion Voting Systems was in cahoots with Venezuela to steal victory from Trump—the infamous "Kraken" lawsuits. All four of them crashed and burned—but not before her claims led to Dominion and its employees facing vicious harassment and trolling. At least one Dominion employee, Eric Coomer, was driven into hiding.
Partly due to this, Dominion filed a whopping $1.3 billion defamation suit against Powell, her law firm, and her nonprofit organization, Defend the Republic. Well, earlier today, Powell sought to throw out the suit. Her reasoning? Wait for it—she now says "no reasonable person" would believe her claims.
No, this isn't really snark. She actually said this in a legal filing.
In her motion to dismiss, Powell does not argue that the statements were true. She claims they are not actionable because they are protected statements of political opinion.
"Reasonable people understand that the 'language of the political arena, like the language used in labor disputes … is often vituperative, abusive and inexact,'" her motion to dismiss argues. "It is likewise a 'well recognized principle that political statements are inherently prone to exaggeration and hyperbole.'"
Powell goes on to say that Dominion called her theories "wild" and "outlandish," and in so doing support the notion that "no reasonable person" would take them seriously. Rather, she would have us believe her statements were merely "claims that await testing by the courts."
So in other words, Powell is tacitly admitting that when she made her much ballyhooed vow to "release the Kraken," she knew it was based on hokum. And she also knew when she was filing these statements that they were baloney. I'm not a lawyer, but even I know that when you make court filings, you're asserting that your arguments are based on fact.
Buzzfeed's Zoe Tillman got her hands on part of the filing.
Read the whole thing here. Twitter has been having a field day with this. Here are some samples.
Some of them have even gone as far as to call for her disbarment.
Considering that Powell is already facing at least two calls for her disbarment—from both the state of Michigan and the city of Detroit—you would think she would know to stop digging. Hard to believe this woman was once a federal prosecutor.
If this is Powell's new version of the truth, she ought to do us a favor and apologize to Dominion, as well as to the lawmakers and police officers who had to endure the horror that she unleashed. If not, then it's long past time to disbar the Kraken.