Wacky Advisers Have Roped Trump Into Their QAnon Restoration Fantasies
@AlKapDC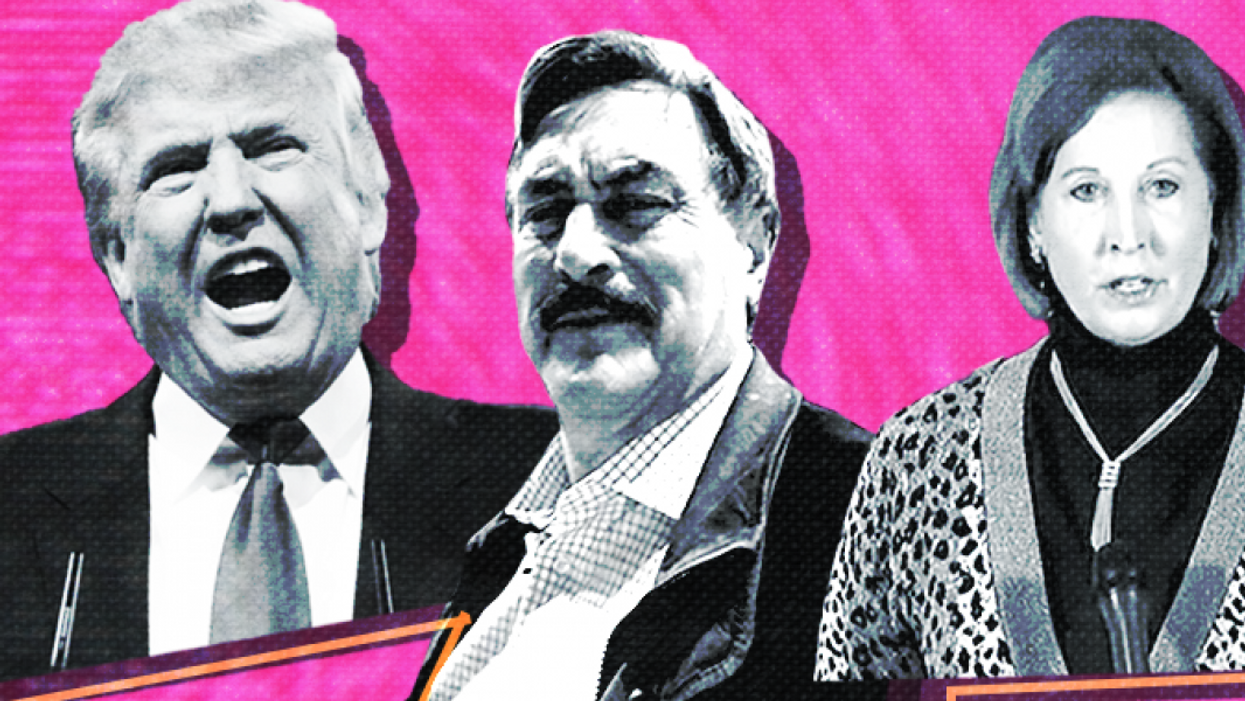 Photo by Molly Butler / Media Matters
Reprinted with permission from Media Matters
Former President Donald Trump reportedly believes that he will somehow return to office in the coming months, a belief that fits with claims from supporters of the QAnon conspiracy theory and far-right message boards. And it appears to have come through his QAnon-connected orbit of advisers who have egged on his voter fraud grievances and who continue to suggest Trump can and should be reinstalled into office based on those false claims.
The New York Times' Maggie Haberman reported on June 1 that Trump "has been telling a number of people he's in contact with that he expects he will get reinstated by August." As Haberman noted, Trump's expectation has no basis in reality. But it echoes a claim that MyPillow CEO Mike Lindell has pushed. Lindell -- who has been making false claims of voter fraud for months -- appeared on Steve Bannon's show War Room: Pandemic in March and said that "Trump will be back in office in August" based on supposed evidence of voter fraud. At the time, Lindell's baseless statement -- which he also made around that time on multiple shows -- was hyped by some QAnon supporters and on far-right message boards.
Other figures influencing Trump since last November have also claimed that Trump could somehow come back into office. Attorney Sidney Powell, appearing at a QAnon conference in Dallas on May 29, said that due to supposed voter fraud, Trump could be "reinstated" into office and President Joe Biden forced out of the White House.
The following day, at that same QAnon conference, former national security adviser Michael Flynn was asked why a military coup could not happen in the United States like it did in Myanmar. In response, he said, "No reason. I mean, it should happen here." Although Flynn later tried to walk it back, his statement echoed the widespread praise of the Myanmar coup among the QAnon community and its members' hope of a similar situation in the United States.
These three figures had not only advised Trump following the 2020 election, but they also have multiple other connections to QAnon. Lindell, who met withTrump in the days before Biden's inauguration, had at that time floated Trump using martial law to stay in office, a call that had been pushed by QAnon supporters. Lindell has also shared voter fraud conspiracy theories from the QAnon community, including content from 8kun, the message board site where the central figure of QAnon is based. Since Biden's inauguration, Lindell has associated with the hosts of a QAnon show, which he has appeared on and praised, and is apparently signing QAnon merchandise for auction. Lindell has also apparently offered "QAnon" as a promo code on MyPillow.
Powell and Flynn have even more explicitly promoted QAnon. Before speaking at the QAnon conference, Powell had repeatedly amplified QAnon influencers, tweeted QAnon language, and appeared on QAnon YouTube shows. Following the election, she cited Ron Watkins, the onetime administrator of 8kun, and other QAnon-connected figures and claims in her lawsuits seeking to overturn the election results in certain states.
Similarly, Flynn (whom Powell has represented) had taken a QAnon oath, signed books with the QAnon slogan "wwg1wga" (short for "where we go one, we go all"), helped sell QAnon merchandise, appeared on QAnon-supporting shows, and hung out with the same QAnon influencer Lindell has become friendly with. Flynn, like Lindell, also encouraged Trump to declare martial law after the election.
Before Biden's inauguration, Trump had floated making Powell a special counsel on election fraud and Flynn the director of the FBI or White House chief of staff.
But these three are also not the only people through whom QAnon theories were reaching Trump. Former Overstock CEO Patrick Byrne -- who has gone on multiple QAnon shows to push voter fraud claims and recently has associated with the same QAnon influencer Lindell and Flynn have associated with -- met with Trump post-election. And Lin Wood, a QAnon-supporting attorney who has falsely claimed that Trump is still president, had been aiding Trump's campaign post-election.
Fundamentally, this voter fraud orbit around Trump -- Lindell, Powell, Flynn, Byrne, and Wood -- is part of a pipeline from QAnon supporters and far-right message boards promoting the conspiracy theory that Trump will somehow come back into office. This theory has taken a variety of forms, including claims that Trump would be inaugurated as president on March 4 and/or that the military would install Trump back into office and throw out Biden, whether on a specific day or some day in the future. QAnon supporters have also pointed to and are involved with a supposed election audit in Arizona that they believe will result in Trump returning to the White House. Lindell, Powell, Byrne, and Wood have all been involved with that audit, and Trump in turn is reportedly "fixated" on it.
This pipeline between QAnon supporters and far-right message boards, this group of figures who have advised Trump, and Trump himself partly fueled his voter fraud grievances that helped lead to the January 6 insurrection at the United States Capitol. And now it threatens to further ensnare Trump -- and in turn, much of the Republican Party and the voting public.