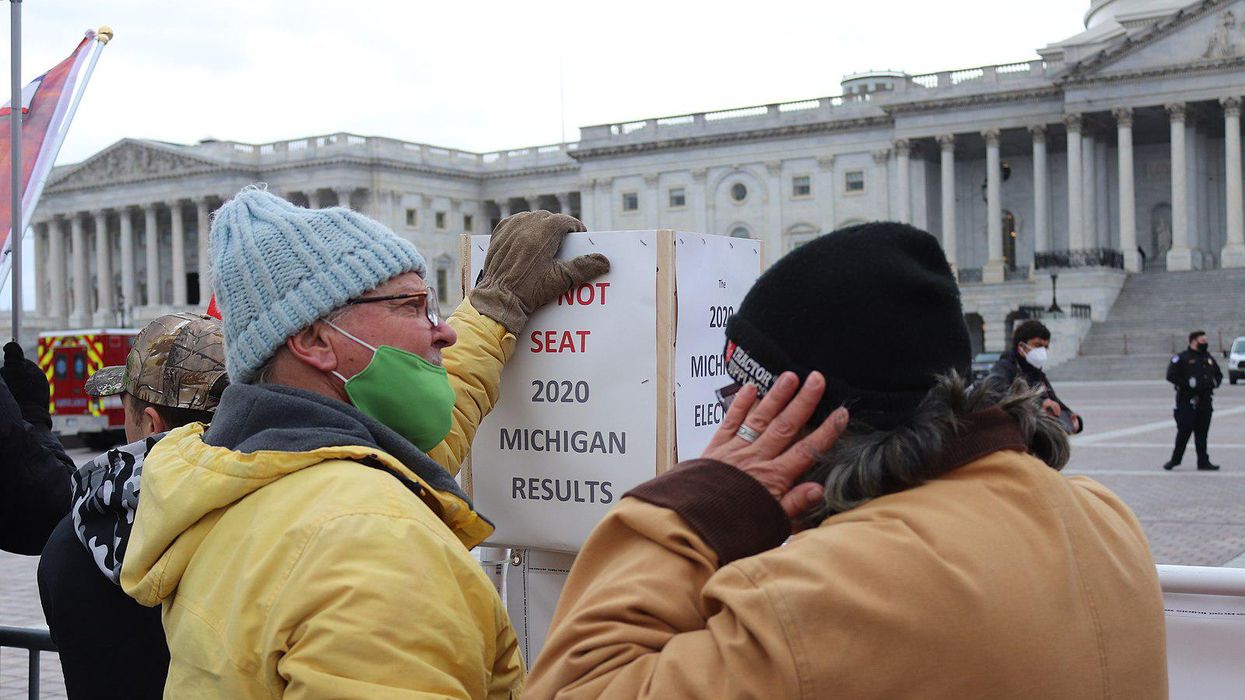 Reprinted with permission from Alternet
On October 8, 2020, it was obvious how severe political tensions had become in Michigan when the FBI announced that 13 men had been arrested in connection with a domestic terrorist plot to kidnap Democratic Gov. Gretchen Whitmer, subject her to a "trial," and execute her if found guilty. Those behind the kidnapping plot were angry over the restrictions she had imposed in response to the COVID-19 pandemic, and the political climate in that midwestern state hasn't grown any less tense since then. Washington Post reporter Tom Hamburger, in an article published on June 23, describes the tensions that continue to rock Michigan five months into Joe Biden's presidency.
"As Michigan State Rep. Donna Lasinski got out of her car at the state Capitol in Lansing on a sunny morning last week," Hamburger reports, "she was greeted by two people carrying what she described as assault rifles while protesters outside the building called for an audit of the 2020 election. Such disconcerting encounters are not uncommon in Lansing — a reflection of persistent and growing tension gripping Michigan eight months after Joe Biden defeated President Donald Trump."
Michigan was among the five states that Trump won in 2016 but lost in 2020; the others were Pennsylvania, Wisconsin, Arizona and Georgia. But Trump and many of his sycophants have continued to make the false and totally debunked claim that Trump really won Michigan and that he was the victim of widespread voter fraud. And with Trump supporters calling for Michigan to have an "audit" of the 2020 election not unlike the Cyber Ninjas farce presently taking place in Maricopa County, Arizona, that only adds to the tensions in the Wolverine State.
"Attacks on the integrity of the 2020 election have persisted in this state, where local county officials are contending with demands by some residents to review ballots for possible fraud," Hamburger explains. "The mounting calls by Trump supporters to revisit the election results are creating a thorny dilemma for the (Michigan) Republican Party, which has sought to fend off those efforts, even as GOP officials seek changes to election law."
Hamburger observes that on June 23, a GOP-controlled committee in the Michigan State Senate "issued a report forcefully rejecting the claims of widespread fraud in the state, saying citizens should be confident in the results and skeptical of 'those who have pushed demonstrably false theories for their own personal gain.'" But last week, according to Hamburger, "A few hundred demonstrators carrying boxes of affidavits signed by thousands of people demanding a state ballot audit showed up at the (Michigan) Capitol."
"On (June 22), a GOP legislator introduced a bill to start the audit process, although it so far does not have support among other lawmakers," Hamburger observes. "The drumbeat for audits has been accompanied by increasingly violent and vitriolic threats against state and local officials. The escalating rhetoric has left legislators from both parties lamenting what happened to the state that was home to moderate political consensus builders such as President Gerald Ford, Gov. George Romney and the late Rep. John Dingell."