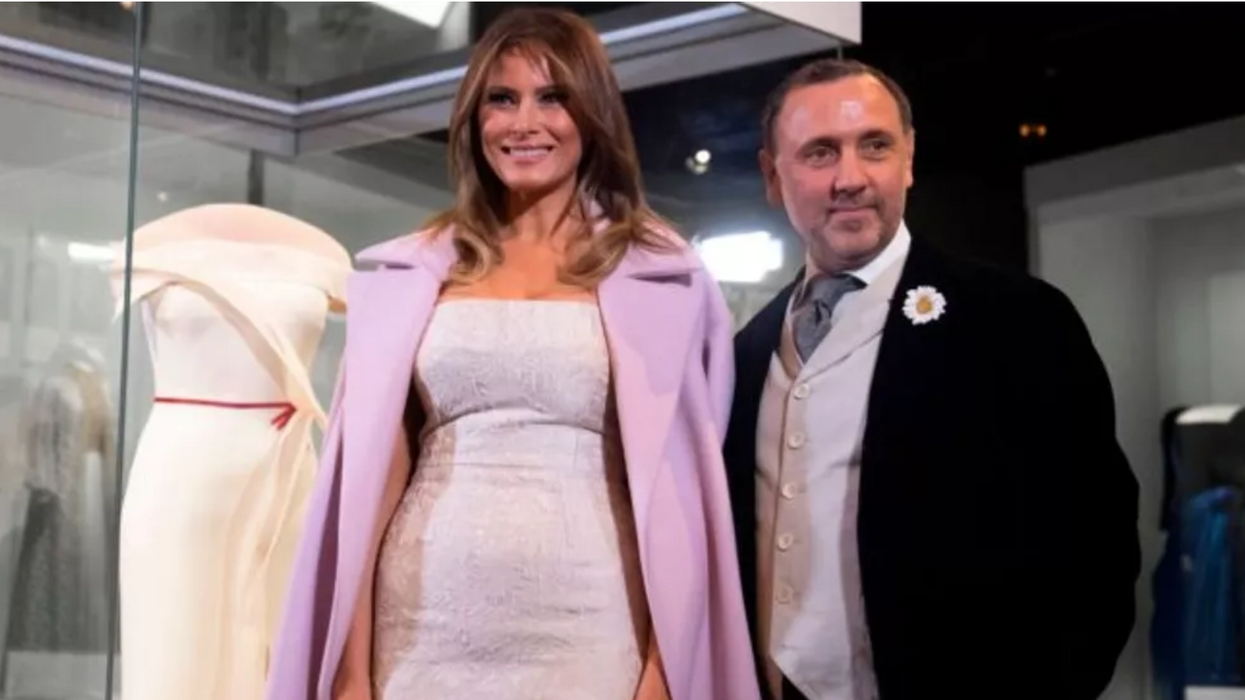 The Save America political action committee, a fund created by former President Trump to push his debunked claims of voter fraud in the 2020 presidential elections, paid $60,000 to a fashion designer known for styling former First Lady Melania Trump, according USA Today.
The payments, which the committee said were for "strategy consulting," were doled out to Hervé Pierre Braillard in four installments, with $6,000 paid on April 7 and $18,000 on May 4, June 3, and June 24, USA Today's Erin Manfield reported, citing Federal Elections Commission (FEC) filings.
Braillard, a French-American designer based in New York, has styled other first ladies, including Michelle Obama, Laura Bush, and Hillary Clinton. Braillard's work with Melania Trump earned him feature coverage in Vogue and the New York Times while Trump was still in office.
"Mr. Pierre serves as a senior adviser to Save America, involved in event management and special projects," Taylor Budowich, a senior official with Save America, told news media outlets, making no mention of what the payments were actually made for.
The payments, according to Manfield, "offer a window into one of the many ways Trump, who is not a candidate for any federal office, is allowed to use money in the [Save America] PAC."
Save America, dubbed "the primary hub of [Trump's] ongoing political operations" by the New York Times, has received and paid out millions of dollars accumulated from Trump's political operations.
The House Select Committee investigating the January 6, 2021, insurrection accused Save Americ of receiving most of the $250 million Trump fleeced from his supporters for an "Official Election Defense Fund" that its investigators testified never existed.
"Most of the money raised went to this newly created PAC, not to election-related litigation," Amanda Wick, senior investigative counsel for the select committee, testified on the second day of the public hearings.
"The Federal Election Commission does not allow candidate committees, which are formed to raise money for a specific candidate, to spend money on personal items, including clothing. But Save America is not a candidate committee, it's a leadership PAC, originally designed for politicians to raise and give money to other candidates," USA Today noted in its report. "They carry fewer restrictions and have been criticized as slush funds."
Indeed, under law, politicians with leadership PACs have broad authority to spend the money they raise as they see fit.
In June, a non-partisan and non-profit group tracking money in U.S. politics, Open Secrets, found that the PAC had paid millions of dollars to Trump-aligned organizations. One of them is Event Strategies Inc., a Trump-affiliated firm that reportedly received millions from the Trump campaign, the Republican National Committee, and other Trump PACs.
Save America gave out the maximum $5,000 donations permitted by law to Trump-endorsed election deniers contesting in Republican primaries across the country, yet "tens of millions of dollars in donor money is left over," USA Today noted in its report.
Non-profit news source Bridge Michigan found last week found that eight of nine Trump-endorsed GOP candidates nominated in state legislative races had received donations exceeding "lawful contribution limits" from Save America. However, the candidates had yet to return the "excess contributions."
Ann Ravel, a former member of the Federal Election Commission, expressed to USA Today her concerns about the evolution of PACs and the need for their regulation.
"For so long the whole point of leadership PACs, even when they were set up, was to kind of ingratiate yourself and help your other Congress-people or other political candidates, but that's apparently pretty much gone by the wayside," Ravel said. "It's in desperate need of regulation."