Trump Allies Ousted Weisselberg's Lawyer As 'Too Friendly' With Prosecutors
@alexvhenderson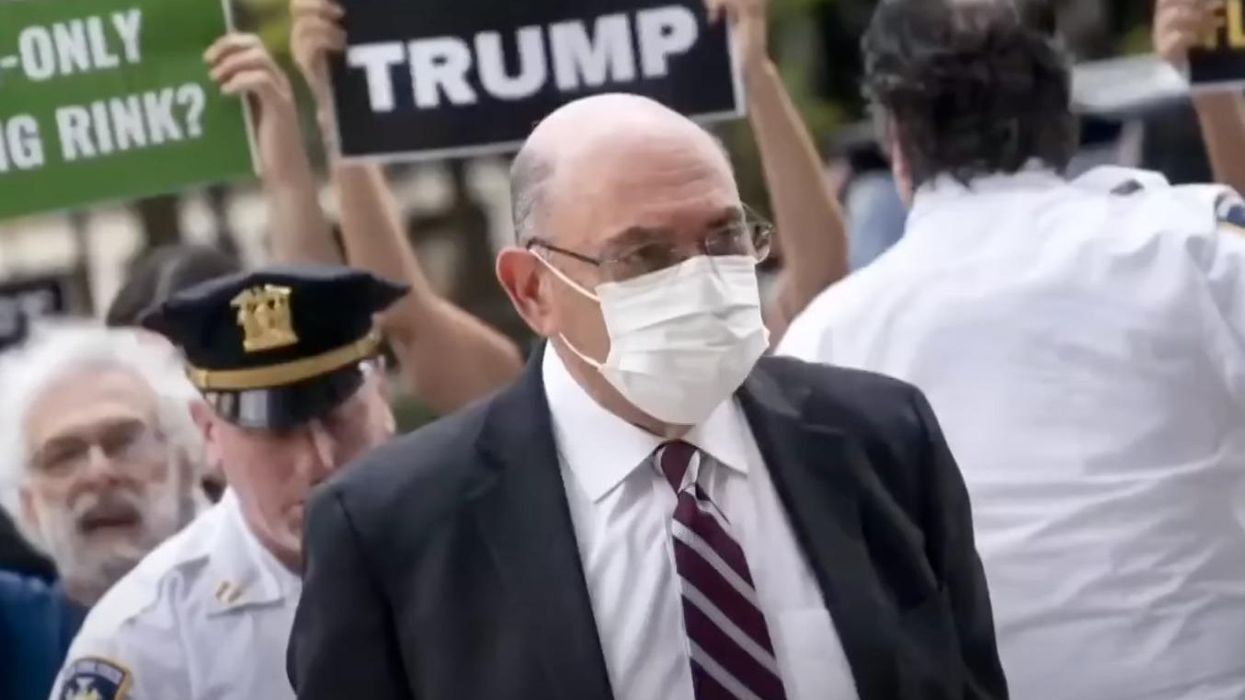 Although former President Donald Trump hasn't been indicted on any type of criminal charge, many of his associates have — from Paul Manafort (Trump's first 2016 campaign manager) to Michael Cohen (Trump's former personal attorney and "fixer") to Steve Bannon (former White House chief strategist) to long-time GOP operative and self-described "dirty trickster" Roger Stone. Veteran television journalist Dan Rather has described them as Trump's "flock of felons."
Another is 75-year-old Allen Weisselberg, chief financial officer for the Trump Organization. After pleading guilty to financial crimes that included tax fraud and falsifying records, Weisselberg began serving a five-month sentence in January. That case was prosecuted by the Manhattan District Attorney's Office, now headed by Democratic DA Alvin Bragg, Jr.
Cohen, now a blistering critic of Trump, has been cooperating with Bragg's office in a separate case: the one involving hush money payments Cohen said he made to Stephanie Clifford, a.k.a. adult film star Stormy Daniels, on Trump's behalf in 2016. And Cohen, who served time in federal prison, alleges that Weisselberg arranged for the Trump Organization to pay him $35,000 a month to reimburse him for the $130,000 he gave Daniels.
In an article published by the Daily Beaston March 30, journalist Jose Pagliery reports that the Trump Organization has fired attorney Nicholas Gravante — who represented Weisselberg until recently — for being, according to sources, insufficiently "Trumpy" and "too willing to play ball with" Bragg.
"Gravante, one of the city's top criminal defense lawyers, aggressively advocated for Weisselberg last year and played a key role in securing a plea deal that helped the Trump Organization executive avoid a long sentence in state prison — by testifying at the tax fraud trial of the Trump Corporation and Trump Payroll Corporation," Pagliery explains. "Weisselberg's lukewarm testimony wasn't exactly friendly to Manhattan prosecutors, but it was enough to convince the jury to convict the companies, which were fined $1.6 million."
The reporter continues, "According to a source familiar with the dispute, Trump associates were bitter about Gravante's decision to have Weisselberg meet with Manhattan prosecutors to prepare his testimony for that trial, a move they saw as being too friendly with law enforcement…. Essentially, Gravante was so protective of Weisselberg that he was willing to have sit-downs with prosecutors to ensure the executive wouldn't be in further legal jeopardy — even if that made the Trump Organization uncomfortable."
According to the Beast's sources, Seth L. Rosenberg has replaced Gravante as Weisselberg's attorney.
Trump has been firing up his MAGA base, anticipating his own arrest in connection with Bragg's investigation of hush money payments to Daniels. He is also facing two federal criminal probes from the U.S. Department of Justice (DOJ) and special counsel Jack Smith and a state-level probe from Fulton County, Georgia DA Fani Willis.
Pagliery notes, "For years, local prosecutors have tried to figure out a way to criminally charge Trump himself over the way he approved paying $130,000 to the porn star Stormy Daniels in the weeks before the 2016 election to keep her quiet about their sexual affair — raunchy details that might have tanked his presidential campaign."
Reprinted with permission from Alternet