Polls: GOP Will Be 'Burnt To A Crisp' If Trump Is 2024 Nominee
@CynicalBrandon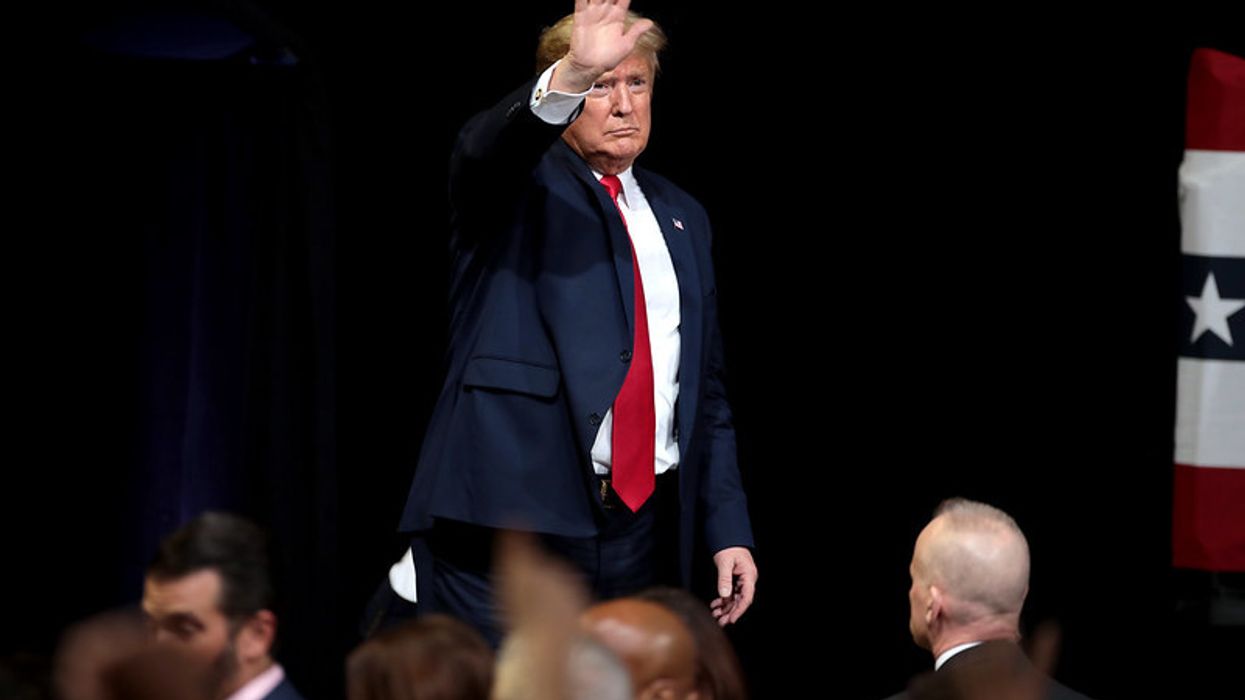 Manhattan District Attorney Alvin Bragg's historic 34-felony-count indictment of former President Donald Trump has rattled the American political landscape and introduced an unprecedented dynamic into the 2024 race for the White House.
While Trump's Make America Great Again movement, aided by its right-wing media allies, has painted him as a 'martyr' and predicted that his accumulating legal entanglements are a boon to his candidacy, fresh data suggests that the public is starting to accept that the embattled ex-commander in chief may have committed criminal acts.
"A majority of Americans (53 percent) believe he intentionally did something illegal, according to a new ABC News/Ipsos poll. An additional 11 percent say he acted wrongly but not intentionally. Only 20 percent believe Trump did not do anything wrong, and 16 percent say they don't know, per the ABC News/Ipsos poll conducted using Ipsos' KnowledgePanel," ABC News reported on Sunday.
"The announcement of formal charges has nudged public opinion slightly against Trump, particularly among independent voters. As of April 1, exactly half of the public said the charges against Trump were either very or somewhat serious, and 36% said they were not," the outlet explained. "Now, after the indictment has been unsealed and the public has heard Trump's condemnation of the investigation, 52 percent find the charges very or somewhat serious, and 39 percent deem the charges not too serious or not serious at all."
Yet ABC's findings may not be an outlier. During a discussion on Saturday's edition of CNN Newsroom With Jim Acosta, the namesake host noted to married colleagues John Avlon and Margaret Hoover that a survey conducted by their network indicated that Trump's reelection chances are collapsing.
"I want to ask you about one more thing, guys, and that is, I mean, there's so much that has happened since last Tuesday. It feels like maybe a couple of years ago, but it was just several days ago that Donald Trump became the first current or past president to be indicted and arraigned. And I just wonder, doesn't this continue to be good for Trump in the party and the Republican Party but terrible in the general election?" Acosta asked his guests.
"Well, it is like I tell my husband – I'm doing a side eye right here because I saw him make-up fight – the truth is, you're right, Jim," Hoover responded. "This is good for Trump in the party. It has solidified his front-runner status for the Republican nomination right at the moment. I mean, that's what's happened. These are $7 million in the last week – 25 percent at least of those dollars are new dollars – and the base of the Republican Party seems to really be rallying around him and doing an us-against-them, you know, the Department of Justice, rule of law against Trump. It's a bizarre turn of events, but it's real."
Avlon expanded upon that idea and offered a grim prediction about where the GOP is headed.
"Yeah. It's a reaction. It's a reaction. Let's be real about that. And to your point about, you know, Trump's resurgence being, you know, a poison pill for a general election, what CNN's new poll is showing only 26 percent of Independent voters support approval of Donald Trump. Over 60 percent thought an indictment was justified. Only eight percent said it was, had no merit at all. Those are Independent voters who end up making the decisions in general elections. So you know the party — you know, he may thrive on the oxygen of attention – but if that moth keeps going to that flame, it's going to be burnt to a crisp," Avlon opined.
Acosta agreed.
"Right," he said. "And with other potential indictments coming, other trials potentially coming down the pike, I can't imagine that the numbers you just mentioned, John, heading in the right direction for Trump and the Republican Party when it comes to a general election campaign."
Meanwhile, Trump ushered in Easter Sunday by adding to his collection of Truth Social rage posts:
HAPPY EASTER TO ALL, INCLUDING THOSE THAT DREAM ENDLESSLY OF DESTROYING OUR COUNTRY BECAUSE THEY ARE INCAPABLE OF DREAMING ABOUT ANYTHING ELSE. THOSE THAT ARE SO INCOMPETENT THEY DON'T REALIZE THAT HAVING A BORDER AND POWERFUL WALL IS A GOOD THING, & HAVING VOTER I.D., ALL PAPER BALLOTS, & SAME DAY VOTING WILL QUICKLY END MASSIVE VOTER FRAUD, & TO ALL OF THOSE WEAK & PATHETIC RINOS, RADICAL LEFT DEMOCRATS, SOCIALISTS MARXISTS, & COMMUNISTS WHO ARE KILLING OUR NATION, REMEMBER, WE WILL BE BACK!
Reprinted with permission from Alternet.