WATCH: QAnon Cultists Spout Their Lunatic Slanders To CNN Reporter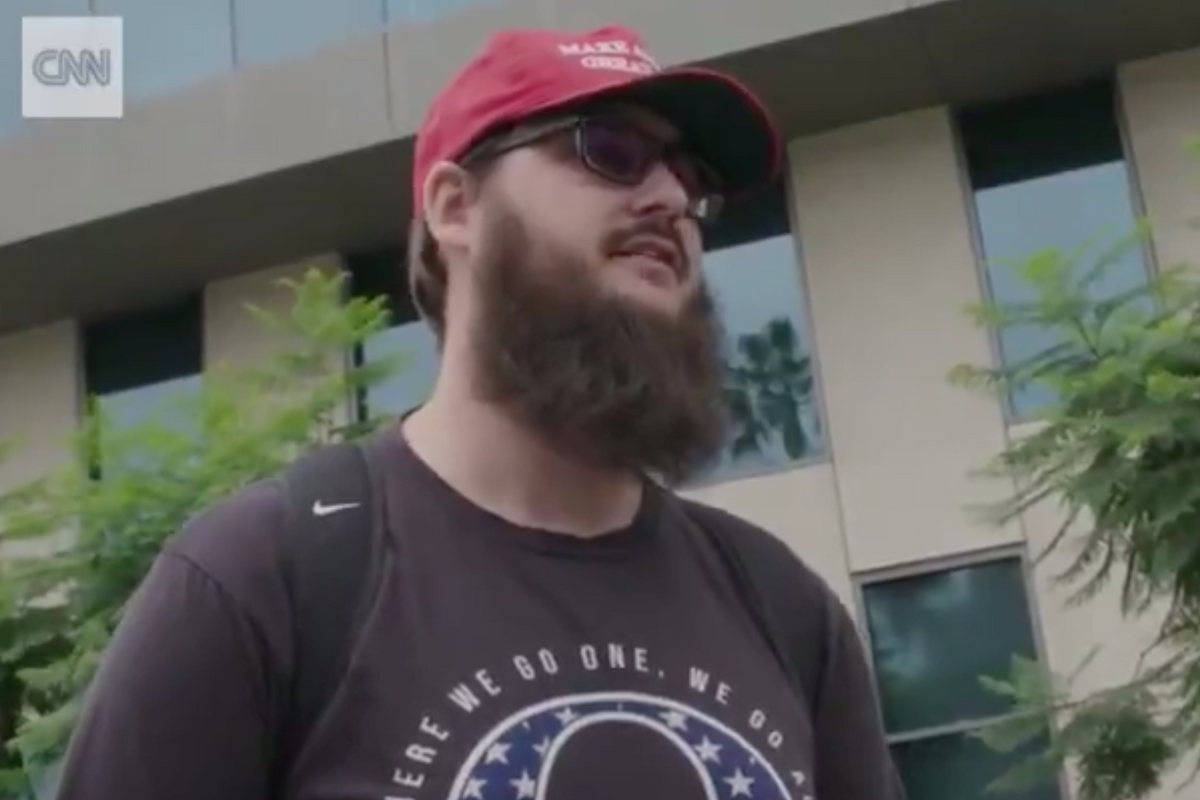 CNN reporter Donie O'Sullivan shed light on the disturbing QAnon movement hijacking the name of a respected humanitarian charity in order to spread disturbing, baseless conspiracies about Hollywood celebrities and prominent Democratic leaders, including presidential nominee Joe Biden and former Secretary of State Hillary Clinton.
Last week, O'Sullivan opted for a firsthand experience when he attended two QAnon events that recently took place —a protest in Los Angeles, Calif., and an indoor event that was held inside a conference room at a Scottsdale, Ariz., resort. On Tuesday morning, a clip of O'Sullivan's interviews aired on CNN. Despite having no evidence to support their claims, the QAnon supporters offered bizarre remarks about the non-existent pedophilia ring in which they believe Democratic leaders are implicated.
In reality, QAnon is a right-wing fiction that carries on the legacy of many darkly conspiratorial movements over the years. It began with internet postings by someone known as Q dubiously claiming to be a Trump administration insider, but it has ballooned far beyond those origins. It has roots in anti-Semitic bigotry and accusations of blood libel, and it feeds off distrust in the media and mainstream sources, a skepticism that Republicans have been stoking for decades.
Apparently, QAnon followers are hijacking the "Save the Children" movement because they fully believe Democrats are using children for a pedophilia ring. O'Sullivan spoke with an individual who explained the moment as he admitted that most QAnon followers believe almost every high-ranking Democrat is a pedophile or supports pedophilia in some way.

Although President Donald Trump made countless promises to his supporters when he campaigned in 2016, QAnon followers are refusing to believe many of his promises were merely verbal commitments just to secure his presidency. In addition to the pedophilia claims, QAnon believes have also come up with a theory to justify Trump's failure to deliver on his campaign promises.
In the video clip, one QAnon believer baselessly claimed Trump could not lock up Clinton or remove all of the immigrants residing in the United States because the government is secretly controlled by the "deep state." However, the truth is that Trump's investigation into Clinton fell short and he never had the power to remove all immigrants.
NEW: We spoke to QAnon believers in Los Angeles at a march through Hollywood that portrayed itself as an anti-pedop… https://t.co/hCpbuEG7lL

— Donie O'Sullivan (@Donie O'Sullivan) 1603106574.0
Many of the QAnon protesters at the Los Angeles rally also expressed frustration with those who oppose their views as they insisted no one wants to "save the children." But, despite their uproar and outcry, the movement has faced heightened criticism because there is absolutely no evidence to back their conspiracies. The latest news came just days after Trump was asked about QAnon during his NBC town hall with moderator Savannah Guthrie.
At the time, Trump insisted he knew very little about the conspiracy but also refused to condemn their theories. Despite QAnon believing children need to be "saved" from some pedophilia ring orchestrated by Democrats, the Save the Children charity is in no way connected to QAnon and its dangerous impact which serves as merely a distraction from real child protection organizations.