Why Rudy Giuliani's 'October Surprise' Blew Up In His Face
@DevilsTower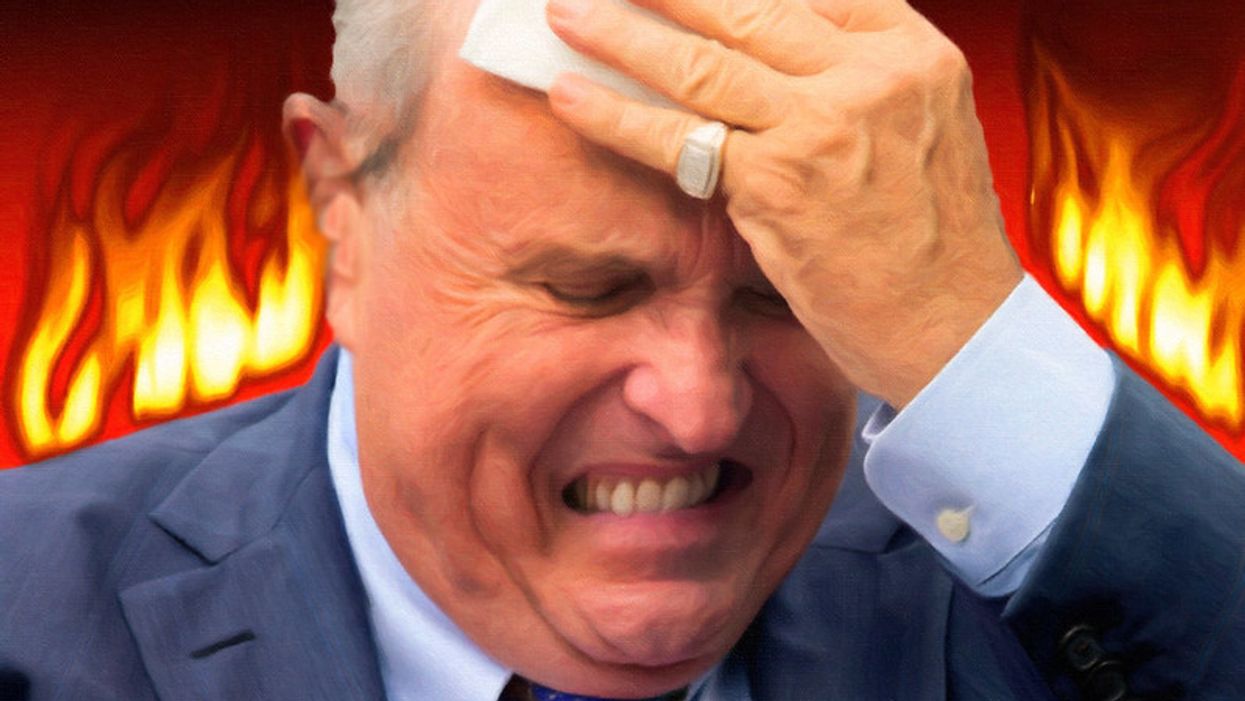 Reprinted with permission from DailyKos
There's a basic problem with the story that Donald Trump and Rudy Giuliani have been pushing about Joe Biden's actions in Ukraine: It's a lie. Of course, this is politics, and the fact that the story is simply lacking in any facts isn't necessarily an issue. The real problem with this lie is that it's an obvious lie. An extremely obvious lie. One that they've been trying to pass off for more than a year.
---
After all, the claims now being made are exactly those that Trump was trying to extort from the president of Ukraine in the scheme that ultimately got Trump impeached. This is the same scheme that the CIA warned that Russia was going to use in an effort to influence the election. The scheme the Russian state-owned media has been pushing for a year. It's part of the same scheme that Trump confessed back in February. And it's being pushed by Rudy Giuliani, the guy at the center of a criminal investigation, whose partners have already been indicted, and who pocketed half a million for helping out the henchman of a Russian oligarch.
Giuliani started pushing this same story in 2019 which, somehow, turned out to be exactly what he found on the mystery laptop, which was brought into a Trump-supporting repair shop by an anonymous person, and given to a blind shop owner whose security cameras were on the blink. It is the most amazing coincidence. In fact, the story is so ridiculous, that not only are social media sites tossing it into the trash, the media outlets that reliably ran whatever Giuliani brought them in the past are increasingly reluctant to play along.
So Trump and company have now given up trying to defend the actual story. Instead, they've moved on to the story about the story … a kind of meta-lie. Because somehow, they think that's better.
Just about the only thing that the Trump/Giuliani scheme seems to have accomplished is to get the phrase "Hunter Biden's laptop" repeated with metronomic regularity. That's despite the fact that there is no reason to think that the laptop recovered from the Wilmington store actually belonged to Joe Biden's surviving son. Not only did the laptop come in without an identifiable source, it did so at a time when Hunter Biden was living on the opposite coast. And a quick examination of the documents on that laptop seems to indicate that several were created after the date on which the shop owner says the laptop was dropped off.
Overall, the whole thing looks like not just a fraud intended to provide Giuliani another opportunity to put forward the same lies, it looks like a clumsy fraud. In fact, the only thing that keeps it from looking like a Russian set up, is that it all seems so amateurish. Maybe Team Putin is really this bush league. It's almost disappointing.
The claims from Giuliani are so bad, that even the most pro-Trump networks have been hesitant to fully embrace the story. When you can't get OAN to run with your Trump-endorsed conspiracy theory, you've entered a zone what would make the subterranean lizard people who control the pizza basement child-based pepperoni network blush.
But, as Politico explains, that doesn't mean Trump is completely ready to let this story drop. Sure, there's an understandable reluctance to post unsubstantiated emails that feature Hunter Biden delivering scenes from a mob film—if only because no one believes that Joe Biden would make a good Brando. Instead, they've launched a two-part plan B.
Part one is publishing images of a supposed Hunter Biden that supposedly came from the mystery laptop. Those images are now to be found on "a Chinese website owned partially by Steve Bannon." Because there is no better way to show that your team is the one sticking it to China, than getting China to help you in smearing Biden.
Part two is something that's more up Trump's alley … complaining. Rather than push the original conspiracy theories that no one, including Trump's allies, will pick up, Trump's campaign is pushing the idea that no one will take up the laptop story because they're all in on it. Giuliani has even taken to podcasting to complain that people are refusing to give him time to repeat his lies on television. And if there is anything this nation needs, it's more free air time for Rudy Giuliani.
Instead of talking directly about Biden, Trump's team is now busy focusing on the story of how no one will publish their thoroughly debunked material. For example, Twitter just keeps "censoring" Donald Trump, but they never touch Joe Biden's posts. The truth is that's because Trump keeps deliberately breaking the site's terms of service, while Biden does not. But the "people are censoring Trump" story is at least something traditional conservative outlets are willing to touch with a 10.5 foot pole.
If the umpteenth coming of the Hunter Biden story was already a limp choice for October surprise, this meta-fiction about that story is incredibly weak. The planted laptop story has already failed. The story about how people wouldn't cover the planted laptop story hasn't got enough heat to be detected.
Seriously, if there's anything you expect from Trump, it's more interesting lies. This isn't even worth being outraged over.