Whining 'Marshall Law' Margie Blames Media For Her Dismal Reputation
@CynicalBrandon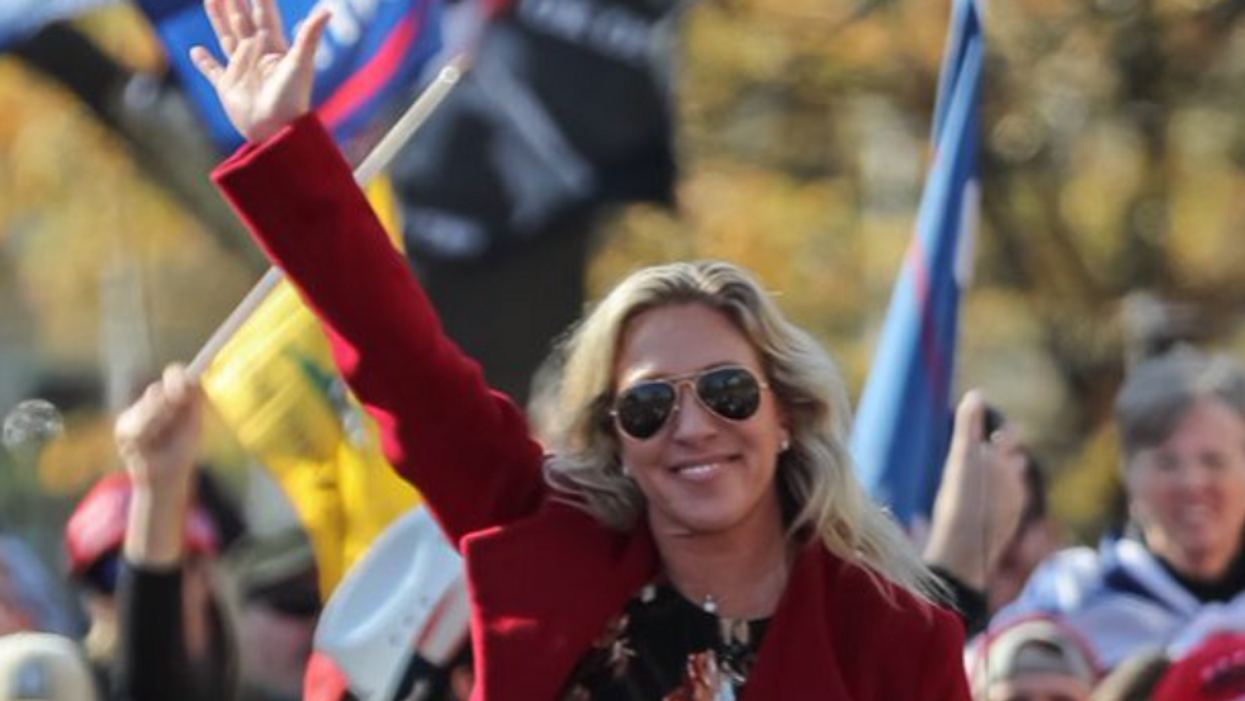 Rep. Marjorie Taylor Greene (R-GA) recently gave an interview to Militant Church, a Catholic right-wing media outlet, in which she blamed the press – not her own actions and frequent gaffes – for the abysmal reputation that she has earned in the eyes of the American public.
"They don't really know me. And the reason that they don't know who I truly am is the media created a character of me and that's the character that they want to present to the American people," Greene claimed to host Michael Voris.
(She may have meant to use the term "caricature," but whatever. Who knows. My bad, I guess.)
"They don't want the American people to know that I'm a wife, a mother, and that I think being a mother is the best part of my life. They don't want the American people to understand that I'm actually very smart, successful in business, great with strategy, and very passionate and committed to serving in Congress but actually changing the way Congress works," she said.
"The media just doesn't want anyone to know that. They don't want anyone to like me," Greene complained, "because if they like me, then my ideas and policies and legislation will be successful. And the media is 'America Last.'"
See below via Right-Wing Watch:
Greene's first term in the House of Representatives began with her objecting to President Joe Biden's victory in the 2020 election and has been defined by her having latched onto former President Donald Trump's lie that the contest was stolen.
On Monday, text messages relating to the January 6th, 2021 Capitol insurrection between Greene and then-White House Chief of Staff Mark Meadows showed that Greene lacks a basic grasp of fundamental topics.
"In our private chat with only Members, several are saying the only way to save our Republic is for Trump to call for Marshall law," Greene wrote on January 17th. "I don't know on those things. I just wanted you to tell him. They stole this election. We all know. They will destroy our country next. Please tell him to declassify as much as possible so we can go after Biden and anyone else!"
Solid plan: Twitter had some feedback for the freshman conspiracy theorist lawmaker.
It also bears noting the irony of Greene whining about not being "liked" when she aligns herself with the "fuck your feelings" Trump cult. And, like Trump, Greene was suspended from Twitter for spreading misleading information and outright propaganda.
Incredibly, later in the same interview, Greene called the Capitol a "glass castle that's empty of anything good" and referred to Congress as a "ship of fools" for whom she has "no respect." How this will endear her to more people is perplexing.
Greene also told Voris that "I don't even know why God has not destroyed us."
Reprinted with permission from AlterNet