Details Of Trump's Georgia Extortion Scheme Provoke Calls For Criminal Probe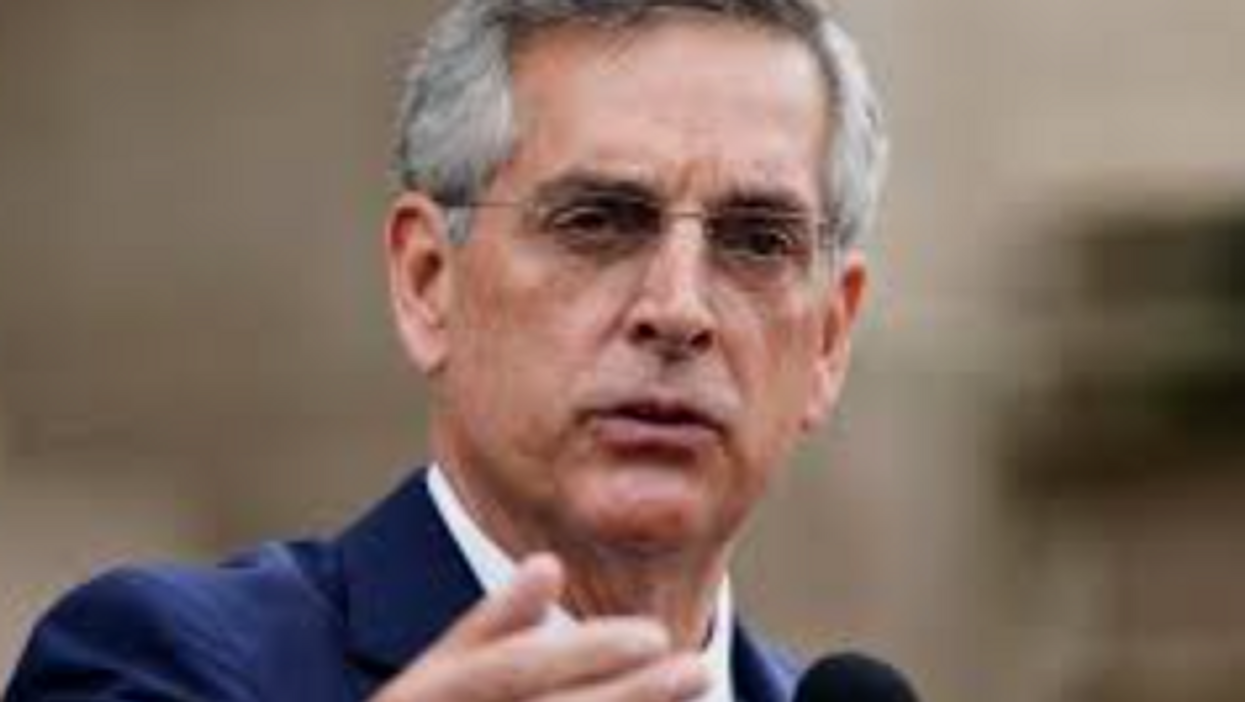 This article was produced by Voting Booth, a project of the Independent Media Institute.
President Trump told Georgia's Secretary of State Brad Raffensperger that he "needs" the Georgia Republican to immediately find enough votes for Trump to be declared the state's 2020 election victor. Raffensperger repeatedly refused to do so, telling Trump in an hourlong call on Saturday that he had lost the election and that his claims of illegal voting were ill-informed and based on bad data.
"I have to find 12,000 votes," Trump said, referring to President-elect Joe Biden's 11,779-vote margin that Georgia certified after counting the ballots three times. "What are we going to do here, folks? I only need 11,000 votes. Fellas, I need 11,000 votes. Give me a break. You know, we have that in spades already."
"Mr. President, you have people that submit information and we have our people that submit information," Raffensperger replied. "And then it comes before the court and the court then has to make a determination. We have to stand by our numbers. We believe our numbers are right."
"Why do you say that?" Trump countered. "I mean, sure, we can play this game with the courts, but why do you say that? … I know this phone call is going nowhere other than, other than ultimately, you know. Look, ultimately, I win, okay? Because you guys are so wrong."
Their conversation was first reported by The Washington Post, which published the audio and a transcript, and may expose Trump to state and federal statutes that bar "criminal solicitation of election fraud," as the Georgia legal code puts it. The immediate impact of Trump's bid to recast 2020's election results will be in political circles. The call came days before runoffs in Georgia that will decide the U.S. Senate majority, and days before Congress will ratify 2020's Electoral College vote.
Trump's interference in Georgia, the state in 2020 with the slimmest margin between him and Biden, immediately revives the charges of election interference that led to his impeachment. Trump was impeached after tying foreign military aid to Ukraine in exchange for the country announcing an investigation in the business activities of Biden's son.
"We now have irrefutable proof of a president pressuring and threatening an official of his own party to get him to rescind a state's lawful, certified vote count and fabricate another in its place," said Bob Bauer, a longtime election lawyer and senior advisor to president-elect Joe Biden, after the call became public.
"Absolutely right," tweeted Laurence Tribe, a Harvard Law School constitutional scholar. "No choice. Failure to open a criminal investigation of this 'perfect' call would be an inexcusable dereliction of duty."
Trump will be holding a rally in northwest Georgia on Monday in a region where Republican voter turn out for the Senate runoffs has lagged behind the Democrat turnout in blue epicenters. On the call with Raffensperger, Trump threatened to release "a new tape" showing ballot box stuffing from a suburban Atlanta county that he called "devastating." How much Trump's attacks on Georgia Republicans will undermine GOP turnout on the runoffs is an open question. Trump's attacks on Raffensperger and Gov. Brian Kemp, also a Republican, have not helped the party's two Senate candidates, other Georgia GOP leaders have said.
Trump's extortion-laden phone call also adds an uncertain element to the growing swath of right-wing House and Senate members who planned to challenge the Electoral College slates in battleground states when Congress convenes to ratify the 2020 results. The call with Raffensperger revealed that Trump's post-election team has prepared new analyses to contest the accuracy of the votes in Georgia, Michigan and Pennsylvania. The president boasted that these reports were done by accountants, which was a telling admission. It was not likely to be accurate as analyses done by former election officials and election administration experts.
Trump's Bullying
Trump dominated most of the call with Raffensperger. He started by saying that he "won" in Georgia and that "anywhere from 250-300,000 ballots were mysteriously dropped into the rolls." Trump said the center of the alleged illegal activity was in Fulton County, the largest jurisdiction in metro Atlanta. "We're going to have an accurate number over the next two days with certified accountants," Trump said.
Trump said "about 4,502 voters who voted… weren't on the voter registration list." He said, "You had 18,325 vacant address voters. The address was vacant and they're not allowed to be counted." He said that 904 voters had a post office box number, not an address. "You had out-of-state voters," he continued. "They voted in Georgia but they were from out of state." He said that "dead people voted, and I think the number is close to 5,000 people."
Trump said that his team found the dead voters "by going through the obituary columns in newspapers." He said that his team also reviewed U.S. Post Office data—presumably the national change of address database; which lists heads of households and not every resident. These kinds of data sources would not identify every legal voter in the state because they are not definitive.
Raffensperger listened and simply replied that these claims had been brought up in lawsuits and that none of them were found by judges to have a factual basis.
"Well, I listened to what the president has just said," the Georgia Republican said. "President Trump, we've had several lawsuits and we've had to respond in court to the lawsuits and the contentions. Um, we don't agree that you have won. And we don't—I don't agree about the 200,000 number that you mentioned."
After saying that his office has spent hours briefing Georgia legislators, Republican members of Congress, and done three vote counts—including an unprecedented hand count—Raffensperger and his staff rebutted most of Trump's scenarios.
"Mr. President, the challenge that you have is the data you have is wrong," he said.
Trump, White House Chief of Staff Mark Meadows, and Trump campaign lawyers said that Raffensperger's office was not sharing all of the voter data that it had—and tried to pressure the secretary into providing it. Raffensperger's attorneys said the state was not obligated to share confidential information in its voter files. That data, such as Social Security numbers and other unique identifiers, is used to verify voter's identities and to ensure that no fraudulent ballots are cast.
Trump's attorneys did not like that response. At one point, Trump implied that Raffensperger could face federal charges for not assisting with Trump's review, which Trump kept saying would reveal massive illegal voting.
"You know what they did and you're not reporting it," Trump told Raffensperger. "You know, that's a criminal — that's a criminal offense. And you know, you can't let that happen. That's a big risk to you and to Ryan [Germany], your lawyer. That's a big risk."
Trump also said that Atlanta counties were "shredding" ballots. Raffensperger's staff replied that their office had investigated and that those were ballots from prior elections. Federal law requires all election records be kept for 22 months.
"Mr. President, the problem you have [is] with social media – people can say anything," Raffensperger said, discussing the ballot-shredding charge.
"Oh, this isn't social media," Trump replied. "This is Trump media. It's not social media… Social media is Big Tech. Big Tech is on your side. I don't even know why you have a side, because you should want to have an accurate election. And you're a Republican."
"We believe that we do have an accurate election," Raffensperger responded.
"No, no you don't. No, no you don't. You don't have. Not even close," Trump said. "You're off by hundreds of thousands of votes… I'm notifying you that you're letting it happen. So look. All I want to do is this. I just want to find 11,780 votes, which is more than we have because we won the state."
Steven Rosenfeld is the editor and chief correspondent of Voting Booth, a project of the Independent Media Institute. He has reported for National Public Radio, Marketplace, and Christian Science Monitor Radio, as well as a wide range of progressive publications including Salon, AlterNet, The American Prospect, and many others.