New Study Reveals Startling Economic Profile Of Capitol Rioters
@alexvhenderson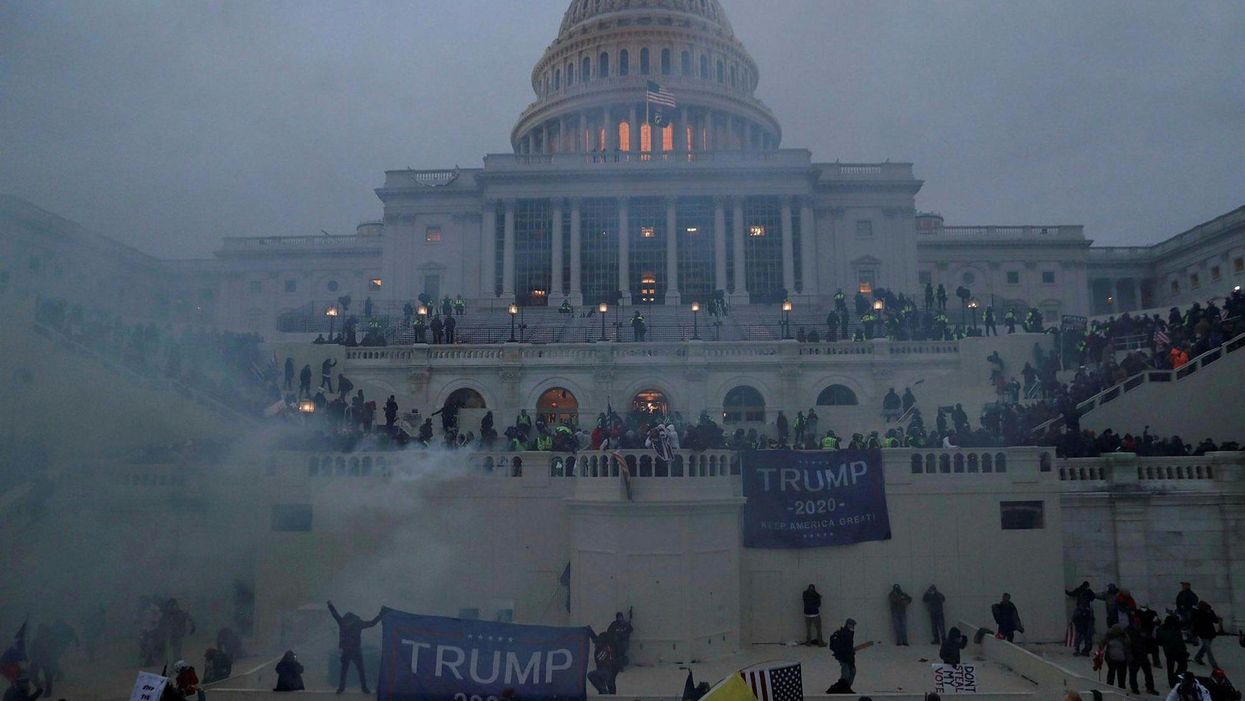 Reprinted with permission from Alternet
More than 200 people are facing federal criminal charges for their alleged roles in the January 6 assault on the U.S. Capitol Building. And according to Washington Post reporter Todd C. Frankel, many of them have something in common: a history of financial problems.
"Nearly 60 percent of the people facing charges related to the Capitol riot showed signs of prior money troubles, including bankruptcies, notices of eviction or foreclosure, bad debts, or unpaid taxes over the past two decades, according to a Washington Post analysis of public records for 125 defendants with sufficient information to detail their financial histories," Frankel reports. "The group's bankruptcy rate, 18 percent, was nearly twice as high as that of the American public, the Post found. A quarter of them had been sued for money owed to a creditor. And one in five of them faced losing their home at one point, according to court filings."
On January 6, a violent mob of far-right extremists stormed the U.S. Capitol Building in Washington, D.C. in the hope of preventing Congress from certifying the Joe Biden's Electoral College victory over then-President Donald Trump in the 2020 election. But the certification was only delayed, not prevented. And two weeks later, on January 20, Biden was sworn in as president of the United States — and former Sen. Kamala Harris was sworn in as vice president.
Although President Biden and Vice President Harris are centrist Democrats, they are more liberal on economic issues than Trump — who fought aggressively to abolish the Affordable Care Act of 2010, a.k.a. Obamacare, and favored corporate tax cuts that benefited the wealthiest Americans but did precious little for the United States' working class. And yet, the January 6 insurrectionists were willing to resort to violence in the hope of keeping them out of the White House. Trump ran on a pseudo-populist platform, insisting that he was the working class' greatest friend and ally — and his MAGA base bought into it.
According to Frankel, the "financial problems" of so many January 6 rioters "are revealing because they offer potential clues for understanding why so many Trump supporters — many with professional careers and few with violent criminal histories — were willing to participate in an attack egged on by the president's rhetoric painting him and his supporters as undeserving victims."
Frankel explains, "While no single factor explains why someone decided to join in, experts say, Donald Trump and his brand of grievance politics tapped into something that resonated with the hundreds of people who descended on the Capitol in a historic burst of violence."
The Post discussed its findings with Cynthia Miller-Idriss, a political science professor at American University in Washington, D.C.
"I think what you're finding is more than just economic insecurity, but a deep-seated feeling of precarity about their personal situation," Miller-Idriss told the Post. "And that precarity — combined with a sense of betrayal or anger that someone is taking something away — mobilized a lot of people that day."
Frankel notes that the January 6 rioters include not only people who presently have financial problems, but also, those who did in the past.
"The financial missteps by defendants in the attempted insurrection ranged from small debts of a few thousand dollars more than a decade ago to unpaid tax bills of $400,000 and homes facing foreclosure in recent years," Frankel notes. "Some of these people seemed to have regained their financial footing, but many of them once stood close to the edge."
One such person, according to Frankel, is 50-year-old Jenna Ryan, a Texas-based real estate agent who filed for bankruptcy in 2012 and was still paying off a $37,000 lien for unpaid federal taxes when she was arrested in connection with the January 6 riot. Ryan, who is now facing federal charges, told the Post, "I bought into a lie, and the lie is the lie — and it's embarrassing. I regret everything."
Ryan, Frankel notes, "had nearly lost everything, and the stakes seemed similarly high to her when she came to Washington in early January. She fully believed Trump's false claims that the election was stolen and that he was going to save the country."
The Post also interviewed Don Haider-Markel, a political science professor at the University of Kansas. Haider-Markel told the Post, "It's hard to ignore, with a Trump presidency, that message that 'the America you knew and loved is going away, and I'm going to protect it.' They feel, at a minimum, that they're under threat."