Florida Bar Censures Rep. Gaetz For Witness Intimidation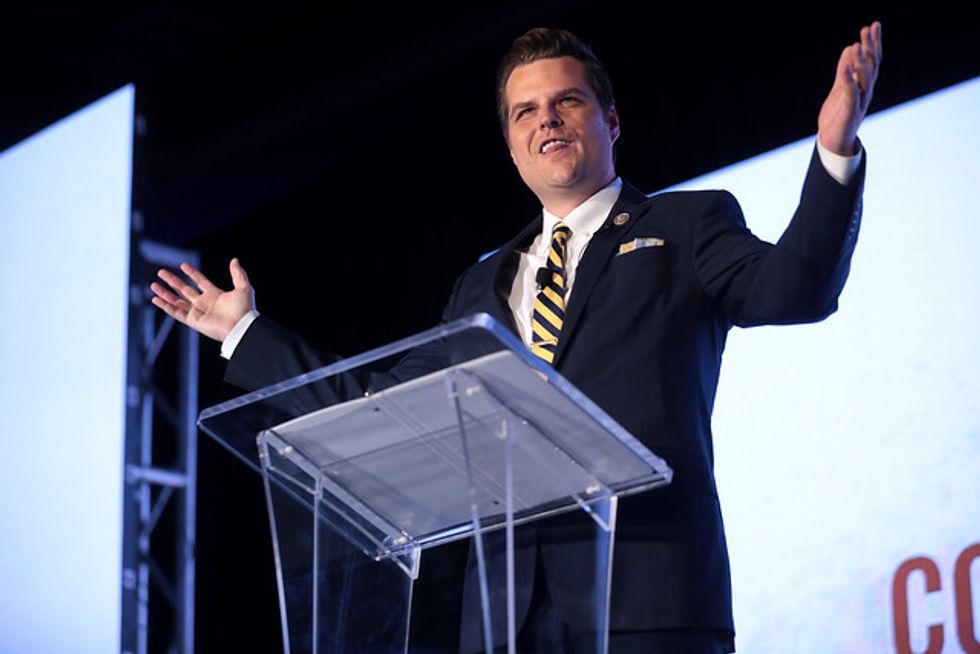 On Friday, the Florida Bar found Rep. Matt Gaetz (R-FL) was "unprofessional, reckless, insensitive, and demonstrated poor judgment" when he sent an intimidating message to Trump's former attorney Michael Cohen on the eve of Cohen's February congressional testimony.
In a letter sent to Gaetz, the Florida Bar did not formally discipline the congressman, but did reiterate that Gaetz's actions were "not consistent with the high standards of our profession, and in light of the public nature of your comments, your actions do not reflect favorably on you as a member of The Florida Bar."
On the night before Cohen testified, Gaetz addressed Cohen on Twitter, writing, "Hey @MichaelCohen212 – Do your wife & father-in-law know about your girlfriends? Maybe tonight would be a good time for that chat. I wonder if she'll remain faithful when you're in prison. She's about to learn a lot…"
At the time, legal analysts said Gaetz may have broken the law, which forbids tampering with or intimidating witnesses prior to an official proceeding.
Gaetz eventually deleted the tweet and the following day was forced to apologize on the House floor for his conduct. In May, the Florida Bar opened an investigation into Gaetz's actions, since Gaetz is an attorney and member of the bar. While no action was taken, the letter states unequivocally that Gaetz's actions were not up to their standards.
"The grievance committee hopes this letter will make you more aware of your continuous obligation to uphold the professional standards of a lawyer in The Florida Bar and, in the future, you will adjust your conduct accordingly," it stated.
Cohen did not seem intimidated by Gaetz's threat when he testified before the House Oversight Committee. Cohen testified under oath that Trump is a racist who lies about his wealth and likely committed multiple crimes.
But Gaetz's devotion to Trump is unaltered. A month after Cohen's testimony, Gaetz admitted that he is in Congress to protect Trump. He continually attacks those who speak ill of Trump, even in the wake of tragedies like the white supremacist mass shooting in El Paso.
In a message to the Pensacola News Journal, Gaetz claims he was "very pleased with the result and I'm always grateful when I get advice from my fellow attorneys and constituents."
In this case, the advice is to be more professional and less reckless.
Published with permission of The American Independent.